Thai Coconut Galangal Seafood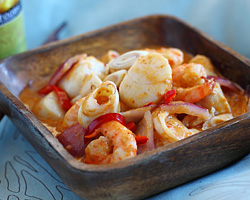 http://rasamalaysia.com/thai-coconut-galangal-seafood-recipe/
Thai Coconut Galangal Seafood
If you follow this blog, you know that I recently discovered WorldFoods (from my mie goreng post) and am working with them on a couple of recipes. Previously, I posted a Cambodian Lemongrass Shrimp recipe. This is another recipe that I would like to share with you using another WorldFoods ready-made sauce—Thai Coconut Galangal Stir-Fry Sauce. This sauce is a blend of coconut milk spiced with galangal, lemongrass, tamarind and chilies. It's mild but creamy so it's great for any protein. I used it to make a combination seafood dish, with shrimp, scallop, and squid…
When it comes to cooking, I am not a purist, meaning, I cook with store-bought sauces and spice paste quite a bit, but I am really picky. I use products that are high quality and promise great flavor. I really like this sauce because it tastes distinctively Thai, and it's made from 100% natural ingredients. I also like it that I can doctor up the sauce by adding extra ingredients and seasonings.
We all enjoyed this Thai Coconut Galangal Seafood very much, in fact, it tastes almost like a Thai red curry.
Sign Up for Email Updates
Enter your email for new updates: recipes, giveaways, and more!