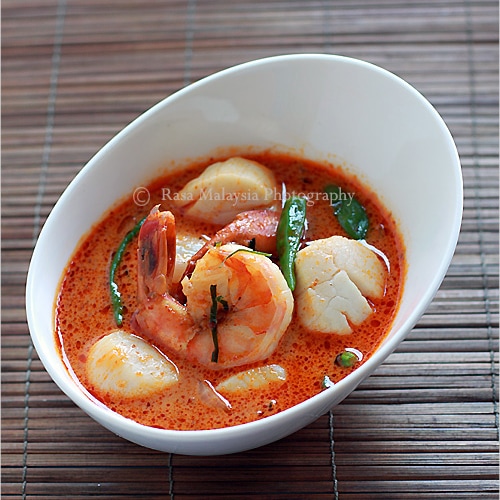 Thai Curry
Easy Thai curry and Thai curry recipe. You can make delicious Thai curry with chicken, seafood, or a combination of both.
Ingredients:
1 1/2 tablespoon red curry paste (I used Mae Ploy red curry paste)
6 oz. tiger prawns (or shrimps)
6 oz. big scallops
1 kaffir lime leave (cut into fine thin strips)
1 tablespoon oil
2 teaspoons palm sugar
1/4 teaspoon fish sauce
80 ml. coconut milk
1/4 cup water
1/2 onion (sliced) (optional)
5 bird's eye chilies (optional)
Method:
1)Heat up a small pot with cooking oil.
2)Saute the red curry paste until aromatic.
3)Add sliced onions and bird's eye chilies.  (These are optional ingredients hence this step is optional if you don't use them.)
4)Add coconut milk, water, kaffir lime leaves, and bring the curry to boil.
5)Add the scallops and prawns into the pot and boil for 1-2 minutes or until the prawns and scallop are cooked. (Make sure not to overcook them).
6)Add fish sauce, palm sugar, and stir-continuously for 1o seconds or so, dish out and serve immediately with steamed jasmine rice.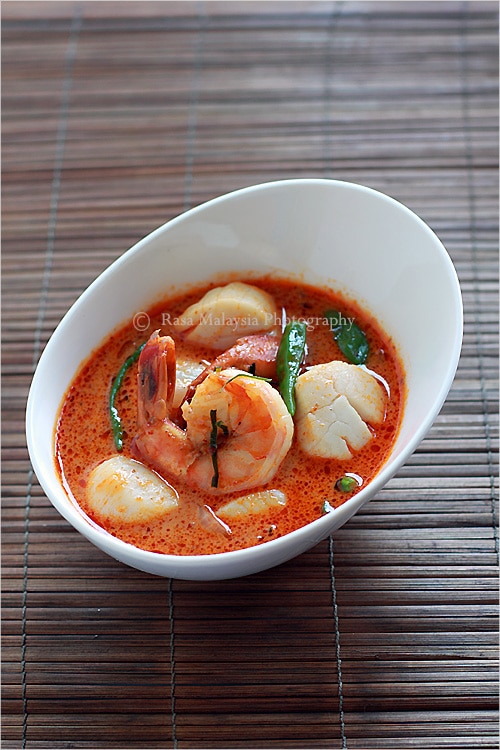 Thai curry is gaining popularity thanks to the many great Thai restaurants in the United States.  Making a great bowl of Thai curry to go with soft and fluffy jasmine rice is easier than you think, even though you might not be familiar with Thai ingredients.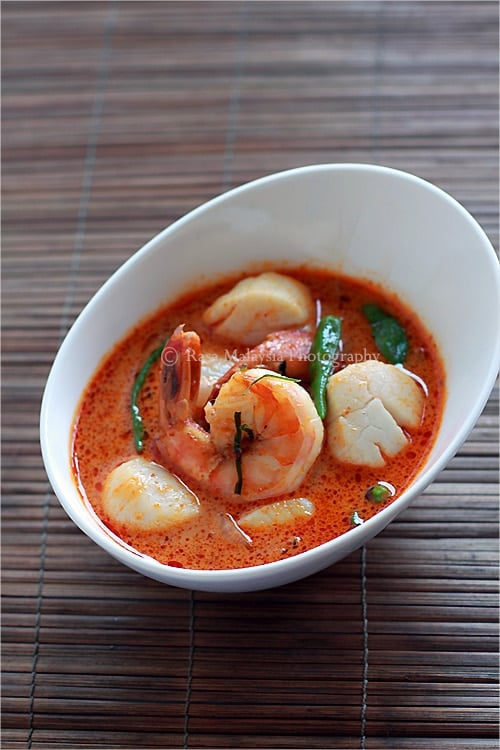 I love all sorts of curry but I find Thai curry one of the easiest curry to master. Instant curry paste from trusted brands such as Mae Ploy and Maesri are readily available in Asian markets or online. Get yourself a bottle of fish sauce, palm sugar (or sugar as a replacement), coconut milk, and you will most certainly have a decent bowl of Thai curry.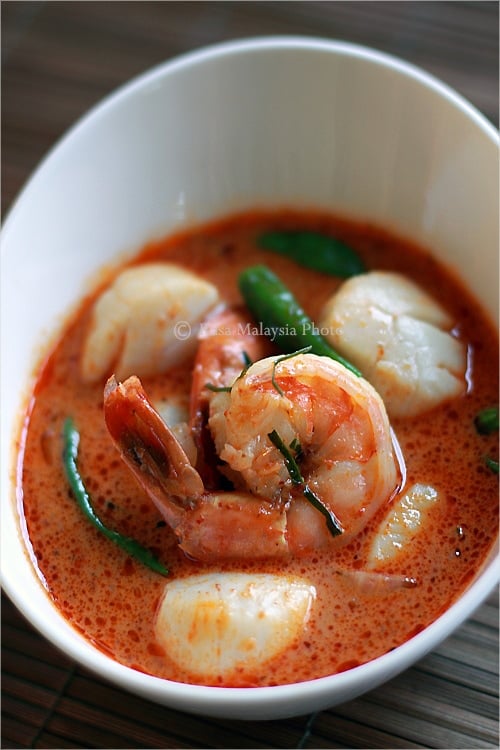 I made this flavorsome Thai curry yesterday from leftover ingredients in my fridge, all in less than 30 minutes. Call me lucky but I always have fr0zen seafood, so I made Thai red curry with tiger prawns and scallops. I then served my Thai curry over a bowl of steamed jasmine rice. It was an easy but uber satisfying lunch.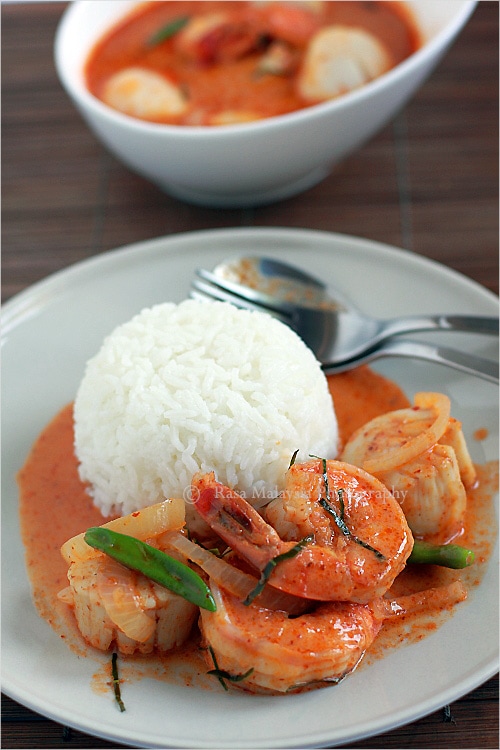 Think Thai curry is too complicated or intimidating to attempt at home? Think twice. Cooking Asian food is rather easy and a rewarding experience. Follow my recipe below and you will soon be whipping  up a mean pot of Thai curry for your family!
Now, what is your favorite Thai curry?