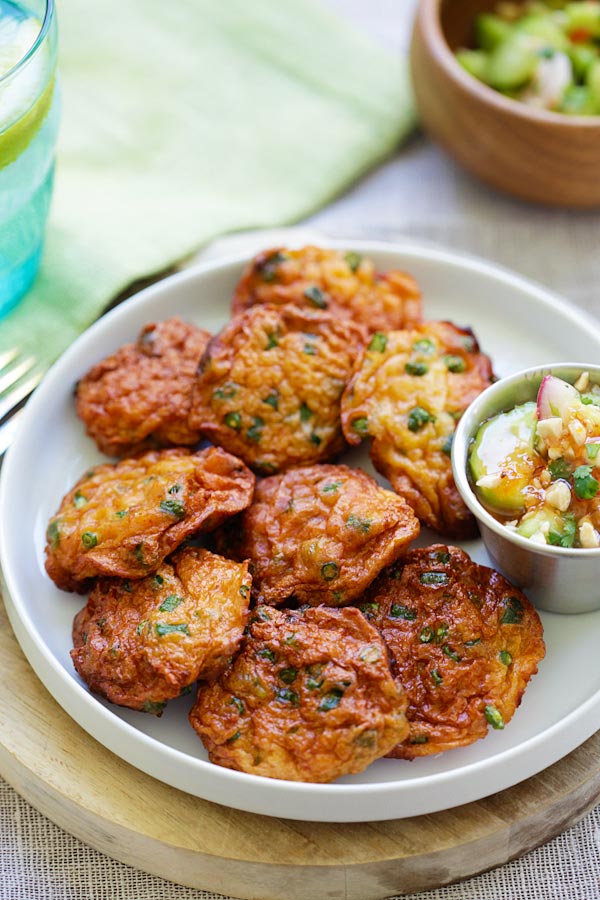 Thai Fish Cakes
Thai Fish Cakes – the best and easiest Thai fish cakes recipe or Tod Mun Pla that tastes just like Thai restaurants. So good!

Originally published in Feb 2009, updated with new photos.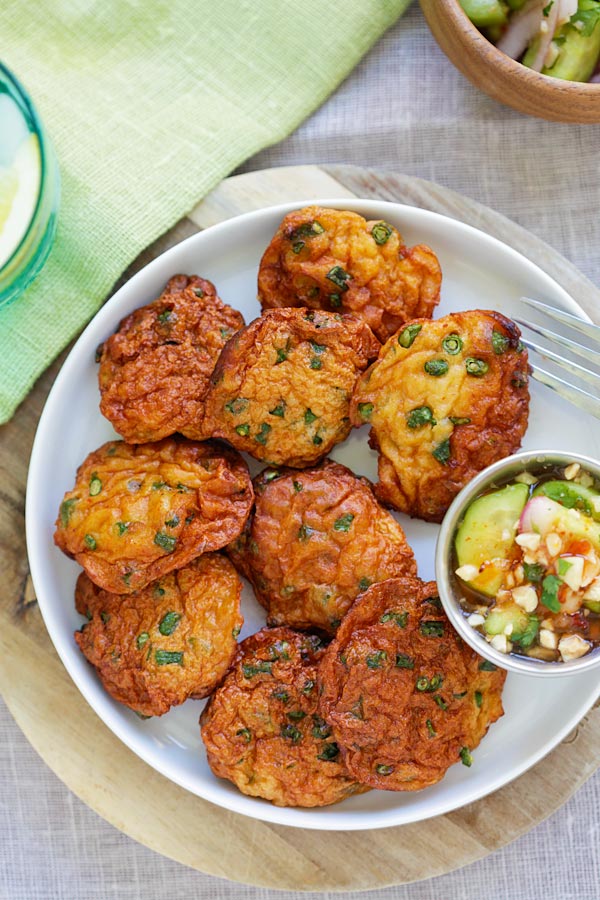 I love Thai fish cakes. I always order it whenever we dine out at Thai restaurants. I just love the deep-fried goodness and the appetizing Thai cucumber salad that goes with it. Thai fish cakes are so good I always feel like I need two orders of them to satisfy my cravings.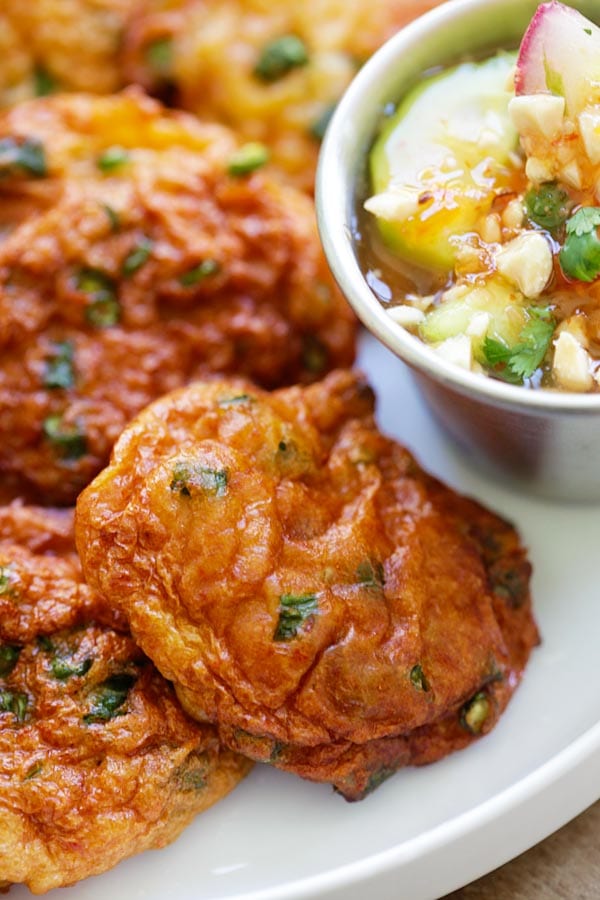 Not anymore. My Thai fish cakes recipe is so good and authentic; the fish cakes taste exactly like what you get at Thai restaurants, if not better. I can make a big batch and fry them up and enjoy them the whole day. The good news is even my little picky eater little G enjoys them.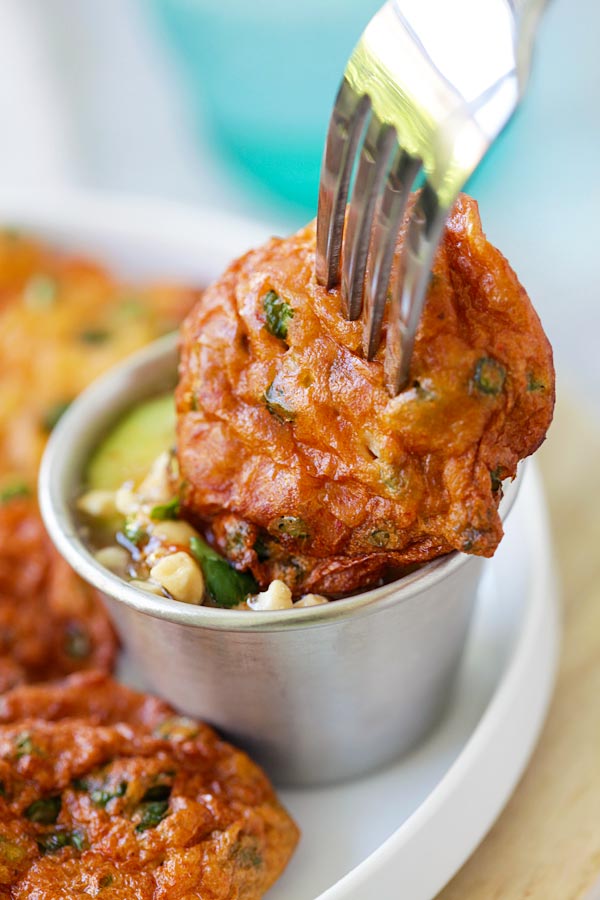 Called Tod Mun Pla in Thai, Thai fish cakes is made with fresh fish paste, long beans, red curry paste and kaffir lime leaves. Each bite of the fish cakes is bursting with briny flavors of the fish, the fragrance and nuance from the red curry paste, and the crunchiness of the long beans. They are absolutely delightful.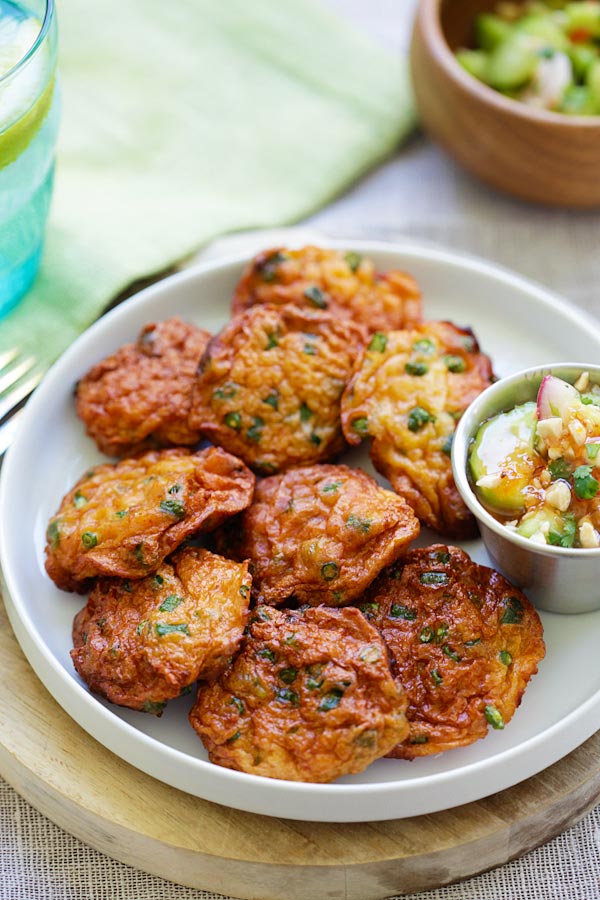 Thai Fish Cake (Tod Mun Pla) Recipe
Serves 2 | Prep Time: 10 Mins | Cook Time: 10 Mins
Ingredients:
8 oz fish paste (I used store-bought frozen fish paste)
1/2 egg, beaten
2 tablespoons Thai red curry paste (Mae Ploy brand or Maesri brand)
5 snake beans or long beans, thinly sliced
5 kaffir lime leaves, cut into fine thin strips
Method:
In a small bowl, mix all the ingredients above to form a smooth fish paste. Make sure the red curry paste is well blended with the rest of the ingredients.
Heat up a pot of oil. Wet your hands and pick up the fish paste (about the size of a ping pong ball). Use your fingers and palms to flatten it and make it into a patty. Drop it into the cooking oil and fry till golden brown. Repeat the same for the rest of the fish paste. Alternatively, you can prepare all the fish paste first and then deep fry all of them at once.
Serve the fish cakes hot with Thai cucumber salad.
Most-Pinned Recipes
Ginger Garlic Baked Chicken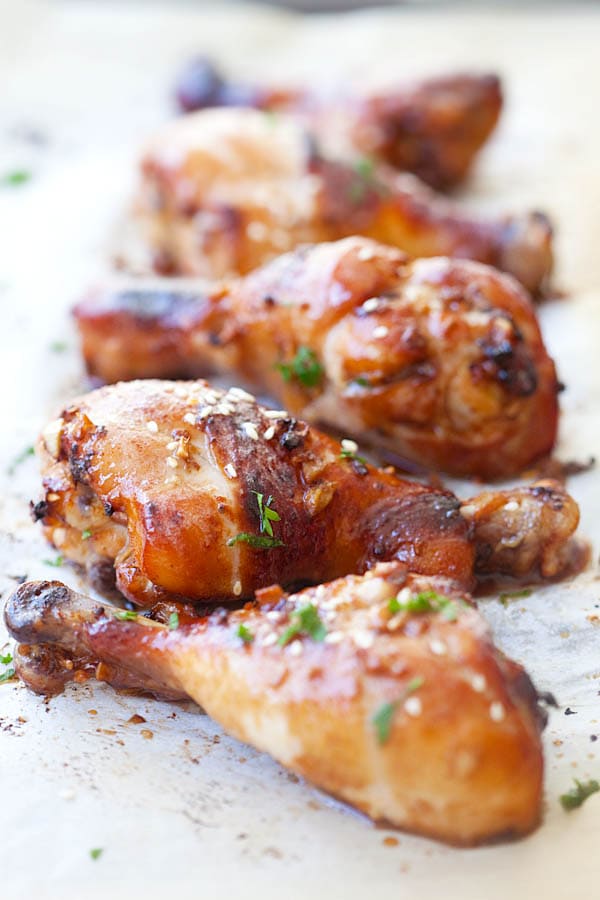 Crab Rangoon (Cream Cheese Wontons)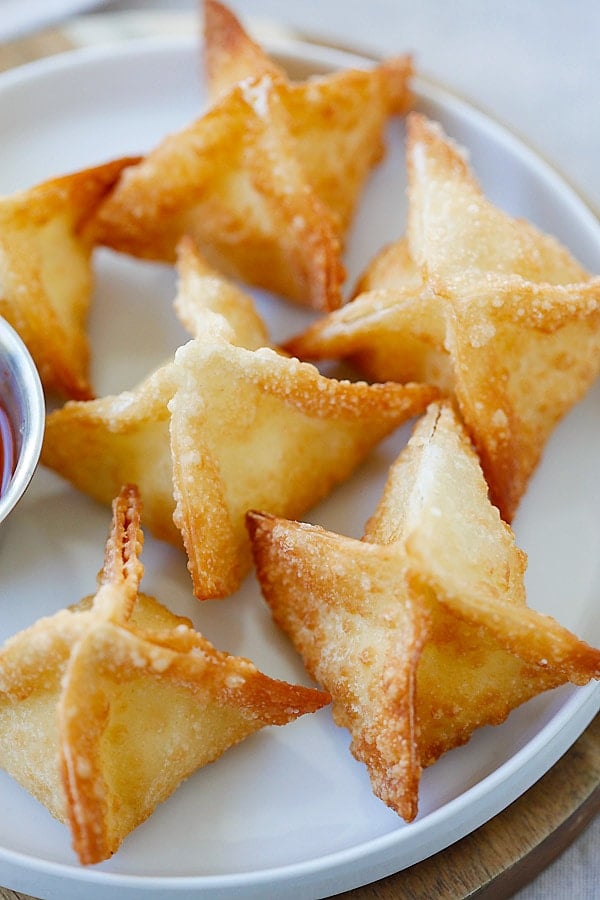 Chicken Wontons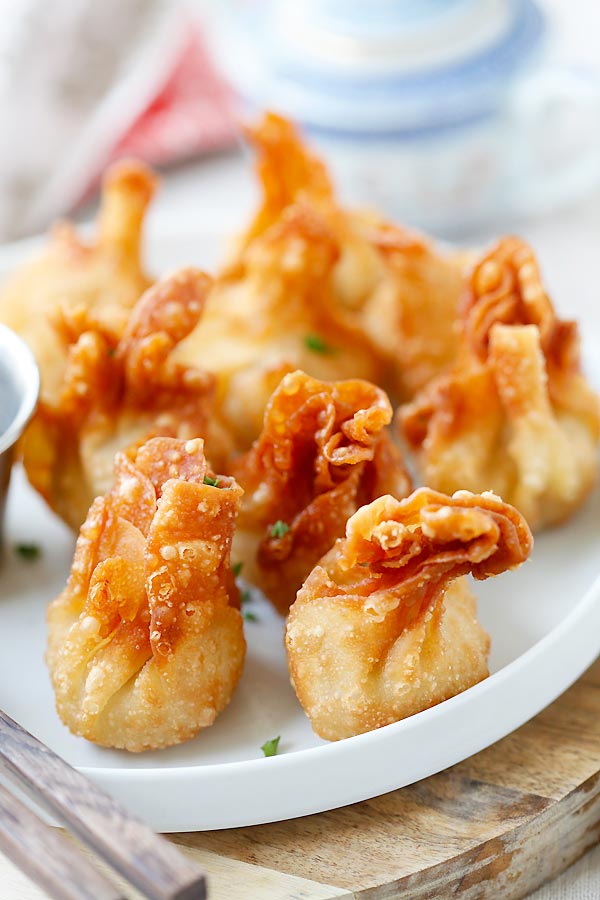 Onion Scallion Beef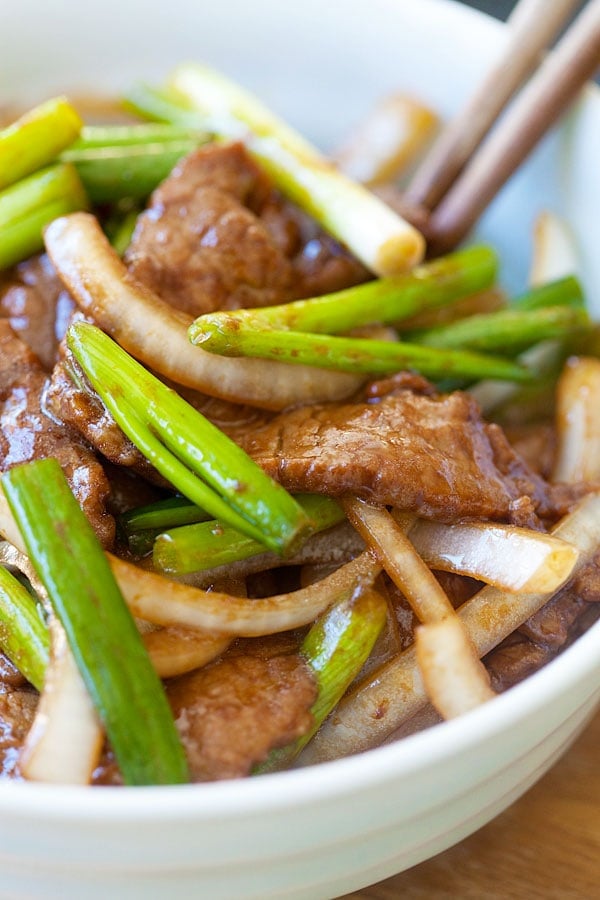 Thai Chicken Sate with Peanut Sauce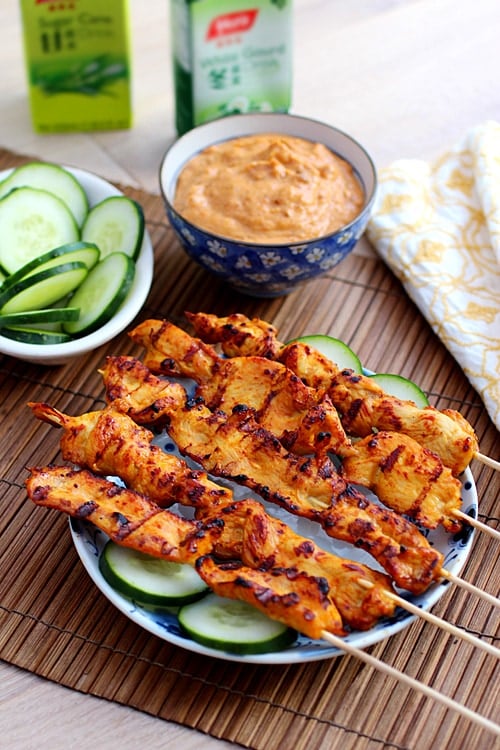 Thai Peanut Sauce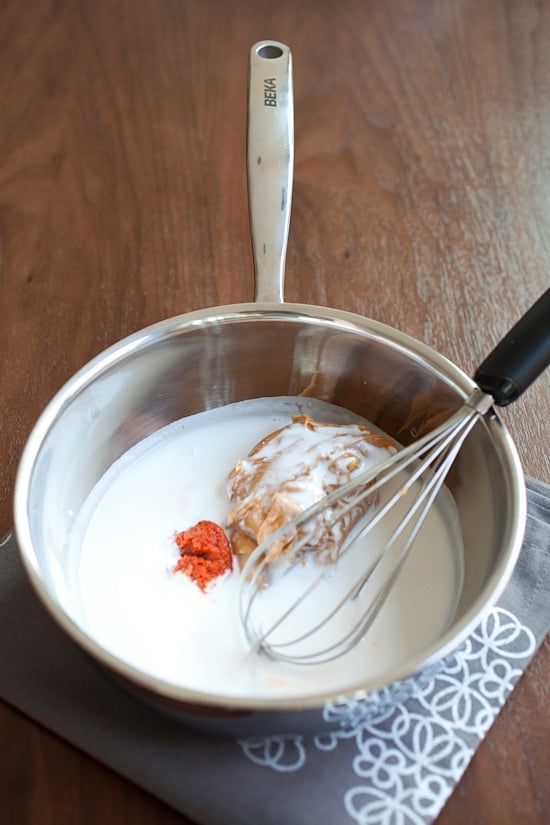 Limited Time Offer: $5.99 only. Available for download WORLDWIDE!
**Use it on Your Tablet, Mobile Phone, Desktop or Laptop**
Copyright © 2016 Rasa Malaysia. All rights reserved.