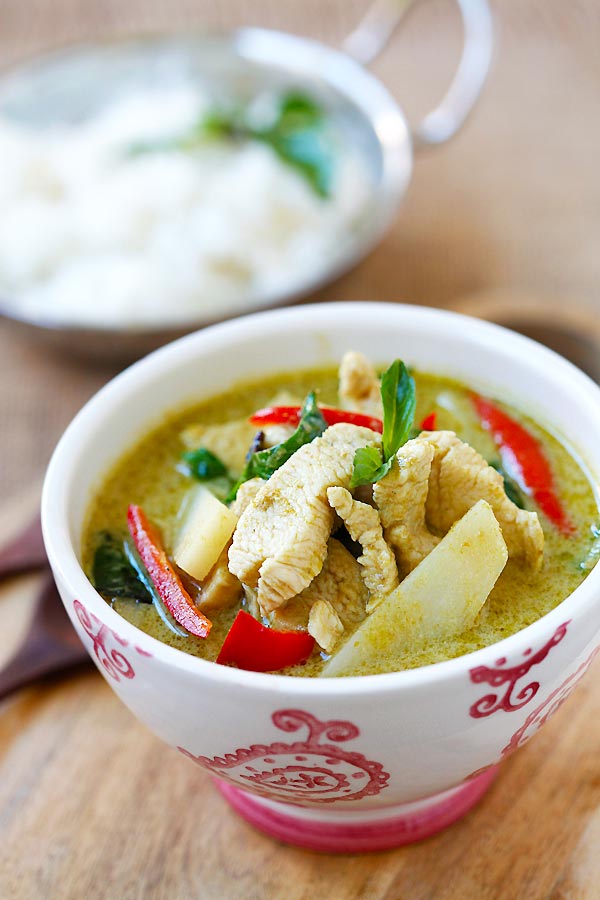 Thai Green Curry
Thai Green Curry – delicious and easy green curry with chicken. Making green curry is so easy and takes only 20 min, and much cheaper than eating out.
Originally published in 2008, updated with new photos and recipe.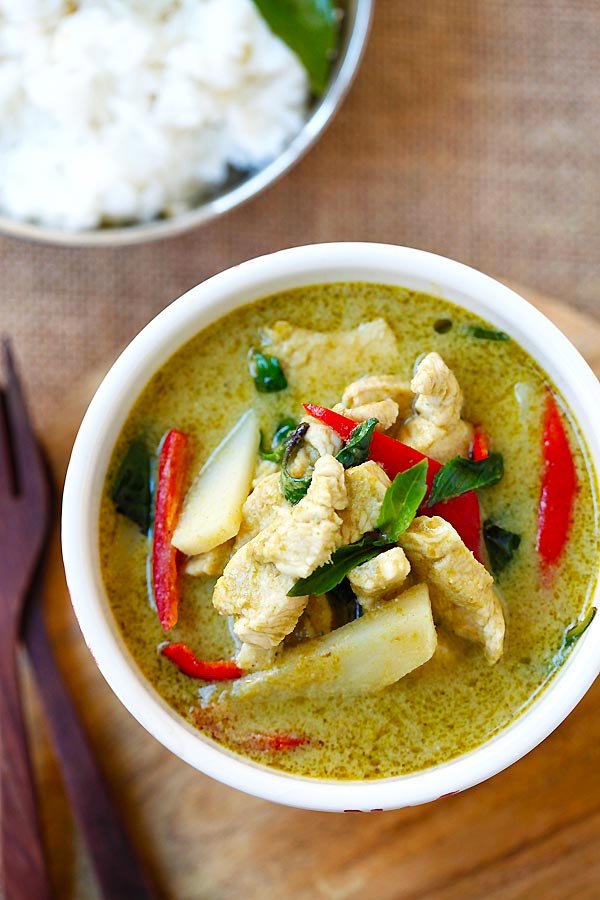 If you are a Thai food lover, I am sure you love the different types of Thai curry, named after the color of the curry: red, yellow, and green. And then there are Panang curry, Jungle curry, Massamam curry, etc. One of my favorite Thai curries is green curry, spicy, aromatic, sweet and savory at the same time. Green curry is such a great delight, specially when served with steaming white rice.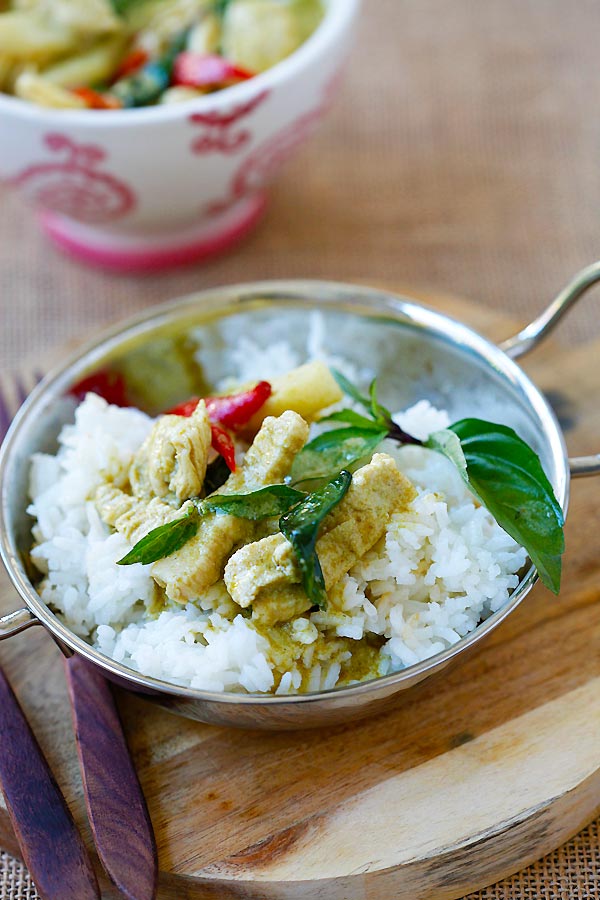 Green curry is made with green curry paste. The main ingredient of green curry paste is cilantro root or cilantro stems (not the leaves) and fresh green chilies, hence the name green curry. While you can always make Thai curry paste from scratch, I am all about buying instant curry paste from Asian stores. You can make very good, authentic and absolutely delicious green curry using store-bought curry paste. The key is to balance the flavors of the curry—it has to be spicy, rich and creamy (from the coconut milk), savory (from the fish sauce) and sweet (from palm sugar or sugar). They are the pillars of Thai recipes, and once you master the perfect balance, you can make just about any Thai recipes at home!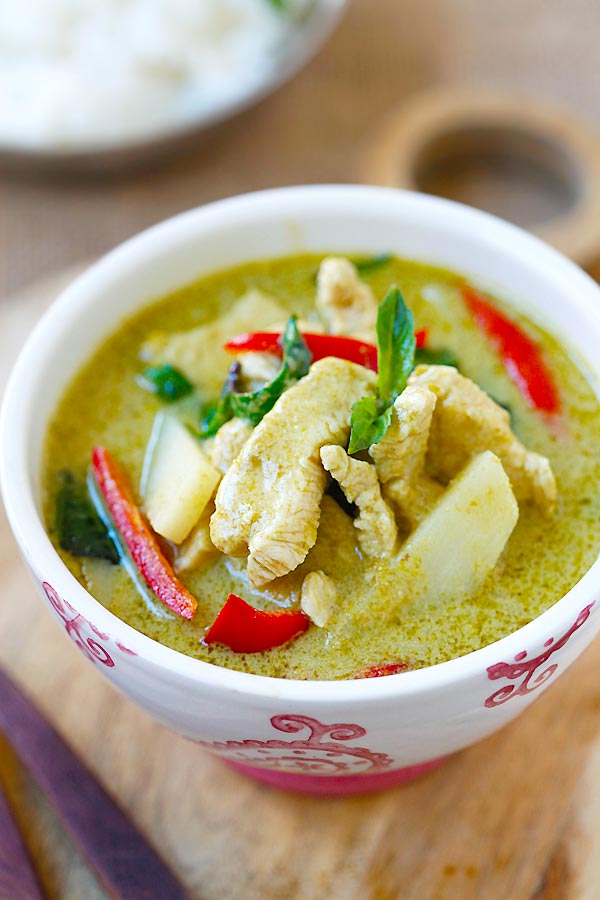 So here is my chicken green curry. The traditional recipe calls for green apple eggplant or Thai eggplant, which is a variety of eggplant which is small and round in shape, used in Thai cooking. They are sometimes available at Asian stores but not often. I opted out and used canned bamboo shoots, which are widely used as a replacement in Thai restaurants in the US.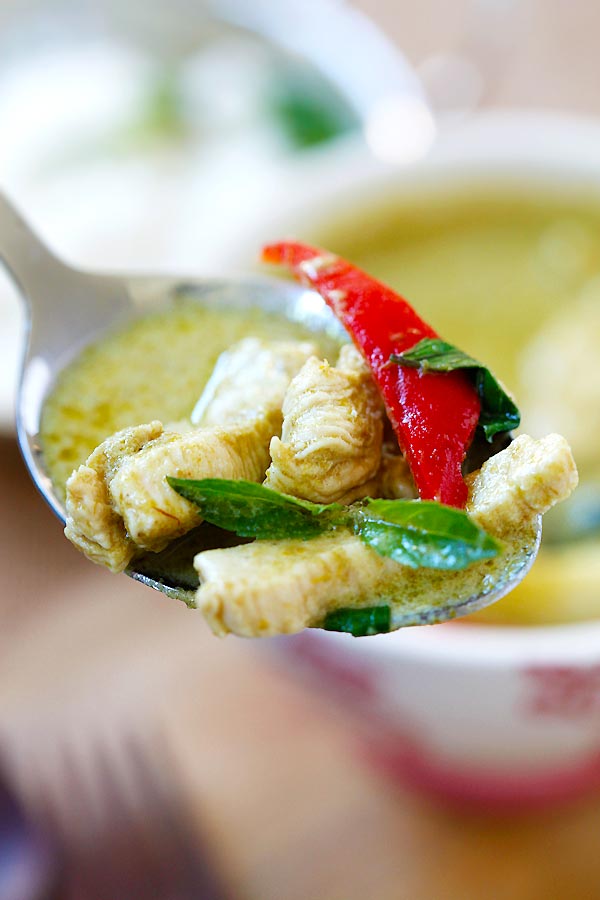 This green curry recipe is extremely easy to make and takes about 15-20 minutes from prep to dinner table. Anyone can make it at home, as long as you gather the ingredients. Try it and you will be surprised just how easy it is.
Happy cooking!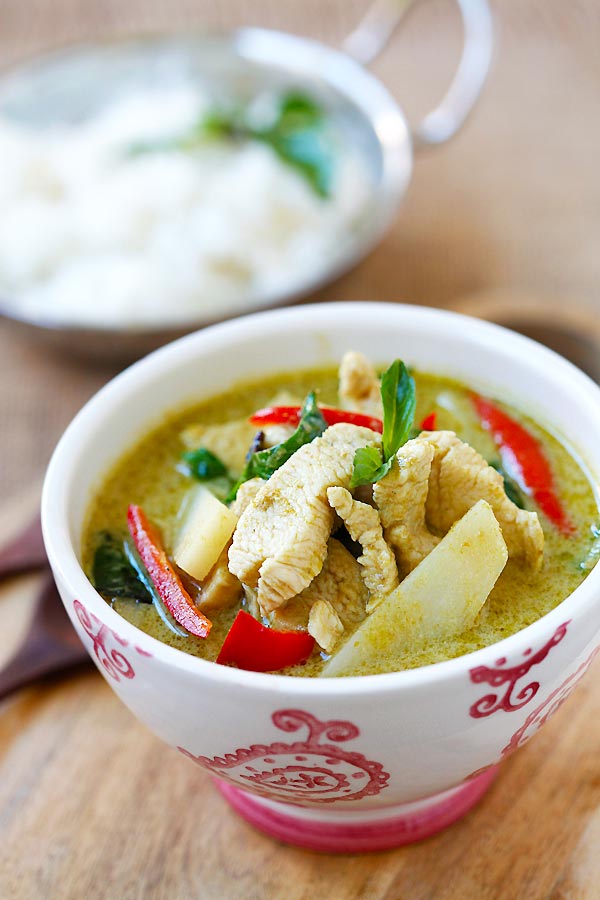 Green Curry
Serves 2 | Prep Time: 5 Minutes | Cook Time: 15 Minutes

Ingredients:
1 1/2 tablespoons oil
2 tablespoons green curry paste, Mae Ploy brand preferred
8 oz chicken breast, cut into bite-sized pieces
1/2 cup coconut milk
1/2 cup water
4 oz bamboo shoot
5 kaffir lime leaves, lightly bruised
2 red chilies, cut into thick strips
1 tablespoon fish sauce
1 tablespoon sugar or palm sugar (preferred)
1/4 cup Thai basil leaves
Method:
Heat up a pot over medium heat and add the oil. Saute the green curry paste until aromatic, add the chicken and stir to combine well with the curry paste. Add the coconut milk and water and bring it to a quick boil.
Add the bamboo shoots, kaffir lime leaves, and red chilies. Lower the heat to simmer, cover the pot and let simmer for 10 minutes or until the curry slightly thickens.
Add the fish sauce, sugar, and basil leaves. Stir to mix well. Turn off the heat and serve immediately with steamed rice.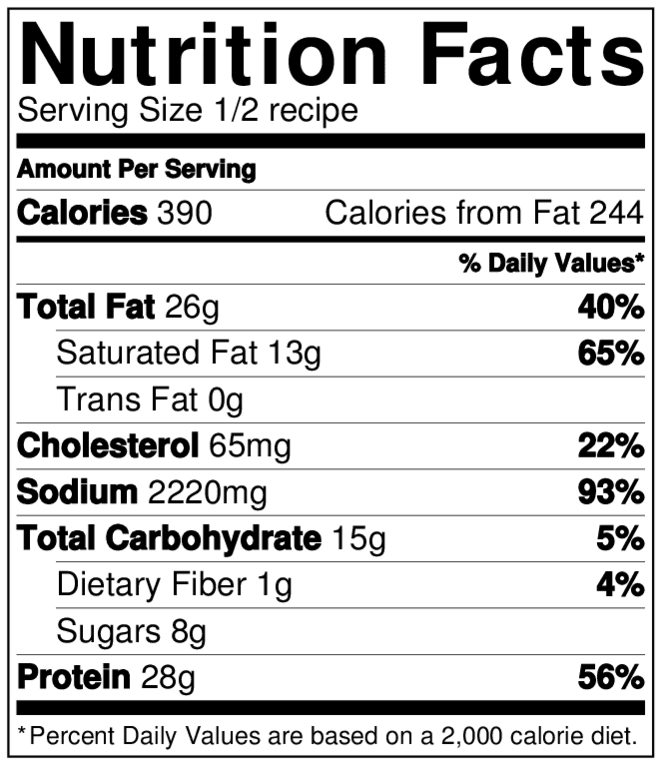 IMPORTANT:
All photos and recipes on Rasa Malaysia are copyright protected. Please do not use the photos and recipes without prior written permission. If you wish to republish this recipe, please rewrite the recipe in your own words instead of copy and paste and link back to http://rasamalaysia.com/thai-green-curry-recipe/. Thank you very much!
Serve Thai Green Curry with: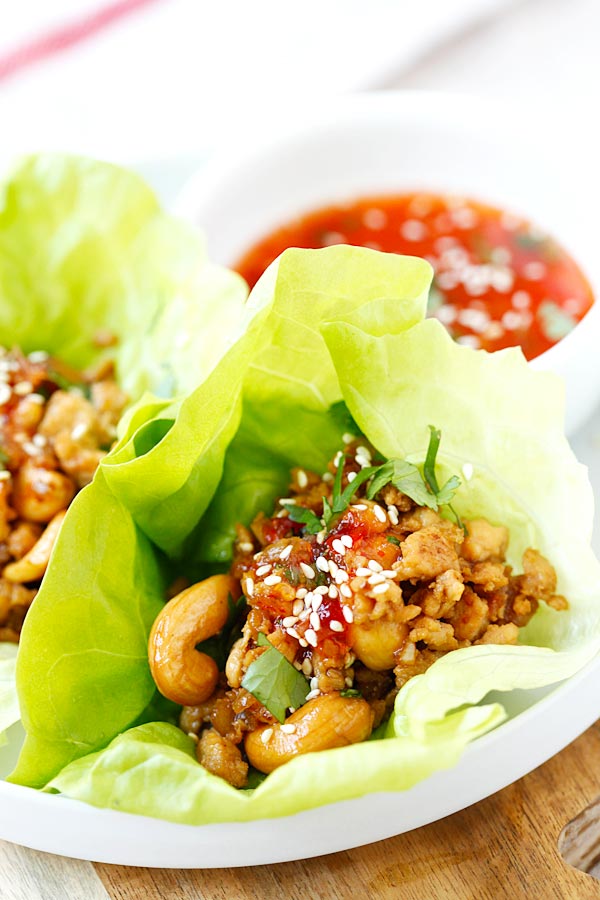 Thai Chicken Lettuce Wraps
Green Bean with Peanut Sauce
Chicken and Pineapple Fried Rice
Most-Pinned Recipes
Ginger Garlic Baked Chicken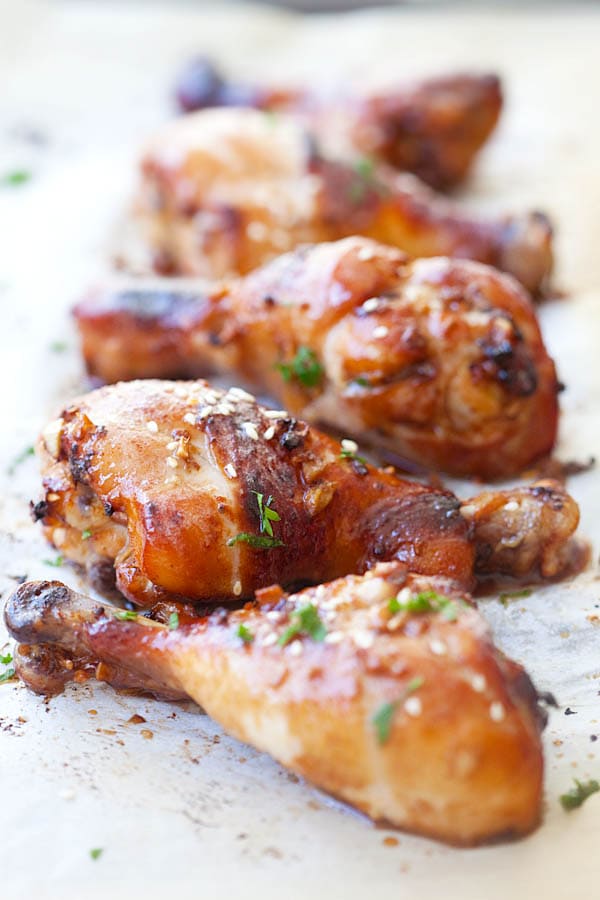 Crab Rangoon (Cream Cheese Wontons)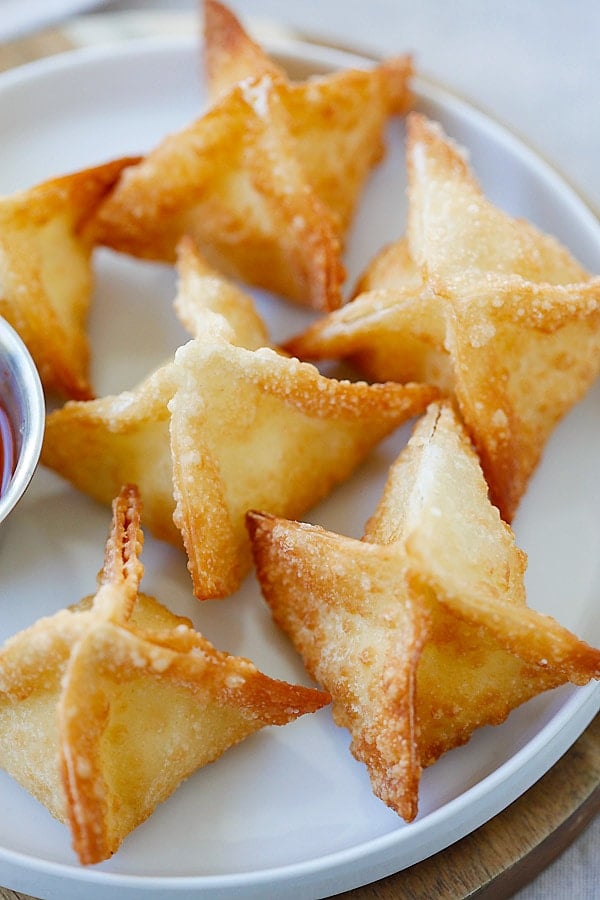 Chicken Wontons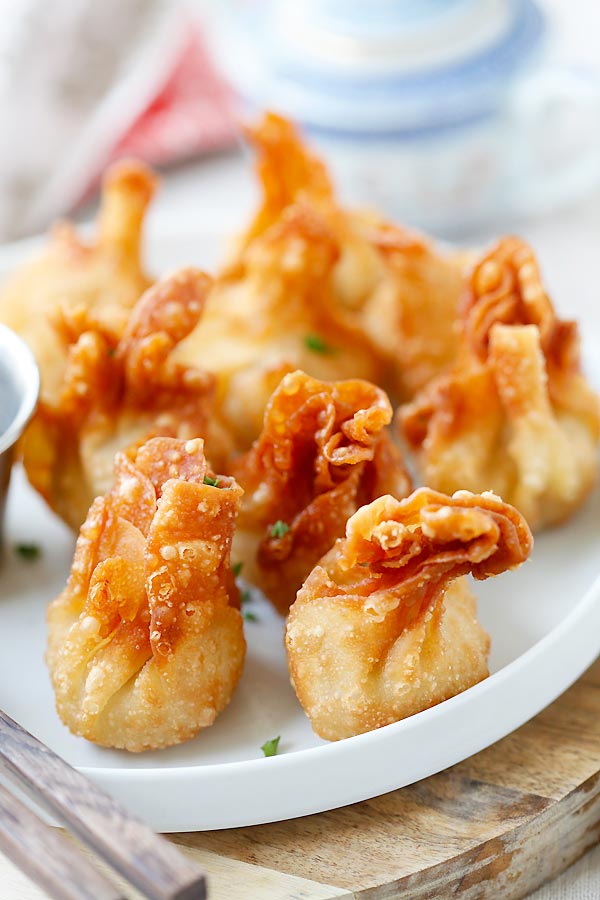 Onion Scallion Beef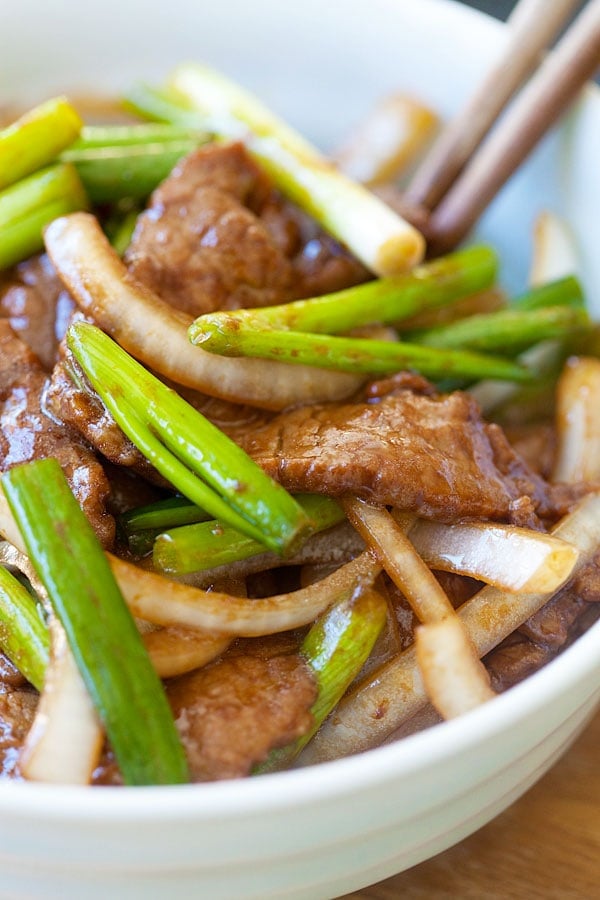 Thai Chicken Sate with Peanut Sauce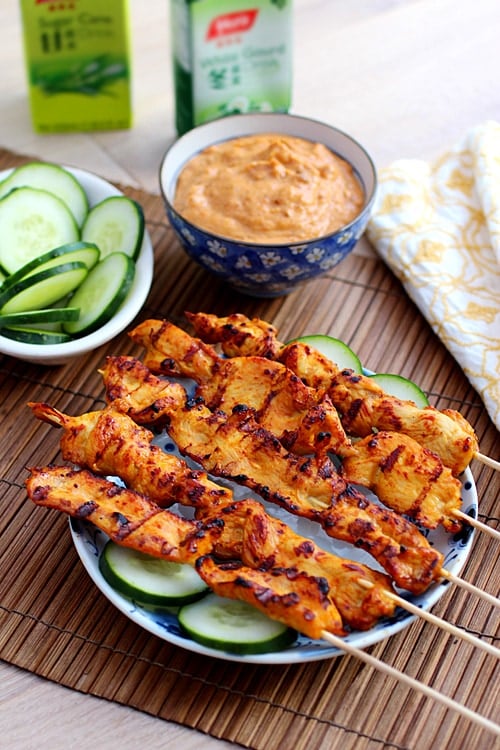 Thai Peanut Sauce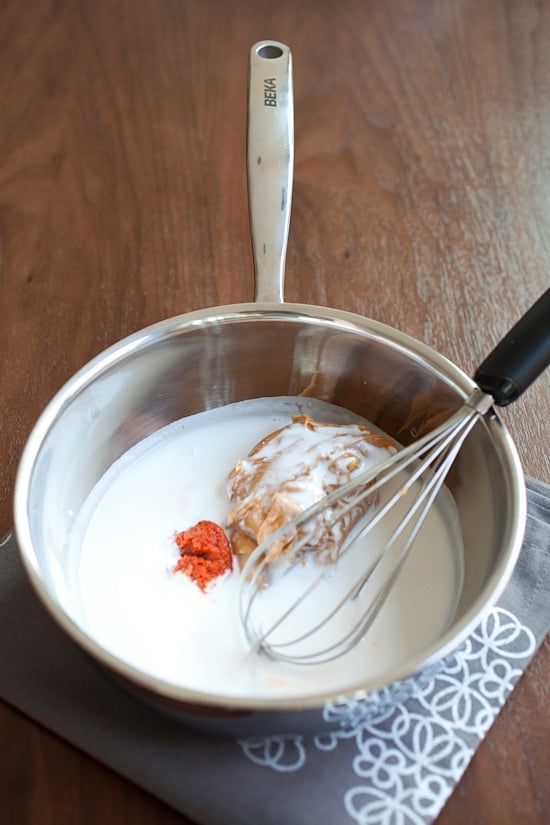 Copyright © 2016 Rasa Malaysia. All rights reserved.