Thai Peanut Sauce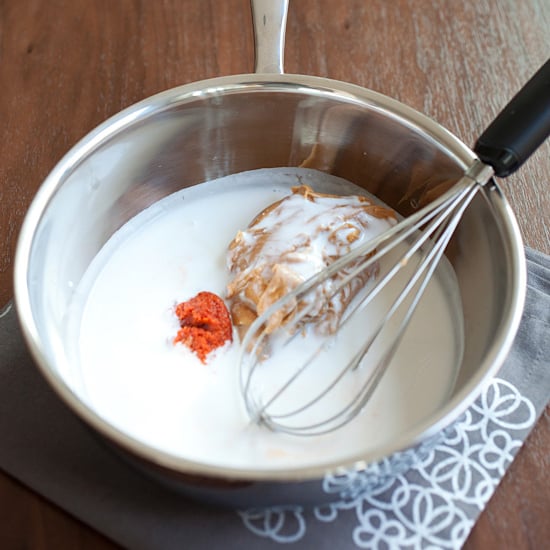 http://rasamalaysia.com/thai-peanut-sauce/
Thai peanut sauce is probably one of the most popular Asian dipping sauces, everyone loves the taste of peanut sauce as it's so tasty, versatile, and addictive. Without saying, Thai peanut sauce goes well with skewers of sate or grilled meat, but it's also amazing with other protein such as shrimp or fish. Most people think that Thai peanut sauce is hard to make and never attempted it at home but the reality is the exact opposite. Peanut sauce is really easy to make and takes only a few key ingredients: peanut butter, coconut milk, Thai red curry paste, Apple cider vinegar, salt and sugar to taste. The best thing about this Thai peanut sauce recipe is that it doesn't involve much cooking, all you need is to mix the ingredients in a saucepan, heat it up, and voila, you have the homemade peanut sauce.
When it comes to a good saucepan that fits my everyday needs, I trust my Beka Cookware Tri-Lux conical saucepan, which is professionally designed, energy efficient and sustainable. I love the finesse of Beka Cookware as every piece of the cookware is beautiful, practical, and high quality. The Tri-Lux saucepan is coated with tri-ply materials that warm faster and maintain heat longer.
The exterior and interior of each piece of the Tri-Lux line is constructed using the finest stainless steel polished to a mirror finish. Encapsulated inside this stainless steel exterior is a thick layer of aluminum providing the benefits of aluminum's greater heat conductivity and the long lasting durability and beauty of stainless steel. I also love it that the handle of the Tri-Lux saucepan is made of cast steel that is ergonomically designed to fit my hand perfectly and welded for easy cleaning. The interior the saucepan is inscribed with capacity markings, this make it very easy and quick to add ingredients without the need for a separate measuring cup. I made the Thai Peanut Sauce in practically less than 15 minutes, thanks to the efficiency of the Beka Cookware Tri-Lux saucepan, which you can purchase online at Amazon. Beka Cookware Tri Lux Range also offers other amazing pots and pans, check them out here.
Click Images Below for Similar Recipes:
LOVE THE RECIPE & PHOTOS? PLEASE SHARE:
Sign Up for Email Updates
Enter your email for new updates: recipes, giveaways, and more!