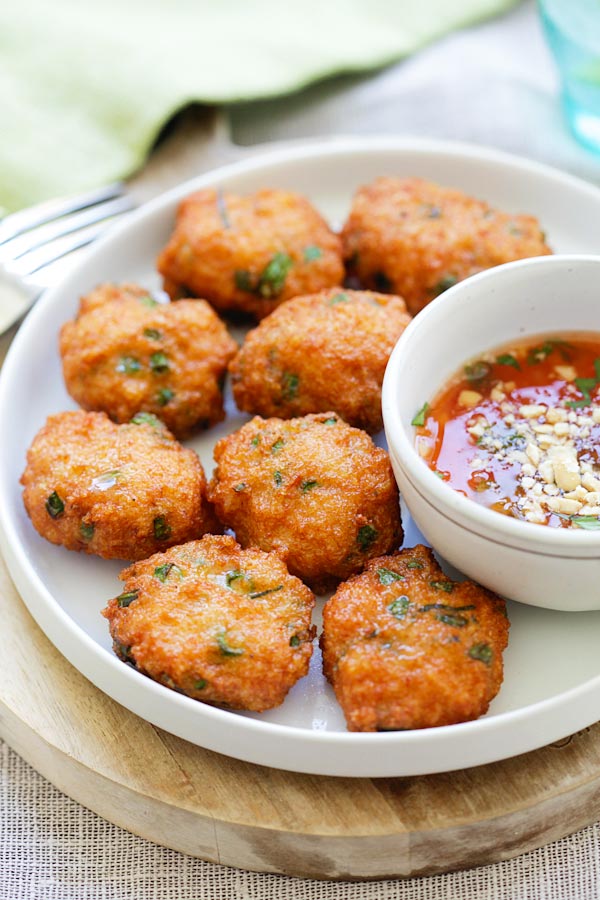 Thai Shrimp Cake
Thai Shrimp Cake – best Thai shrimp cakes recipe loaded with shrimp, red curry, long beans and served with sweet chili sauce. So good!
Originally published in May 2012. Updated with new photos.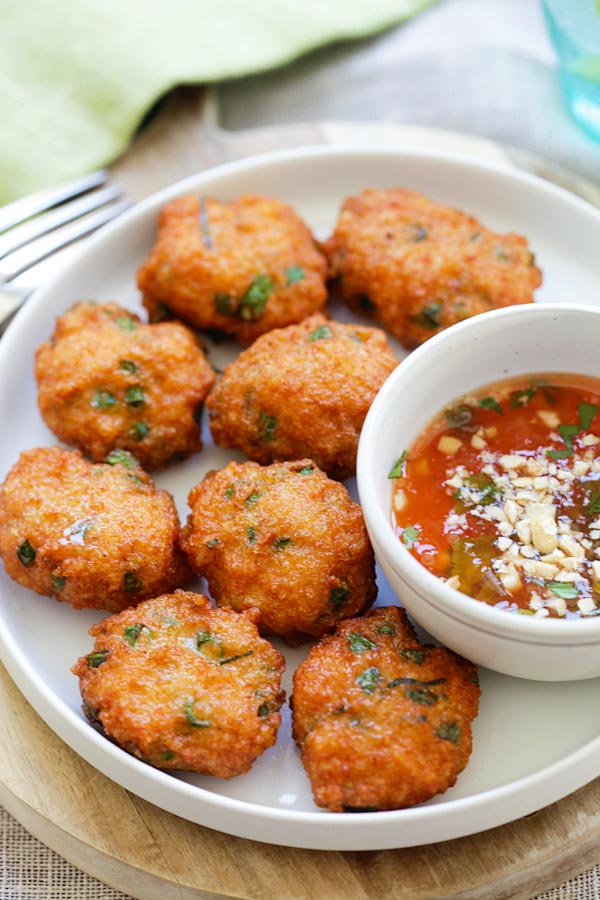 This Thai shrimp cake recipe is from my good friend Robert Danhi's Easy Thai Cooking cookbook. I am partial to Thai food, including the wide array of appetizers. These delicious shrimp cakes are right up my alley.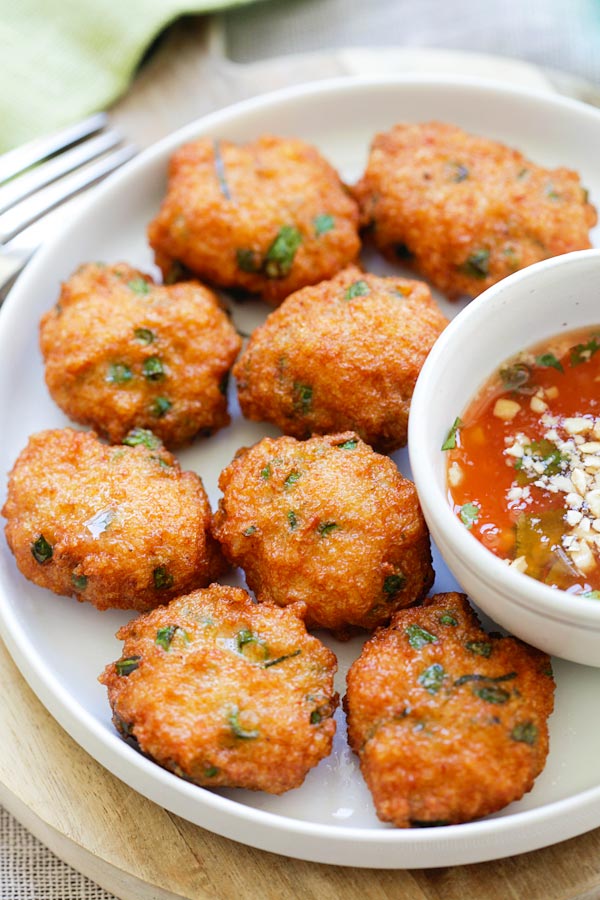 It's very easy to make these shrimp cakes. All you need are some peeled and deveined shrimp (size doesn't really matter in this recipe), Thai red curry paste, long beans, coconut milk. Roughly chopped up the shrimp and shape them into a patty, pan-fried and serve with the ever pleasing Thai sweet chili sauce.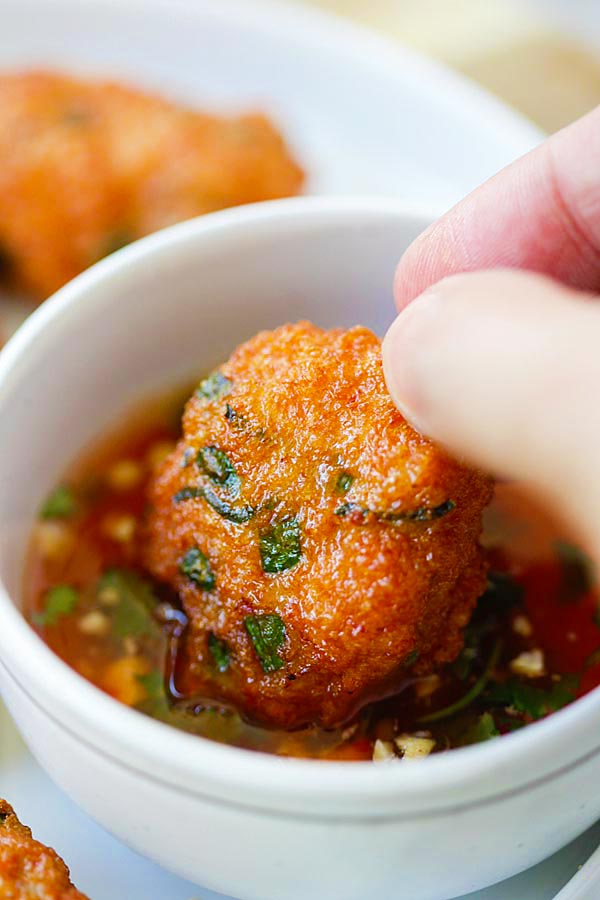 If you love Thai food (who doesn't?) and wish to explore beyond the regular Tom Yum, Pad Thai and Pad See Ew, try this Thai shrimp cake recipes and you won't be disappointed.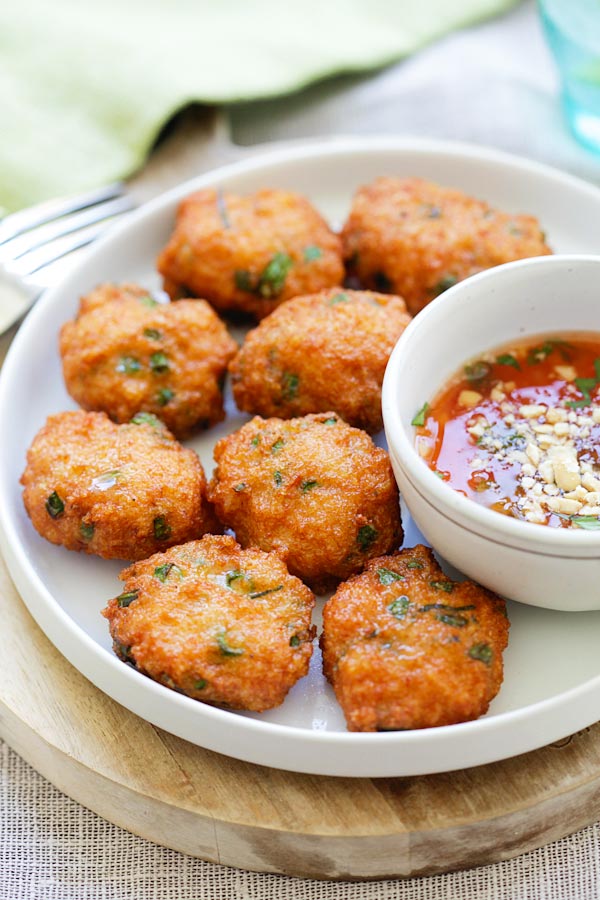 Thai Shrimp Cake Recipe
Source: Easy Thai Cooking, Robert Danhi
Makes: 20 pieces | Preparation: 7 minutes + chilling time | Cooking: 10 minutes
Ingredients:
8 oz (250g) peeled and deveined raw shrimp, roughly chopped
2 tablespoons red curry paste
1 large egg
2 teaspoon fish sauce
1 tablespoon sugar
2 tablespoons coconut milk
1/4 cup (25g) chopped long bean/green beans
2 tablespoons roughly chopped Thai basil leaves
2 tablespoons oil
Sweet Chili Sauce:
1/4 cup (65ml) Thai sweet chili sauce
1 tablespoon fresh lime juice
2 teaspoon chopped coriander leaves (cilantro)
1 teaspoon minced ginger
Method:
1. Prepare the Sweet Cilantro Sauce by whisking all the ingredients together in a small bowl and then set aside.
2. Spread the shrimp on a plate and chill the shrimp in the freezer for 15 minutes(this can ensures the springy texture of the shrimp cakes). Meanwhile get all your other ingredients ready. Combine the chilled shrimp, red curry paste, egg, fish sauce, sugar and coconut milk in a food processor or blender. Process until smooth, about 30 seconds. Transfer the mixture to a mixing bowl. Mix in the green beans and basil.
3. Because different brands of curry pastes have differing amounts of salt you'll want to make a sample shrimp cake first by saute 1 tablespoon of the mixture in a skillet(frying pan). Taste, and if necessary, adjust the seasoning with fish sauce and salt.
4. Heat a large skillet over medium heat. First use 1 tablespoon of the oil to coat the skillet, use a measuring spoon to drop 1 tablespoon of the paste into the skillet. With a damp finger, flatten the paste slightly to about 1/2″ thick. Make about 10 of these shrimp patties in the skillet.Cook the cakes until they are golden brown on each side and cooked through, about 2 minutes per side. Wipe out the skillet with a paper towel, make more patties from the remaining paste and cook the same way. Serve with a side bowl of the Sweet Chili Sauce.
Most-Pinned Recipes
Ginger Garlic Baked Chicken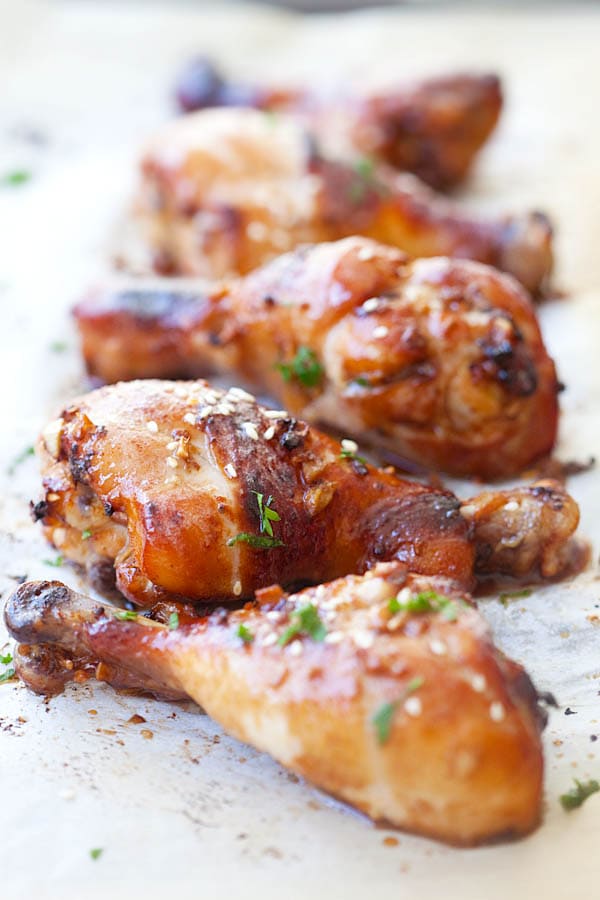 Crab Rangoon (Cream Cheese Wontons)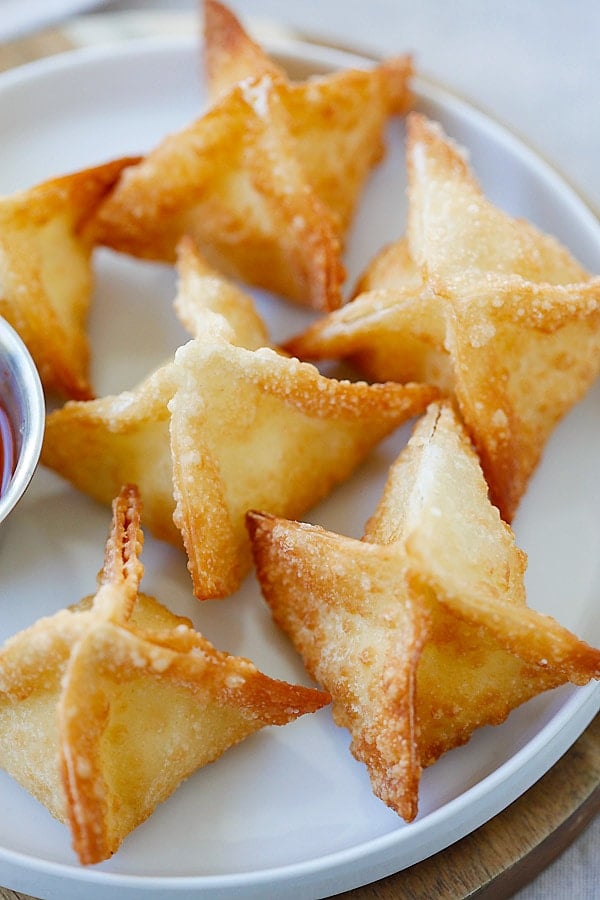 Chicken Wontons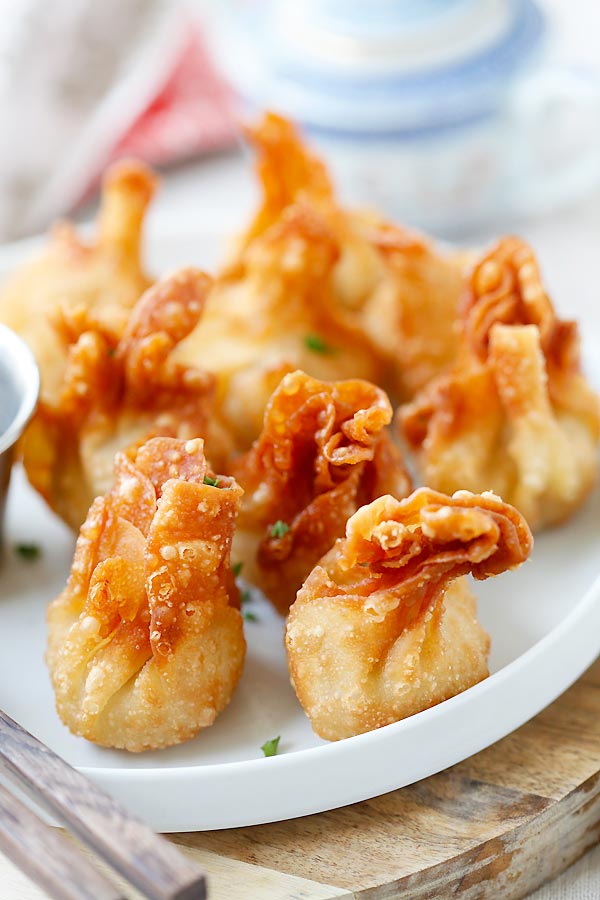 Onion Scallion Beef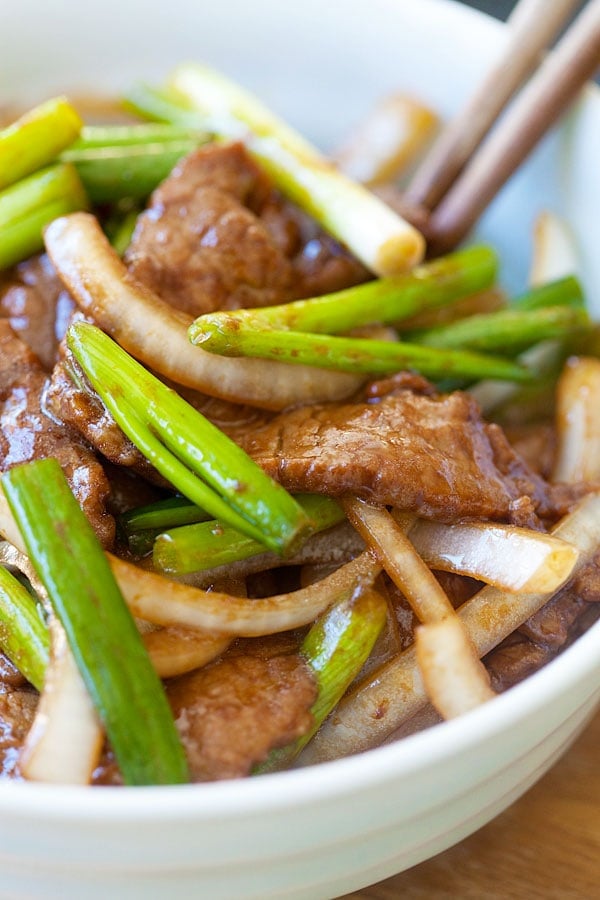 Thai Chicken Sate with Peanut Sauce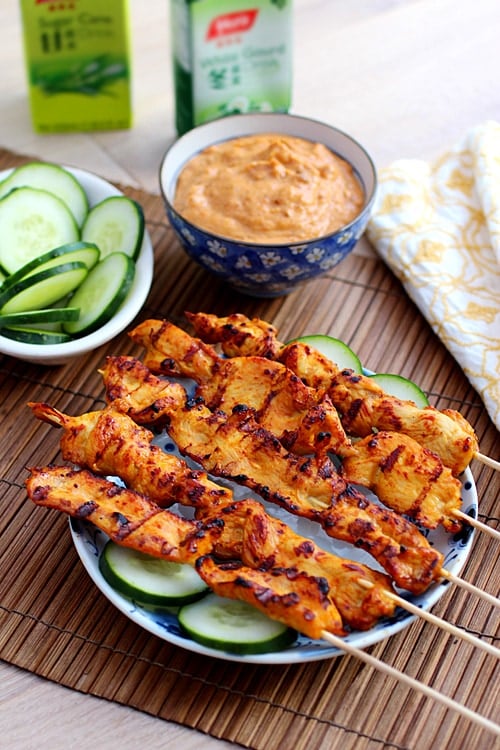 Thai Peanut Sauce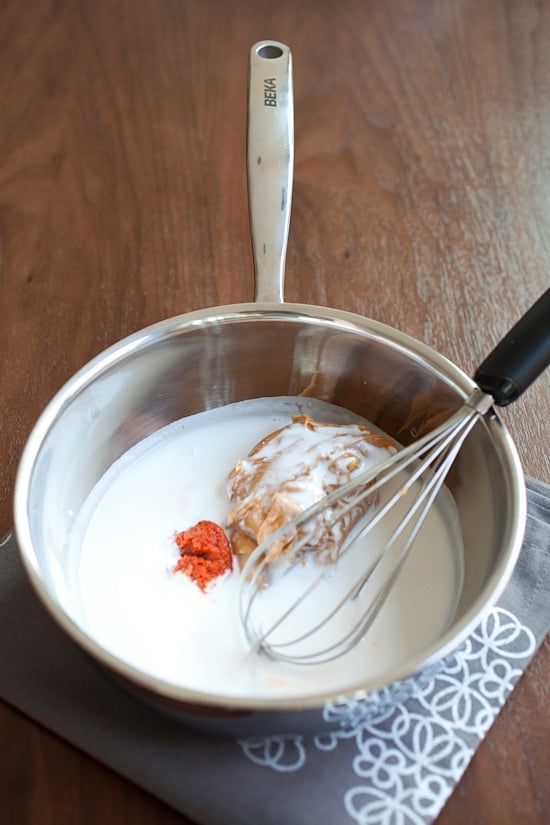 Limited Time Offer: $5.99 only. Available for download WORLDWIDE!
**Use it on Your Tablet, Mobile Phone, Desktop or Laptop**
Copyright © 2016 Rasa Malaysia. All rights reserved.