Thai-style Steamed Clams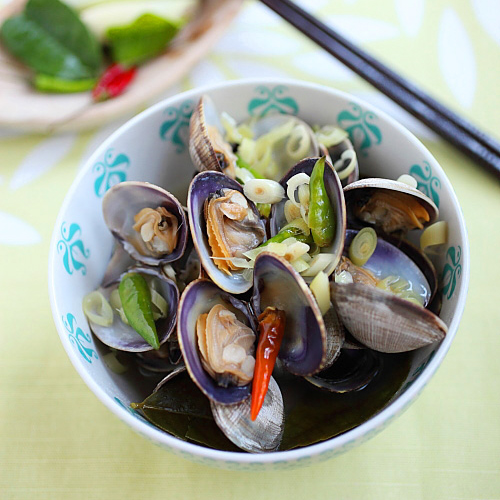 http://rasamalaysia.com/thai-steamed-clams/
A few weeks ago, when my friend Eat A Duck I Must came to shoot my cookbook promo video for me, I made her a killer pot of Penang Assam laksa. After she left, all the remaining spices had been sitting in my fridge in a dark corner—lemongrass, bird's eye chilies, galangal, and lime juice. Last week, my market was having a sale of Manila clams and I thought about a great recipe that would make use of the spices. I made this yummy Thai-style steamed clams…
This steamed clams dish is everything Thai food is all about: hot, sour, aromatic, and addictive. Other than the spices, the secret ingredient is coconut water. You can get canned coconut water at Asian stores, however, water is fine as the clams are naturally briny and flavorful. I must say that the coconut water does add a subtle sweetness to the overall dish, and pairs perfectly with the exotic aromas of lemongrass and kaffir lime leaves.
Try this Thai steamed clams recipe the next time you have some Thai ingredients at hand. I am certain you will enjoy the great taste.
Sign Up for Email Updates
Enter your email for new updates: recipes, giveaways, and more!