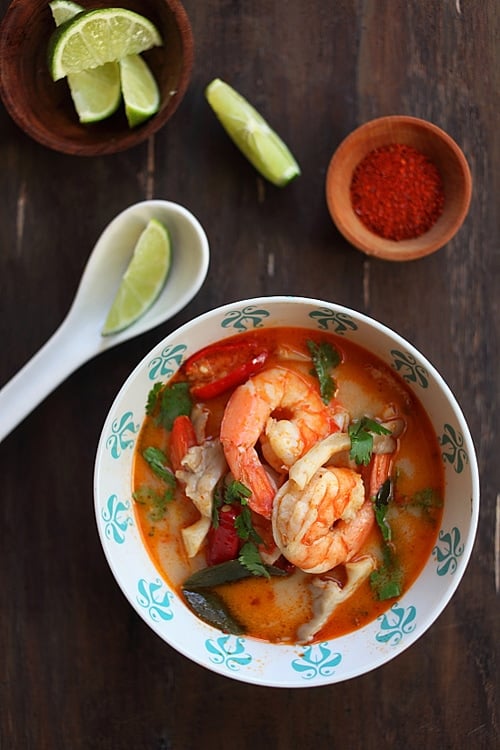 Born and raised in Penang, I am all about sun and warmth. I absolutely dread cold weather and the mere presence of sun lights me up like a glowing stick. I am inherently happier and more cheerful when the sun is out.
This month has been mostly cold and wet—lots of rain, cloudy, and yucky. I feel moody when the sky is grey. On chilly and gloomy days, I usually make myself Tom Yum soup to lift my spirit. Nothing feels better than downing a bowl of piping hot, spicy, sour, and highly addictive Tom Yum soup.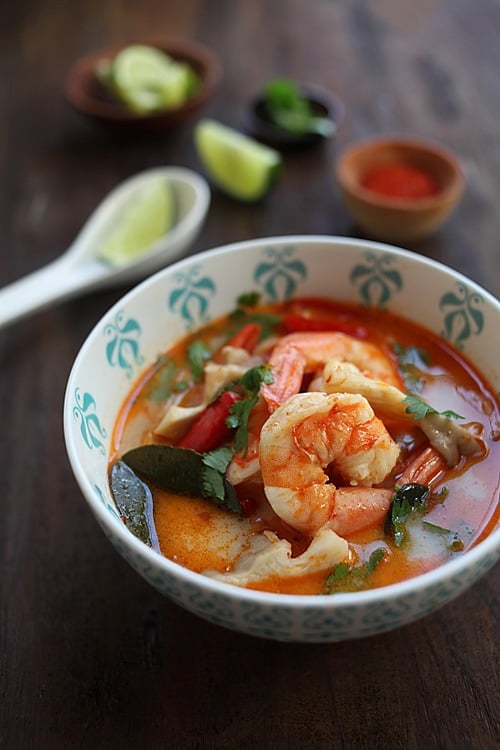 Tom Yum is probably one of the most well-know Thai recipes. It's uniquely Thai and has become so famous that they made a movie with the name "Tom Yum Goong." I kid you not.
Over the years, I have perfected my version of Tom Yum recipe. I can whip it up in less than 30 minutes. The best Tom Yum recipe calls for shrimp/prawn stock, which you can make by boiling prawn/shrimp heads with water, a trick I learned from my friend Chez Pim. A good stock guarantees the great taste of Tom Yum, much like dashi to Japanese cuisine. However, you can also make it with water or canned chicken stock. Another secret is the use of nam prik pao (Thai roasted chili paste). Of course, you can't do without the aromatics: galangal, lemongrass, kaffir lime leaves, bird's eye chilies, etc. Once you have these ingredients, you will have the best bowl of homemade tom yum you've ever tasted, I promise.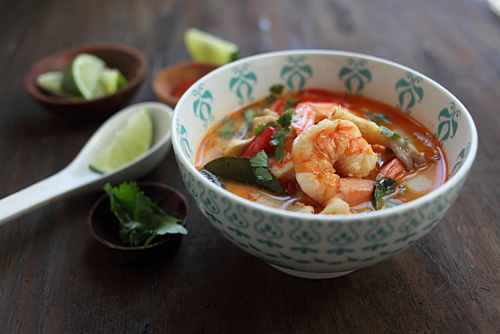 To make Bangkok-style Tom Yum which is creamier and whiter in color, add a few tablespoons of evaporated milk to the soup, a trick I learned from She Simmers.