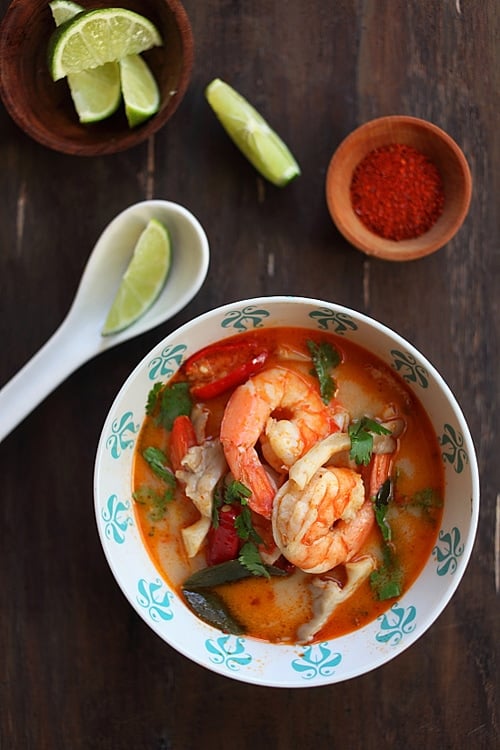 Tom Yum Goong
Tom Yum Goong – the BEST Thai Tom Yum recipe you'll find online. Loaded with shrimp, mushroom, Tom Yum soup is spicy, sour, savory and addictive!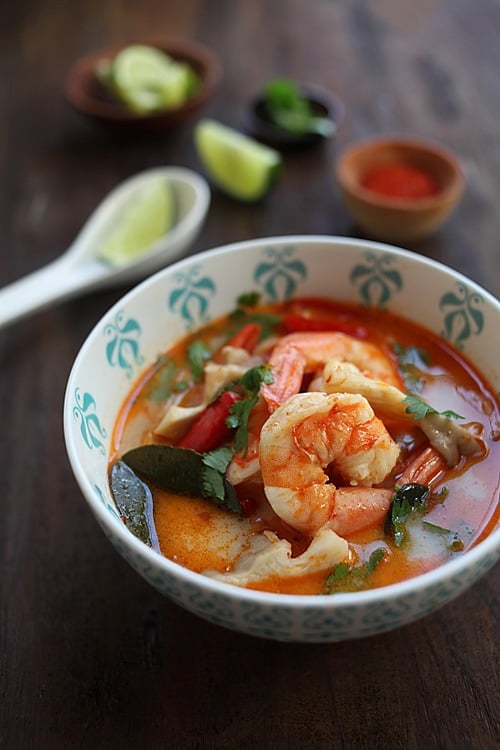 Tom Yum is probably one of the most well-know Thai recipes and I have the BEST and most authentic Tom Yum Goong recipe for you here. The best Tom Yum calls for shrimp stock, which you can make by boiling the shrimp heads with water, a trick I learned from Chez Pim. A good stock guarantees the great taste of Tom Yum. However, you can also make it with water or canned chicken stock. Another secret is the use of nam prik pao (Thai roasted chili paste). Of course, you can't do without the aromatics: galangal, lemongrass, kaffir lime leaves, bird's eye chilies, etc. To make Bangkok-style Tom Yum which is creamier and whiter in color, add a few tablespoons of evaporated milk to the soup, a trick I learned from She Simmers. Once you have these ingredients, you will have the best bowl of homemade tom yum you've ever tasted, I promise. Enjoy!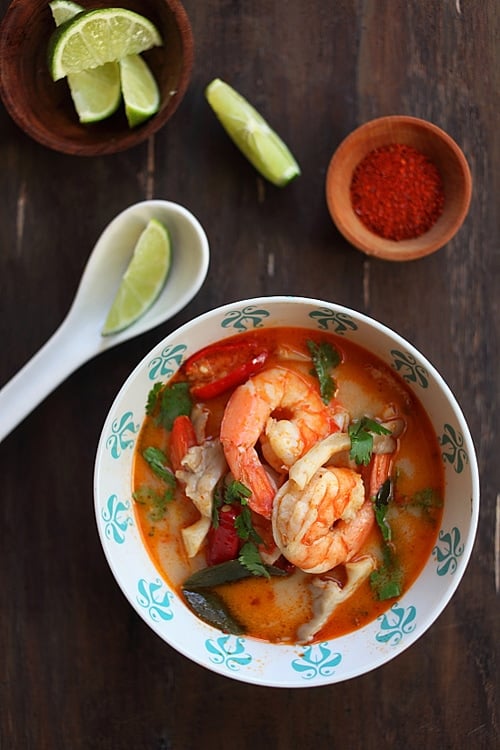 Tom Yum Goong Recipe
Serves 2 | Prep Time: 15 Minutes | Cook Time: 10 Minutes
Ingredients:
2 1/2 cups shrimp stock (best), canned chicken stock, or water
10-12 shrimp or 8 oz (head-on and shell-on but chop the eyes part off, devein if you like)
3 1/2 tablespoons lime juice
6 bird's eyes chilies (pounded)
3 (big) slices galangal
6 kaffir lime leaves (bruised)
2 tablespoons nam prik pao (Thai roasted chili paste)
2 tablespoons oil of nam prik pao
3 teaspoons fish sauce
1 stalk lemongrass (cut into 3-inch strips, pounded with a cleaver)
6 canned straw mushrooms / fresh oyster mushrooms / fresh or canned button mushrooms
Method:
In a pot, bring 3 cups of water to boil. Then add a big handful of shrimp/prawn heads. Boil the shrimp head until the water turns slightly orange in color. Press the shrimp heads with spatula to extract the "goodies" from their heads. Let the stock reduce to slightly more than 2 1/2 cups. Drain the shrimp stock and discard the shrimp heads.
Add lemongrass, galangal, kaffir lime leaves, bird's eye chilies, mushrooms, nam prik bao to the shrimp stock and bring it to boil. Add in the shrimp and fish sauce. Lastly, add the lime juice (if you add lime juice too early, the soup might turn bitter). Boil until the shrimps are cooked, dish out and serve hot.
Cook's Note:
You can use also chicken, a combination of chicken plus shrimp, or seafood combination (shrimp, squid, scallops, green-lipped mussels) for tom yum soup. It's really up to you, but the most popular tom yum is tom yum goong, goong means prawn.
Most-Pinned Recipes
Ginger Garlic Baked Chicken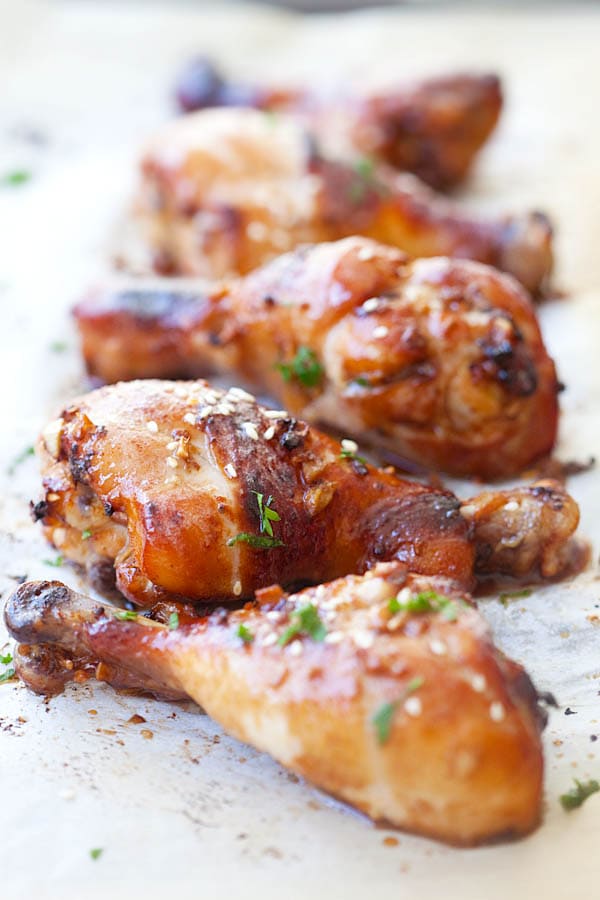 Crab Rangoon (Cream Cheese Wontons)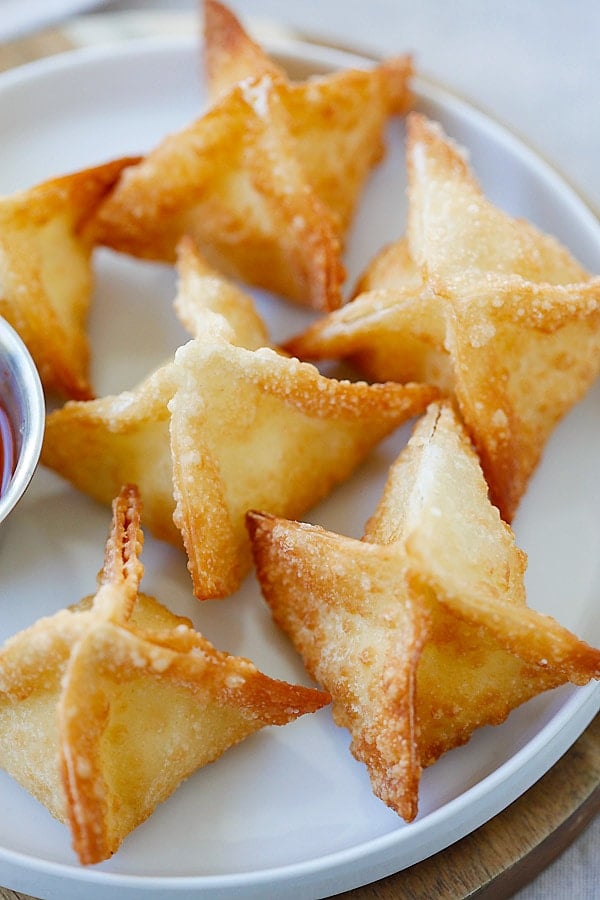 Chicken Wontons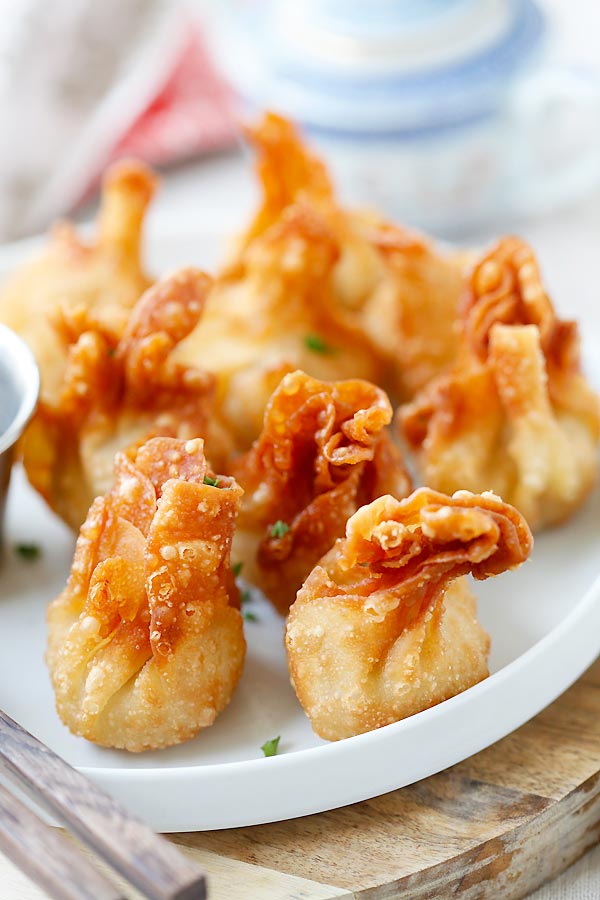 Onion Scallion Beef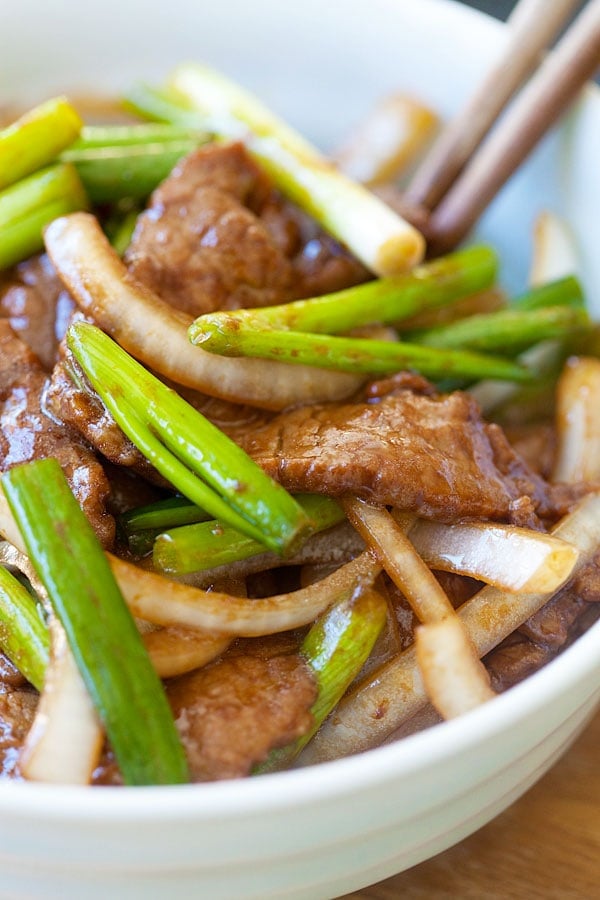 Thai Chicken Sate with Peanut Sauce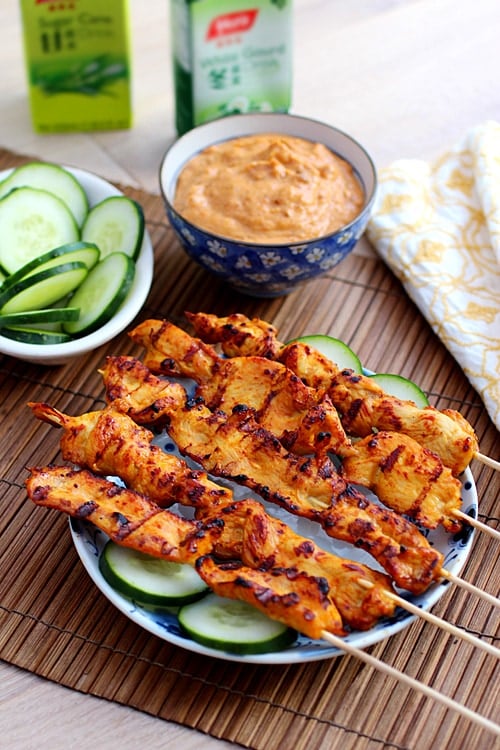 Thai Peanut Sauce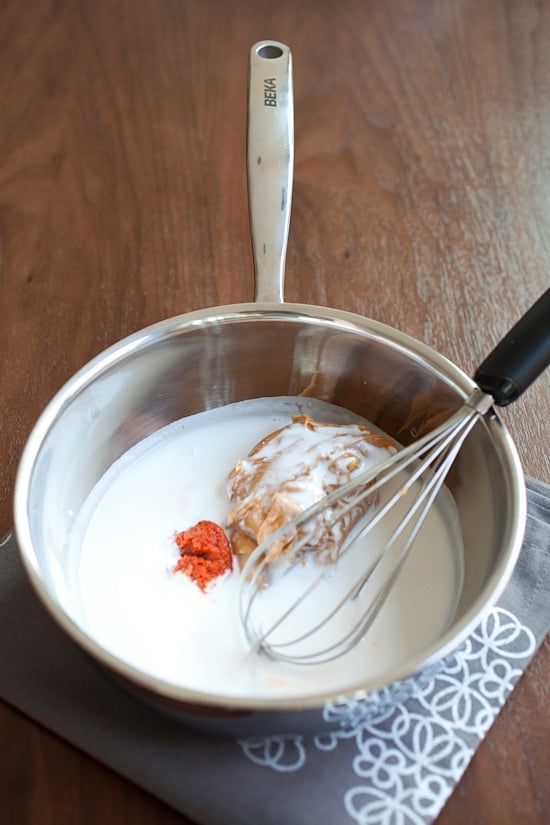 Limited Time Offer: $5.99 only. Available for download WORLDWIDE!
**Use it on Your Tablet, Mobile Phone, Desktop or Laptop**
Copyright © 2016 Rasa Malaysia. All rights reserved.