Totally Bamboo Cutting Board Giveaway (CLOSED)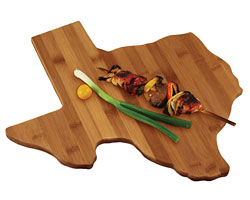 http://rasamalaysia.com/totally-bamboo-cutting-board-giveaway/
Totally Bamboo Cutting Board Giveaway (CLOSED)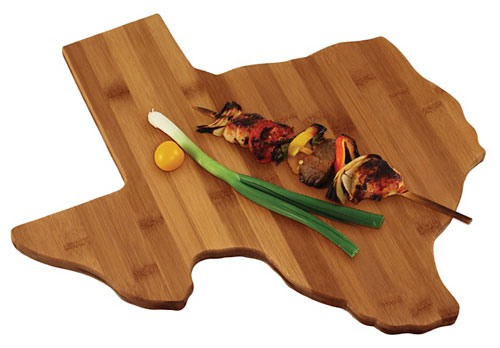 Update: The winner is Jane K.
I'm partnering with Totally Bamboo to giveaway a United States Bamboo Cutting Board. There will be one (1) winner whom will receive one (1) Bamboo Cutting Board shaped like the United States of America.
The cutting board has long been a utilitarian workhorse. A necessity in the preparation of almost any meal, this lowly rectangular slab of plastic or wood went about its job with little fanfare or style. Totally Bamboo has changed all that elevating this mundane kitchen utensil to stately status. Introducing the "United States of Bamboo", over 50 different cutting boards representing each state.
"We designed these cutting boards to be both fun and practical," said Tom Sullivan, co-owner of Totally Bamboo. "On the practical side it is a very functional cutting board that will serve the kitchen well. On the fun side, well that's pretty obvious."
In keeping with Totally Bamboo's mission to use only sustainable natural materials each of these states cutting boards is made from beautiful and 100% renewable bamboo.
These States cutting boards represent the latest design from a company who introduced the first bamboo cutting boards over 12 years ago. Bamboo is a lightweight, tough and sustainable product that is an excellent alternative to the world's dwindling supply of hardwoods from which traditional cutting boards are made. Each cutting board is full of natural rich wood colors brought out by the natural caramelization of the sugars found in bamboo and features the unique look of tropical hardwoods without any of the guilt.
Eligibility: United States only. No purchase necessary and subject to this official giveaway rules. Closing Date: August 4, 2013, 11:59 pm PST. Winner will be randomly selected and contacted via email on August 5, 2013. The prize is proudly sponsored by Totally Bamboo.
Other Amazing Prizes & Giveaways:
Click Images Below for Similar Recipes:
No similar posts.
LOVE THE RECIPE & PHOTOS? PLEASE SHARE:
Sign Up for Email Updates
Enter your email for new updates: recipes, giveaways, and more!