Totally Bamboo Salt and Herb Box Set Giveaway (CLOSED)
http://rasamalaysia.com/totally-bamboo-salt-and-herb-box-set-giveaway/
Totally Bamboo Salt and Herb Box Set Giveaway (CLOSED)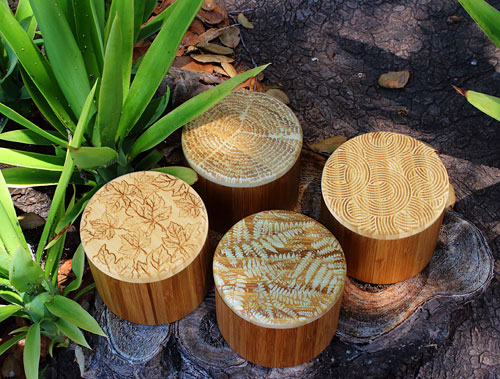 Update: The winner is Catherine L.
I am partnering with my friends at Totally Bamboo to give away a Totally Bamboo Salt and Herb Box Set. There will be one (1) winner whom will receive one (1) Totally Bamboo Salt and Herb Box Set.
Perfect for the cook who needs a pinch of salt or that cluttered desk needing a place to store paper clips, Totally Bamboo's salt and storage boxes are both a beautiful and versatile answer for storing a wide range of small items. Constructed from warm honey colored bamboo these containers feature a magnetic snap close lid for easy one-handed operation.
"I think people will be surprised at the many uses that they come up with for these containers," says Tom Sullivan, co-owner of Totally Bamboo. "In the kitchen they are perfect for different flavored sea salts, peppers, and herbs, but they are also a great place to store rings, jewelry, loose change and any other small items that might otherwise be lost."
The Totally Bamboo line of salt and storage boxes ($10.50) includes four laser-etched containers. The lids of each of these 3.5" diameter containers is decorated with delicate and intricate computer guided laser etchings. The Tree of Life Salt Box is etched with hundreds of exotic and endangered animals. The Circles Salt Box is decorated with a series of interlocking circles. The Fern Salt Box is covered with ferns and the Leaves Salt Box is etched with a number of various sized leaves.
The remaining salt box line is made up of six containers of various sizes, shapes and capacities. The Small Salt Box ($13.99) holds 1/3 of a cup, the Medium Salt Box ($17.99) has a 1-cup capacity and the Large Salt Box ($24.99) will hold 1 1/4 cups. The remainder of the line up features the two tier Double Salt Box ($29.99) with two separate compartments and the 3-Tier Salt Box ($19.99) which has three separate compartments and a weighted base to keep if from tipping over.
"These salt boxes will really come in handy," added Sullivan. "In fact our latest suggested use was for storing bath salts while adding a little pizzazz to your bathroom decor."
Eligibility: United States only. No purchase necessary and subject to this official giveaway rules. Closing Date: Nov 10, 2013, 11:59 pm PST. Winner will be randomly selected and contacted via email on Nov 11, 2013. The prize is proudly sponsored by Totally Bamboo.
Other Amazing Prizes & Giveaways:
Click Images Below for Similar Recipes:
LOVE THE RECIPE & PHOTOS? PLEASE SHARE:
Sign Up for Email Updates
Enter your email for new updates: recipes, giveaways, and more!