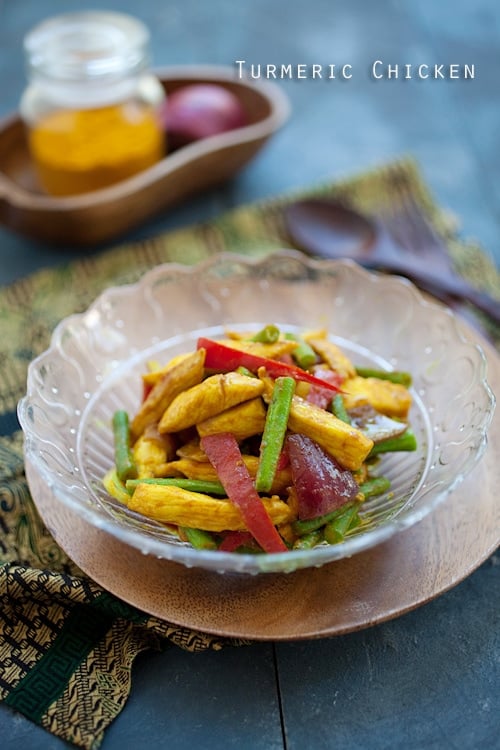 If you read this blog, you will know that I love Malay cooking. Every time I go back to Malaysia, I never miss out Malay food, especially Malay nasi campur (rice plates) or nasi Melayu, where I get to choose the dishes to go with a plate of steamed white rice. I always go crazy with the wide selections—rendang, chicken in spicy sauce, sambal sotong, egg sambal, sambal okra, and the list goes on. Every single dish is so enticing and mouthwatering and I just wanted to eat them all. Sometimes, I would have 5 or 6 dishes on top of the steamed rice. I love it, because Malay food absolutely rocks in the taste department.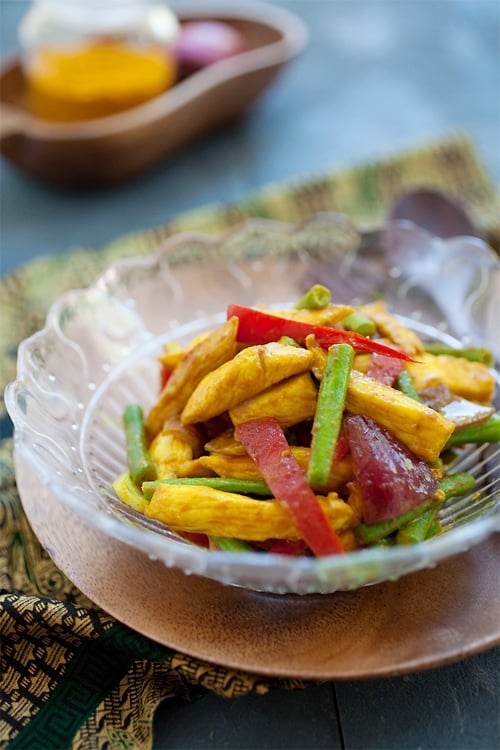 One of the dishes I love is turmeric chicken (ayam goreng kunyit or ayam masak kunyit). Depending on where you get this dish from, the chicken could be deep fried (hence the word "goreng") or just simply cooked in a simple stir-fry. Out of all the dry spices, I am partial to turmeric, or kunyit. Growing up, we used a lot of turmeric in our kitchen; turmeric adds a beautiful yellow color to the food and lends the exotic nuance and aroma to every dish that we made at home. This dish is no exception as the turmeric makes the chicken intensely tasty. The onion, red chili, and French beans add to the texture, presentation, and flavor of the overall dish.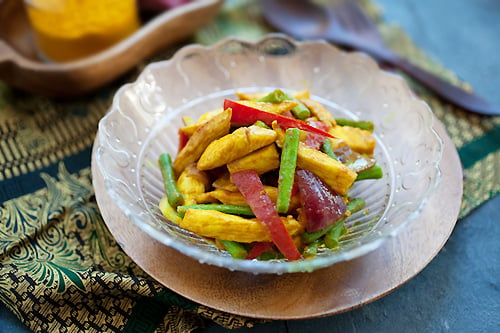 Most people don't like to deep fry chicken at home, so this is my take on the traditional Malay turmeric chicken, or ayam masak kunyit. It's a simple stir-fry dish that anyone can make at home, and takes less than 30 minutes to make.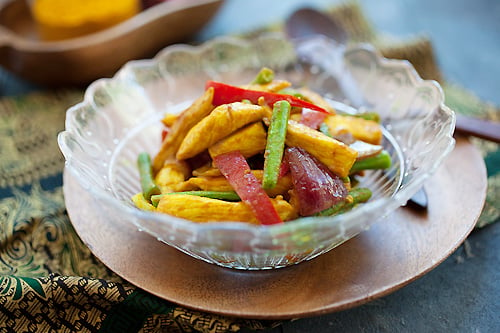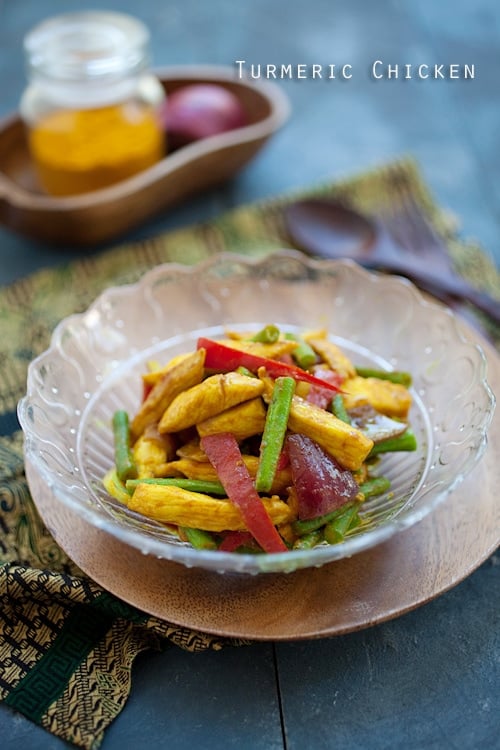 Turmeric Chicken Recipe
Serves 2 | Prep Time: 20 Minutes | Cook Time: 5 Minutes
Ingredients:
8 oz skinless and boneless chicken meat (breast or thigh), cut into strips
1 teaspoon turmeric powder
2 teaspoons oyster sauce
2 tablespoons oil
1/2 onion, sliced
1 red chili, deseeded and cut into thick strips
2 oz French beans, cut into 2-inch strips
3 tablespoons water
1/2 teaspoon sugar
Salt to taste
Method:
1. Marinate the chicken with the turmeric powder and oyster sauce for 15 minutes.
2. Heat up a wok and add the oil. Stir-fry the onion until aromatic, then add the chicken and do a few quick stirs.
3. Add the red chili, French beans and stir well with the ingredients in the wok.
4. Add the water into the wok and continue to cook the chicken.
5. Add the sugar and salt (to taste), and continue stirring until the chicken is cooked through. Dish out and serve immediately with steamed rice.
Cook's Note:
Turmeric powder is derived from the turmeric root. You can get the spice easily at the spice aisle at regular supermarkets or Asian supermarkets. Turmeric powder is yellow in color and has a nice aroma.
Most-Pinned Recipes
Ginger Garlic Baked Chicken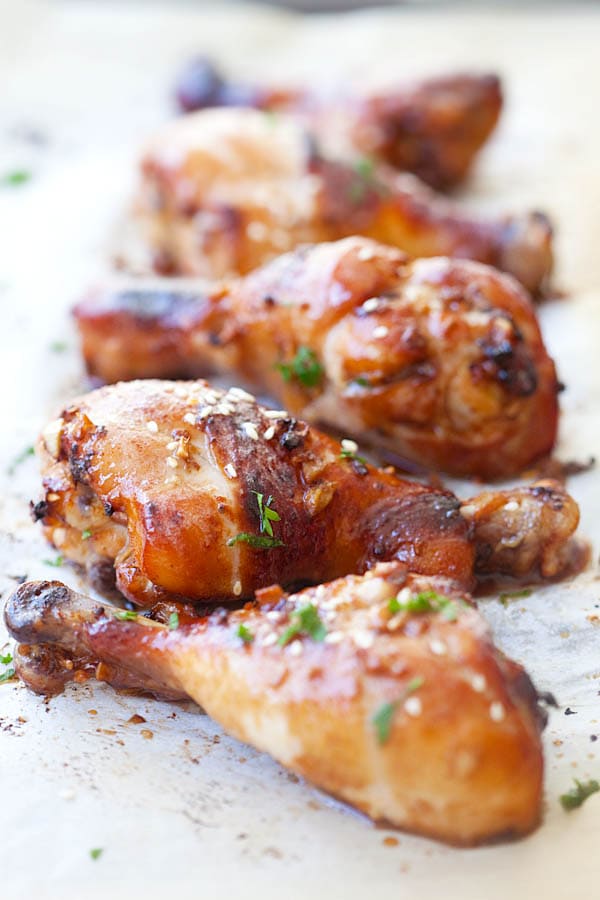 Crab Rangoon (Cream Cheese Wontons)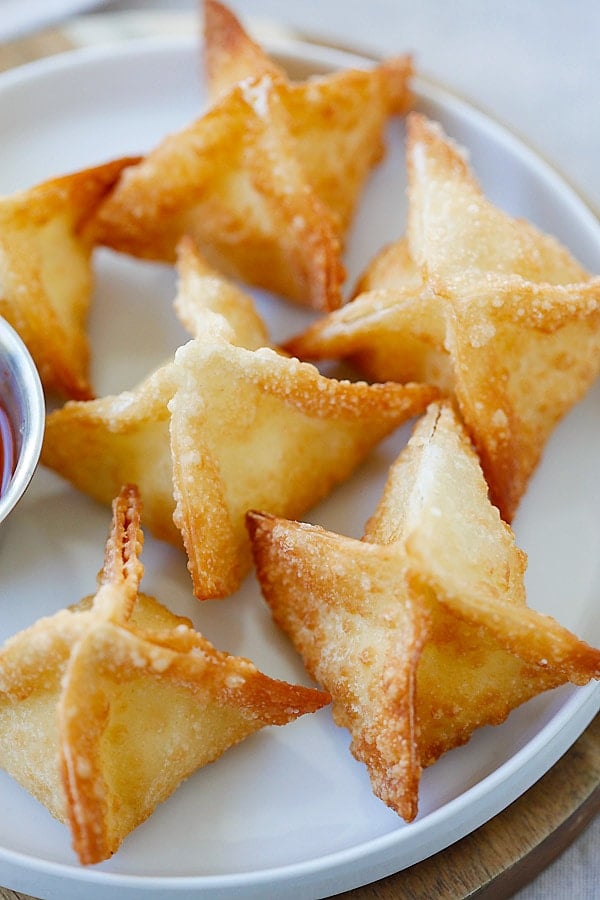 Chicken Wontons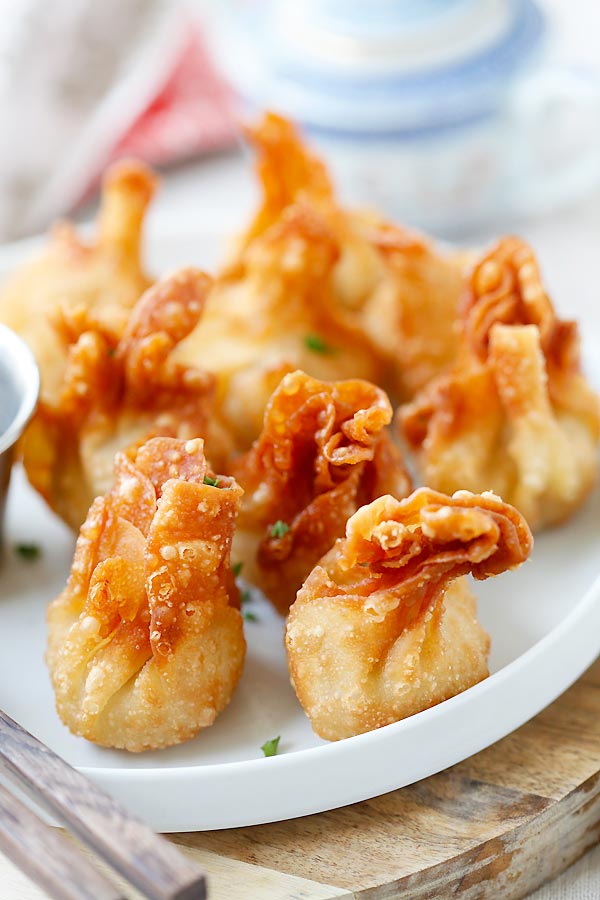 Onion Scallion Beef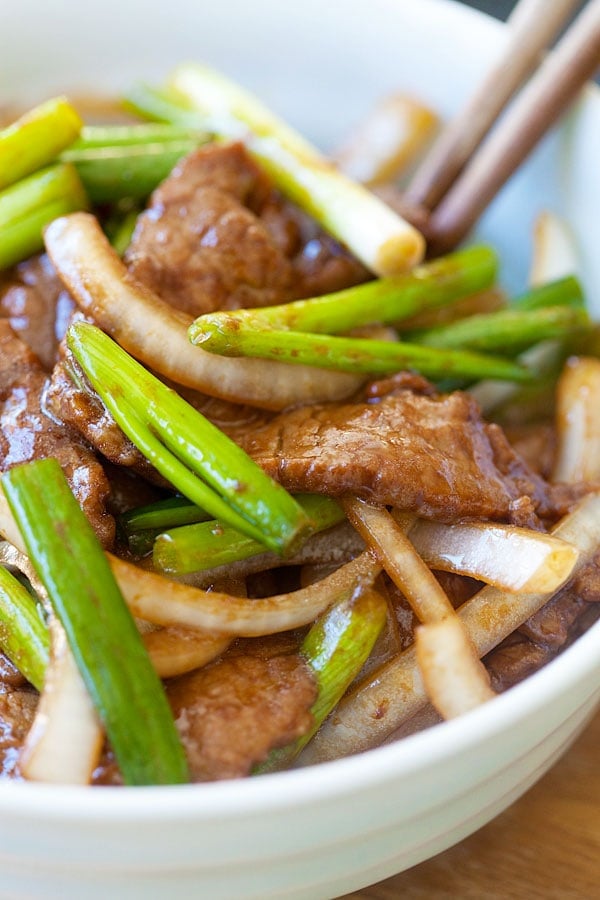 Thai Chicken Sate with Peanut Sauce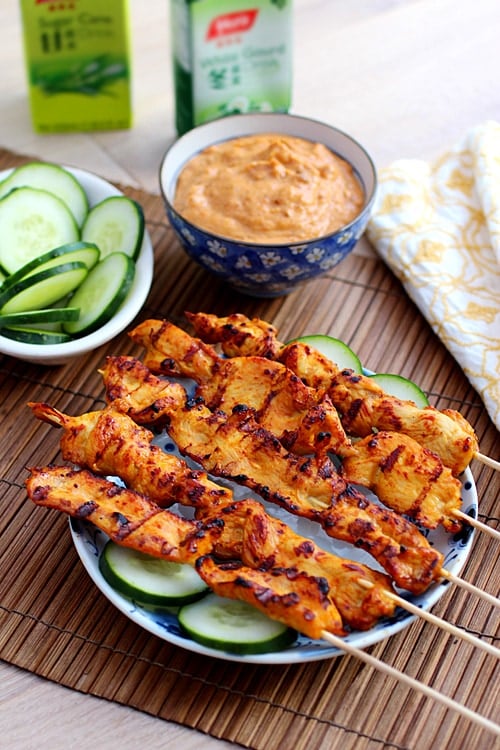 Thai Peanut Sauce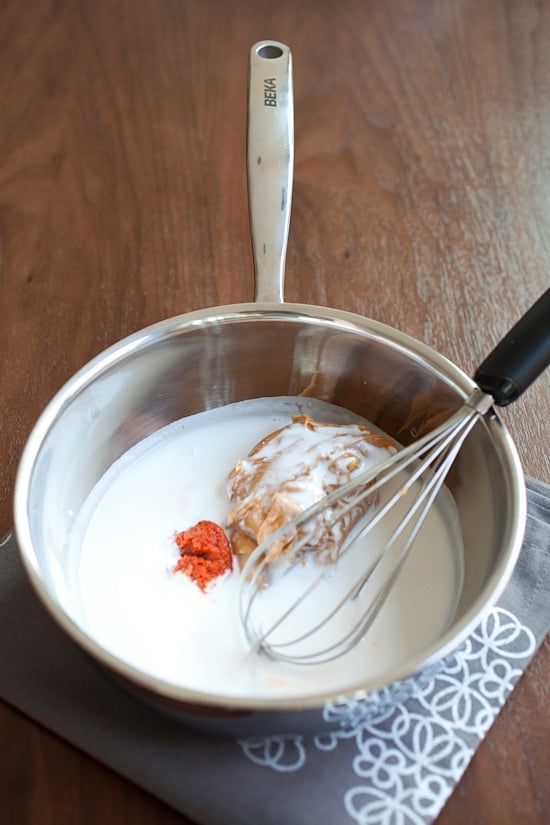 Limited Time Offer: $5.99 only. Available for download WORLDWIDE!
**Use it on Your Tablet, Mobile Phone, Desktop or Laptop**
Copyright © 2016 Rasa Malaysia. All rights reserved.