Vegetarian Loh Bak (斋卤肉)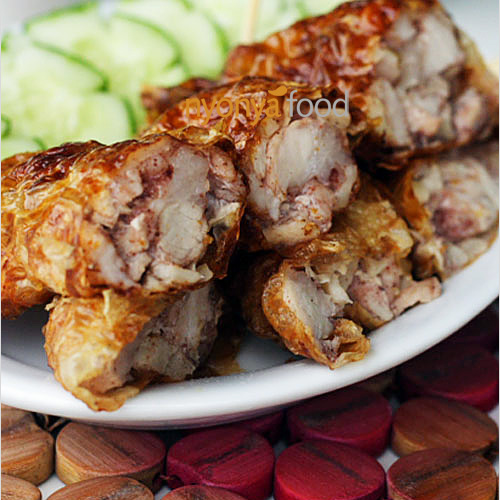 http://rasamalaysia.com/vegetarian-loh-bak-%e6%96%8b%e5%8d%a4%e8%82%89/
Click "Like" to Get New Recipes
and Updates on Facebook Daily!
Vegetarian Loh Bak Recipe (斋卤肉)
Makes about 8 rolls
Ingredients:
8 oz yam (taro), cut into 1/2-in width strips
3 oz jicama (yam bean), peeled and grated with a grater
1 tablespoon five-spice powder
3 heavy dashes white pepper powder
2 teaspoons sugar or to taste
1/2 teaspoon salt or to taste
1 tablespoon water (optional, add if the mixture is too dry)
Some MSG (optional)
8 pieces tofu skin (6 x 6 in squares)
Sealing starch:
1/4 cup hot water + 1 teaspoon corn starch (stir well to firm a sticky paste)
Method:
Steam the yam strips for about 8-10 minutes or until they are cooked through.
In a mixing bowl, mix the grated yam bean (jicama) with all the seasonings. Add the water if the mixture is too dry. Add the steamed yam strips into the mixture, be careful not to break the yam too much. Try to keep the strips intact.
Lay the tofu skin on a flat surface. Soften it with some water until it's ready to wrap. Add about 2 spoons of the filling onto the center, arrange the yam strips horizontally across. Fold in the two sides and roll up tightly. Seal the edges with the sealing starch. Set aside.
Heat up your wok or frying pan with enough cooking oil. Once the oil is fully heated, deep-fry the vegetarian loh bak over medium heat until golden brown. Dish out, let cool for 10-15 minutes, then cut it into pieces, serve with your favorite chili sauce.
Cook's Notes:
MSG is optional. I don't use MSG but I grew up eating foods with MSG.
Make sure the filling is tightly rolled up to ensure a firmer texture after frying.
Do not cut the rolls right after deep-frying. Let cool for 10-15 minutes before cutting into pieces as they may not cut well when they are hot.
You Might Also Like These Recipes Below:
LOVE THE RECIPE & PHOTOS? PLEASE SHARE:
Sign Up for Email Updates
Enter your email for new updates: recipes, giveaways, and more!