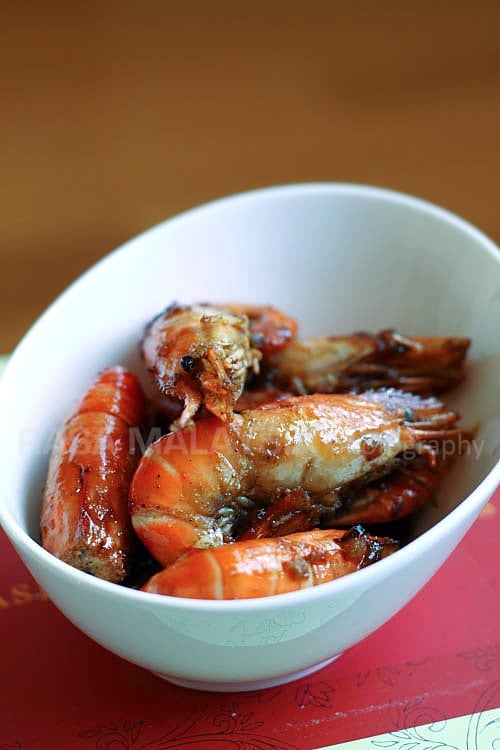 When it comes to one ingredient that I consume more than anything else in the world, it has to be shrimp. I love shrimp and I can eat it every day and for every meal. I am addicted to it.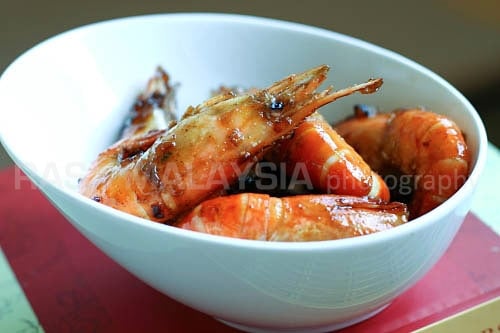 When I had caramel shrimp at Cat Restaurant in Little Saigon a few weeks ago, I fell head over heals in love with it. It was one of the most delicious shrimp dishes ever and the taste was rich and intense—sweet, salty, savory, and extremely umami. I came home and did some research on my cookbooks and the internet for the recipe but I was undecided. And then David of Houston Wok came to my rescue and shared his Vietnamese caramel shrimp or tom rim recipe with me.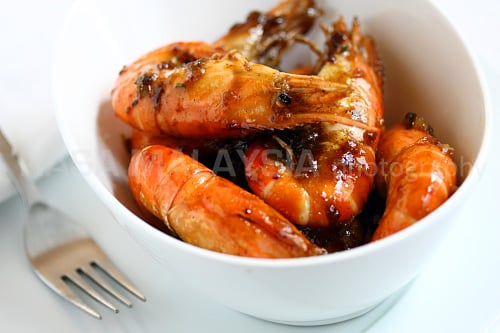 I made it for my good friend Show Shanti (check out her beautiful blog and awesome photography about learning authentic Chinese cooking from real Chinese families in China, a MUST-READ) and we all thoroughly enjoyed it.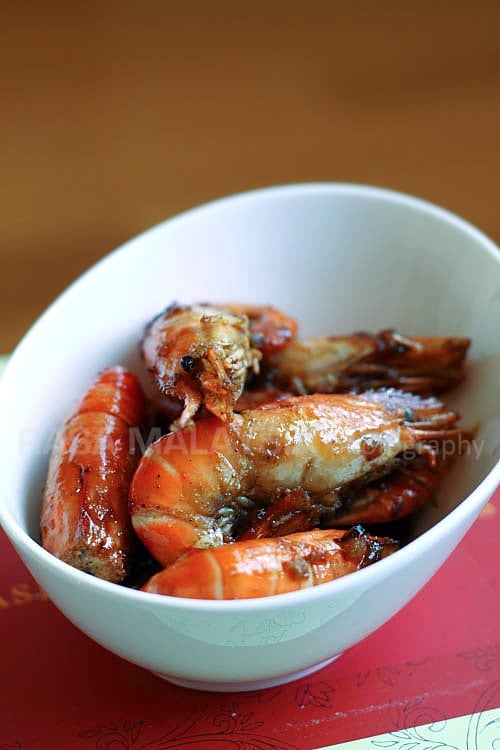 Vietnamese Caramel Shrimp (Tom Rim)
Source: Houston Wok
Ingredients:
1 lb fresh water prawn or shrimp (shell-on and head-on)
1 shallot (finely chopped)
1 bunches of scallion
1 tablespoon fish sauce
1/2 teaspoon black pepper
Add all of the above ingredients in a mixing bowl and allow to marinate.
Caramel Sauce:
2 soup spoons of cooking oil, we use canola
2 tablespoons of sugar
Method:
In a wok or small pan, add 2 soup spoons of cooking oil and allow the oil to get hot. Add the sugar and with a spatula stir the sugar in oil so that the caramel sauce is not congested into a clump. Once the sugar and oil take on a caramel color, set aside.
In a wok or skillet, heat 2 tablespoons of cooking oil and add the prawn and saute them for 2 minutes. Add the caramel sauce and with your spatula saute everything together until the prawn turns pink all around and the juices have seem to have been sucked up by the shrimp. Serve immediately.
Catherine Thai of Cat Restaurant in Little Saigon also provided me with her award-winning caramel shrimp recipe. Here you go.
Caramelized Spotted Prawns in Clay Pot
Ingredients:
6 to 8 large spotted prawns, peeled, deveined, head in tact.  Use the shells to make some shrimp stock (optional)
1 tablespoon oil (I use canola)
1 clove of garlic, chopped
1 medium shallot, chopped
1 to 2 tablespoon fish sauce (depending on the brand of fish sauce and your taste)
1 teaspoon caramel sauce
½ teaspoon kosher salt
1 tablespoon sugar
Black pepper, to taste
2 scallions, chopped
Caramel Sauce:
2 tablespoons sugar
2 tablespoons water
Method:
To make the caramel sauce, put sugar in a small pan, spread to an even layer. Cook at medium heat (without stirring) until the sugar starts melting. Now, you can start stirring the sugar and keep cooking until this turns into a dark amber color. Turn off heat. Note that the sugar will continue to turn a darker color. Wait for about 30 seconds to one minute before adding the 2 tablespoons of water. Be careful as this will splatter. Turn the heat back on and cook at low heat until the caramel dissolves.
Put the shells in a small pan and add a few tablespoons of water. Boil for a few minutes at high heat then discard the shells. Continue boiling to reduce the stock to about one tablespoon.
Heat oil in a wok at high heat.  Add shallot and garlic; sauté until fragrant. Add the shrimp and brown quickly.  Add the stock, fish sauce, caramel sauce, salt, and sugar. Cook until the shrimp is done and the sauce thickens, about 4 to 5 minutes. Add the scallions, stir, and turn off heat. Sprinkle on some black pepper and serve with steamed rice.