Water Caltrops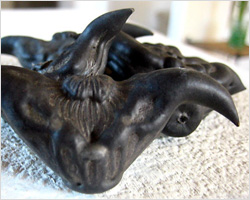 http://rasamalaysia.com/water-caltrops/
No, I am not a sorcerer and I do not practise black magic. These creepy looking "creatures" with two horns and a monstrous face are not my "sacrifice" or offerings; nor are they skeletons in the closet. As a matter of fact, they are a type of aquatic plant and totally edible (only if you dare!).
Called water caltrops, these nut-like plants are in the same family as water chestnuts. Measuring about 2 inches in diameter, water caltrops are commonly referred to as "Bull's Horn" (菱角) due to their resemblance to–bull's horn.
In Malaysia, water caltrops are usually available in the autumn/fall season and when the Chinese celebrates the Mid Autumn Festival. It's during that time of the year that they can be found in the market.
Water caltrops grow chiefly in tropical and subtropical regions of Asia and Africa. Do bear in mind that they CANNOT be eaten raw because they contain a harmful parasite. If you want to try them out, cooking method for water caltrops is plain and simple. Just steam or boil them in water, add a little salt, and crack the shell to reveal the creamy flesh and just eat them as it is.
P.S.: If you play video games, you'd know that Ninja warriors throw metal caltrops on the ground to stop their enemies from getting close to them. Now, if you want, you can pile up on water caltrops and throw them at your foes whenever you want (*wink*).
T&K Grocery Store
Little Saigon,
Westminster, California.
P.P.S.: Thanks S for telling me the name of these nuts and the essential information.
You Might Also Like These Recipes Below:
No similar posts.
LOVE THE RECIPE & PHOTOS? PLEASE SHARE:
Sign Up for Email Updates
Enter your email for new updates: recipes, giveaways, and more!