Weird Seafood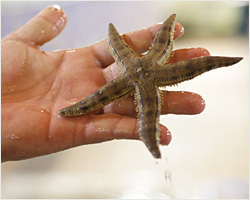 http://rasamalaysia.com/weird-seafood/
While Asia is the best place to savor some of the freshest seafood, I encountered some weird ones recently in Sai Kung, Hong Kong (a mecca for seafood lovers).
Alive, moving and slimy feeling sea cucumber. I have tasted dried sea cucumber, but not a slug like this…(view more weird and creepy sea creatures after the jump. WARNING: they are not pleasant)
I haven't seen anyone eating this in Malaysia, but fresh star fish is a delicacy in Hong Kong and China.
Another star fish but this one looks like many snakes coiled together. Gross!
These octopuses (cuttlefish?) are supposed to be great for sashimi, but their looks creep me out.
Horseshoe crab. You eat the roes beneath the hard shell but the alien-like and evil-looking shell reminded me of Darth Vader somehow.
What are the weirdest seafood you have eaten?
You Might Also Like These Recipes Below:
LOVE THE RECIPE & PHOTOS? PLEASE SHARE:
Sign Up for Email Updates
Enter your email for new updates: recipes, giveaways, and more!