Welcome to Rasa Malaysia 3.0, the spanking new design and updated version of Rasa Malaysia.
Gosh, where do I start?
My developer R and I have been working on this project for 6 months—yes, half a year!—because we are both hopeless perfectionist (I am a Virgo) and we wanted a great design that looks familiar to all the loyal fans and readers of Rasa Malaysia, but we also wanted to inject new design elements, new color schemes, features, better UI (user interface), and most importantly, we wanted it to look "grown-up," sophisticated, professional yet friendly and welcoming. Trying to make everything work within our vision is further complicated by the many ads on Rasa Malaysia (someone has to pay the bills). I mean, our creativity was hindered by the gazillion ad spots I have on the site. We went through a couple of designs. At one point, I did my wireframe and practically told R what to do (and that didn't fly because a marketer should never instill rigid requirements and specs of how a site should be because it just kills creativity). Eventually, R came to me with a concept of the current design and we both loved the direction and perfected it and voila, you get this new design that we are both proud of. R and I are still working on finishing up all the small details on the site, killing bugs, and we also have a grand plan to offer a simpler template/theme based on this design for sale in the near future. But time is the main factor and we shall see if we will really get to it…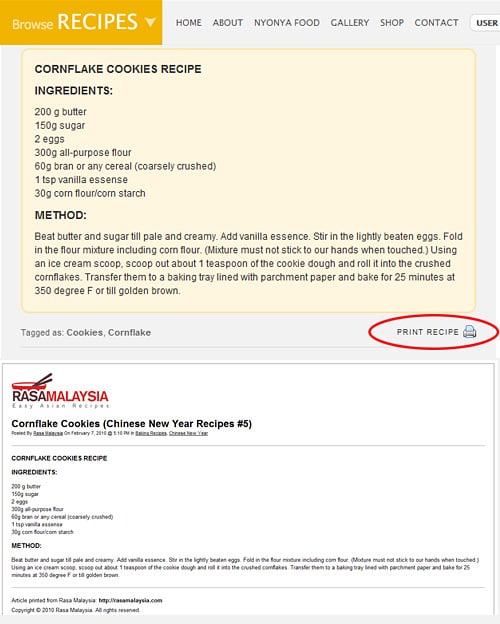 Anyway, I wanted to give you a quick orientation of Rasa Malaysia 3.0 and the new features (including the much requested "Print Recipe" function) so you can use it with ease and reap the full benefits of our hardwork:
New Rasa Malaysia logo — The old Rasa Malaysia logo is pretty recognizable as I have been using it since I started this blog back in July 2006. I love it but it's time to give it a face lift. The new logo is wearing a cap! Yes, it's wearing a bowl and chopsticks, which is iconic to Asian cuisines, and complement my tagline "Easy Asian Recipes." I think it's neat. I also have an official logo (above) with a rice bowl. I think it's very important to have a clear brand message, and a relevant icon is a great messaging tool.
Browse Recipes — This is the most important button on Rasa Malaysia 3.0. It's one-click away from all the various Asian recipes on Rasa Malaysia. The most important link is the Recipe Index, which is now graced with thumbs of all the delicious Asian recipes available on Rasa Malaysia. Kudos to my two protégé FriedWontons4U and The Sophisticated Gourmet for creating this page for me.
Login/Register — Rasa Malaysia now comes with a user database (yay!). One of the things I'd learned in my first online marketing job was that "subscribers or members get exclusive benefits." As a Rasa Malaysia registered user, you will have instant access to the "Print Recipe" feature. Above is the screenshot of the "Print Recipe" page, so no more jotting down my recipes on paper and print out 16 pages of the post!
From the Editor — this gets a prominent real estate on the new design because it's the voice of the site and the place you get the 411 about Rasa Malaysia.
Editor's Pick — I have 300 recipes on my site, but there are some recipes that I am exceedingly proud of because they are just so good and have had rave reviews from my readers who had tried out the recipes. So, this is the area where you will find what I strongly recommend. I will change this constantly because every season calls for special recipes.
Popular Recipes — This module is database-driven and dynamic, meaning they are the recipes that get the most views and traffic from you, my readers. So, you know what are people searching for on Rasa Malaysia.
Nyonya Food — the sister site will soon become a sub-domain on Rasa Malaysia. I am blessed because in less than 9 months, I was able to grow the traffic on Nyonya Food—an almost unknown Malaysian sub-culture and cuisine—and it's time to evangelize and promote it even more. I hope becoming a part of Rasa Malaysia will bring more eyeballs and cultivate more interest to Nyonya Food.
Freeze Pane — I have the freeze pane function on the top navigation of Rasa Malaysia 3.0 so you don't have to scroll up and down to get to the main menu of the site.
I must warn you that the site is still buggy and have a lot of missing images, but my team and I will work on fixing the issues soon.
Thanks for your support and please do send me your bug report via comments. I hope you like what I have done for you. And just between us, the code name of this theme is Queen Bee. *wink*