Winter Melon Soup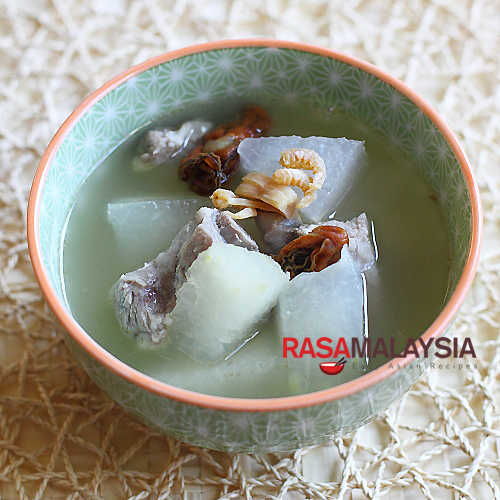 http://rasamalaysia.com/winter-melon-soup/
Winter melon soup is one of my favorite soups. I find it extremely nourishing and cooling, especially now that I am down with a cold. Winter melon has a very mild taste so it's hard to make it into a flavorful soup unless you add in extra ingredients. Other than pork ribs, I boil my winter melon soup with a trio of dried seafood: dried scallops, oysters, and  shrimp. To rid the potential "fishy" taste in the soup, I add some freshly cracked white peppercorns to spice up the flavor. Another secret ingredient that I always use in Chinese soups is dried honey date or 蜜枣, an inexpensive that lends a subtle and sweet fruity note to soups…
The Cantonese believe that soups are "tonic" and rejuvenating. There is a saying in Cantonese that "women need to take tonic or else they will age fast" (女人不补很易老). I am a firm believer and will share more soup recipes with you here on Rasa Malaysia.
Sign Up for Email Updates
Enter your email for new updates: recipes, giveaways, and more!