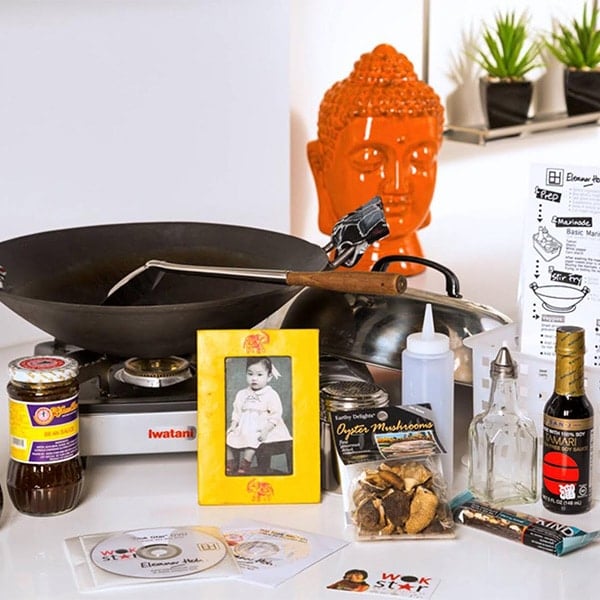 UPDATE: The winner is Mary Ann Stahara.
I am partnering with my friends at WOK STAR to giveaway Wok Star Starter Kit System, MSRP: $216, US only.
Wok Star Starter Kit System
Anyone can be successful in the kitchen and have FUN, so I've put together a unique Wok Star Starter Kit System to make it easy for you. The best thing is, it's so convenient and practical for today's busy lifestyles and adaptable to any diet.
The Wok Star Starter Kit System includes:
WOK SET– 15" preseasoned (so you can start cooking right away), lightweight, thin walled, round bottom cast iron wok with lid and spatula with my unique magnetized wok mitts.
INSTRUCTIONS – digital cooking lessons (video links will be sent to winner) and laminated stir fry crib sheet. My easy, NO-recipe technique provides a foundation to riff off your own creations.
ORGANIZATION – caddy basket organizer with "Squirt, Squeeze, Shake" dispensers for your Asian seasonings.
SEASONINGS – I've personally selected premium brands of seasonings and ingredients to get you started and save you a trip to the Asian market. I use only 4 seasonings and a few fresh ingredients to make delicious, one-dish, weeknight dinners.
STOVE – High and well balanced heat is CRUCIAL in wok cooking, an electric stove won't work. My portable butane 12,000 btu Wok Gas Stove is a great solution!
You can adapt my NO-recipe technique to any of Bee's recipes or to other ethnic styles of cooking whether it's Vietnamese or Hispanic, and when you accomplish that, you'll be entitled to be called a Wok Star!
If you're ready to be a Wok Star this Chinese New Year, you can order your own Wok Star Starter Kit System.
GIVE US SOME LOVE!
Like Rasa Malaysia on Facebook. (Click on the Like button below.)