Wusthof Bread Knife Giveaway (CLOSED)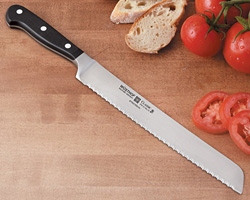 http://rasamalaysia.com/wusthof-double-serrated-bread-knife-giveaway/
Wusthof Bread Knife Giveaway (CLOSED)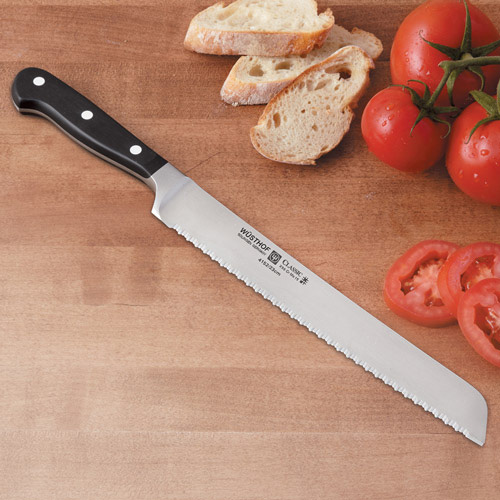 Update: The winner is Rebecca H.
I am partnering with my friends at Wüsthof to giveaway a Wüsthof Double Serrated Bread Knife. There will be one (1) winner whom will receive one (1) Wüsthof Double Serrated Bread Knife. The suggested retail value of the Wüsthof Double Serrated Bread Knife is approximately US$150.
Double serrations inside the scalloped edge of this Wusthof Classic bread knife cut so quickly and exactly, this is the knife that masters the art of precision slicing. Developed by the 7th generation owner of Wusthof, this double-serrated bread knife is the professional chef's must-have tool to slice large artisan breads, roasts, tomatoes and tough-skinned fruit exactly, with minimal pressure. The extra-deep scalloped edge and long length of this Classic 9″ bread knife cuts thick rind of melons, ensuring a smooth clean cut the entire width of the melon. Interiors of bread, fruit, melons and roasts retain the perfect original upright shape for restaurant-quality presentation. The scalloped edge on this exclusive 9″ bread knife never touches the cutting board, ensuring continuous high-volume performance, with a blade that never requires sharpening.
Product Features
Deeper scalloped edge and double serrations on this premium forged knife slice ultra-smoothly and precisely
Developed by the 7th generation owner of Wusthof, this slicer is the professional chef's must-have tool to quickly slice hard- and soft crusted breads, roasts and fruits without crushing
Double serrations pierce thick-skinned vegetables and tough rind on melons with minimal pressure, leaving the fleshy interior intact
Wüsthof signature bolster provides the heft and balance to ensure effortless slicing
Wüsthof's own precision-forged high-carbon stainless-steel with full tang provides superior strength and maneuverability
With the wide blade, this bread knife slices larger artisan breads
Ergonomic, polypropylene handle fits either hand for firm control
Triple-compression rivets with inner ring anodes safeguard from rust
Handmade in Germany since 1814, Wusthof cutlery is prized by the world's top chefs
Eligibility: United States only. Closing Date: October 21, 2012, 11:59 pm PST. Winner will be randomly selected and contacted via email on October 22, 2012. The prize is proudly sponsored by Wüsthof.
LOVE THE RECIPE & PHOTOS? PLEASE SHARE:
Sign Up for Email Updates
Enter your email for new updates: recipes, giveaways, and more!