Xtrema 6-Qt Ceramic Ovenex Pan Giveaway (CLOSED)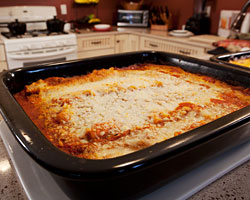 http://rasamalaysia.com/xtrema-6-qt-ceramic-ovenex-pan-giveaway/
Xtrema 6-Qt Ceramic Ovenex Pan Giveaway (CLOSED)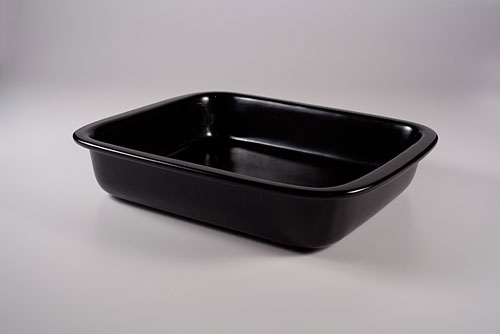 Update: The winner is Cherie D.
I am partnering with my friends at Xtrema Ceramic Cookware to give away a 6 Qt 100% Ceramic Ovenex Buffet/Lasagna Pan. There will be one (1) winner whom will receive one (1) 6 Qt 100% Ceramic Ovenex Buffet/Lasagna Pan. The total retail price of the 6 Qt 100% Ceramic Ovenex Buffet/Lasagna Pan is US$129.99.
Serve up the best baked lasagna or casserole to impress your friends and family at your next gathering in the stylish 100% Ceramic 6 Qt Baking Pan. Your dish will be the talk of the party! Our 6 QT Pan is the largest Ceramic Baker in the world.
Features:
Non-scratch: You have the freedom to use any utensils: nylon, silicone and wooden.
Versatile: Built to withstand extreme heat and cold, each piece can go directly from oven to freezer. Whether you want to cook on the stovetop, broiler, grill or microwave, you can do it all with Xtrema.
Easy to Clean: Spend more time enjoying your food and less time cleaning up after it with Xtrema's sinfully easy clean up … you can even stick it in the dishwasher!
Practical: With Xtrema, your cooking time is reduced and your food will stay hotter longer.
Healthy: Your food will not only taste better, it will be healthier as no trace metals or chemicals leach from the non-toxic ceramic glaze surface.
100% Green: Not only is cooking with Xtrema healthy for your family, it's also friendly to the environment. From the earthy-friendly production practices and inorganic natural minerals used in construction to the safe ceramic glaze alternative to harmful PFOA coatings of most other popular non-stick cookware, Xtrema is eco-friendly.
Handcrafted: Each piece is handcrafted to uphold the strict quality standards of the world's finest ceramic cookware.
Is there anything more satisfying than the aroma of lasagna or your favorite casserole warming your entire home on a crisp fall or cold wintry day? At Xtrema, we don't think so either, and with our Huge 6 Qt Lasagna Baking and Roasting Pan you can make your favorite recipes even more delicious.
Imagine having a casserole pan you can put directly into the oven from the freezer, and then to the table, and then to the dishwasher. With Xtrema's Lasagna Pan, you can do all that and more.
Unmatched Versatility
All of Xtrema's 100% ceramic cookware is built to withstand extreme and sudden changes in temperature. Ceramic is 100% non-scratch, so you'll never have to worry about cancer-causing chemicals leaching into your carefully-prepared meals. Plus, our Lasagna Pan's non-scratch surface is durable — and brilliant enough to enjoy right on your dinner table. Prepare your favorite casserole ahead of time and put it in the freezer for those busy nights when you don't have time to cook, and enjoy the fruits of your timesaving labor later!
Even better, we make our Xtrema Lasagna Baking and Roasting Pan with a spacious cooking surface but in a compact, easily stored size. Because ceramic is all natural, it won't make your food taste metallic — even with lasagna's tomatoes. In fact, we think our cookware helps your food taste even better, because it naturally enhances foods' subtle flavors. Its superior heat retention qualities help it keep food hot longer. Prepare to wow your family and friends with your delicious, aromatic meals with use-and-transfer ease!
Handcrafted and Eco-Friendly
All Xtrema ceramic cookware is crafted by hand and 100% green. It's easy to clean, uses less energy — because food stays hotter, longer — and features easy-to-grip edges for safe, simple use. From a satisfying, family favorite casserole to sweet corn pudding to crowd-pleasing lasagna, there isn't anything you can't make better with Xtrema's versatile Lasagna Baking and Roasting Pan!
Eligibility: United States only. No purchase necessary and subject to this official giveaway rules. Closing Date: Dec 8, 2013, 11:59 pm PST. Winner will be randomly selected and contacted via email on Dec 9, 2013. The prize is proudly sponsored by Xtrema Ceramic Cookware.
Other Amazing Prizes & Giveaways:
Click Images Below for Similar Recipes:
No similar posts.
LOVE THE RECIPE & PHOTOS? PLEASE SHARE:
Sign Up for Email Updates
Enter your email for new updates: recipes, giveaways, and more!