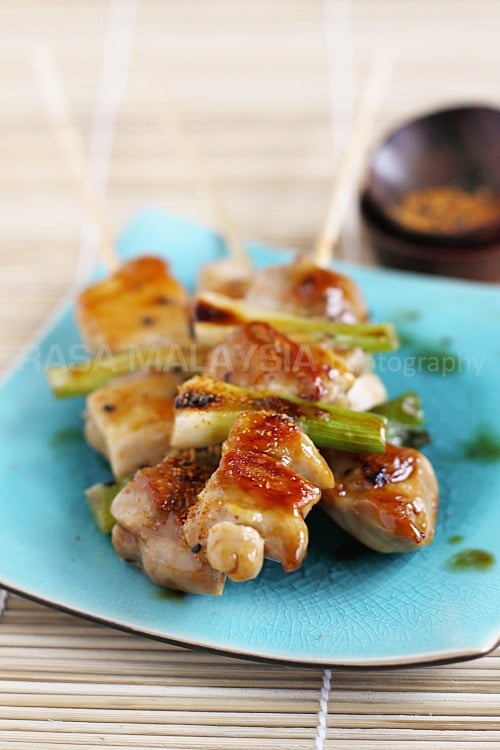 One of my favorite things to do on the weekends is having dinner with good friends at a Japanese izakaya or yakitori restaurant. The casual gastro-pub settings and the scrumptious fares offered at these establishments have had me hooked since my first trip to Tokyo many years ago.
My favorite items at izakaya are none other than the mouthwatering, hot-off-the-grill yakitori (焼き鳥)—assortment of grilled chicken and chicken offal skewers cooked over charcoal fire. Whenever I go to yakitori, I always request the seats right in front of the grill. I love watching the yakitori masters preparing the chicken skewers. They are ever so patient and dedicated, constantly turning and checking on the yakitori, using scissors to cut out the burnt bits, and precisely applying salt or tare sauce to the skewers. Their attention to details and perfection fascinates me to no end, and I reckon that's the very reason why Japanese cuisine is so sublime…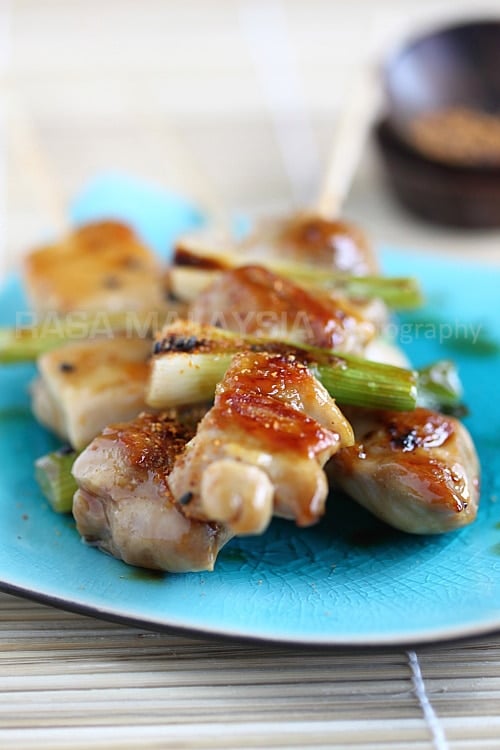 Here is my version of yakitori, or Japanese grilled skewered chicken. While yakitori is grilled with salt or tare sauce (a sauce made of sake, mirin, soy sauce, and sugar), I opted for a two-in-one combination, with both salt and tare sauce. I also used dashi shoyu or dashi soy sauce instead of plain soy sauce. I really enjoyed my creation. If you like yakitori, do try out my recipe, they will be great for the upcoming summer parties!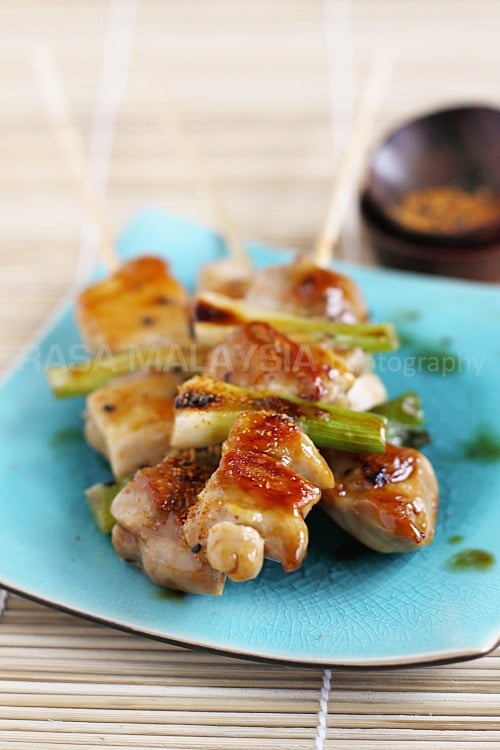 Yakitori (Japanese Grilled Skewered Chicken/焼き鳥)
Ingredients:
1 lb boneless and skinless chicken leg meat (cut into bite-size pieces)
Scallions (white part only, cut into 2-in lengths)
Bamboo skewers (soaked before grilling)
Sea salt
Togarashi
Yakitori Tare Sauce:
1/4 cup dashi soy sauce or dashi shoyu
1 tablespoon sake
1 tablespoon mirin
1 teaspoon corn starch + 1 tablespoon water (to thicken the sauce)
Method:
Add all the ingredients of the tare sauce into a small sauce pan and bring it to boil. Transfer out to a small bowl and set aside.
Thread 3 pieces of chicken meat onto a bamboo skewer, separating each piece with the scallion.
Heat up a BBQ grill or indoor grill and place the skewers on top of the fire. Sprinkle a wee bit of salt sparingly on the surface of the chicken. Turn the skewers and do the same on the other side. Keep turning the chicken to make sure they are cooked/charred evenly. When the chicken is almost done, dip the chicken skewer into the tare sauce and grill it for about 30-40 seconds on both sides. Serve immediately.
Cook's Note:
I love eating my yakitori with bottled togarashi, mixed chili pepper for an extra kick.
Most-Pinned Recipes
Ginger Garlic Baked Chicken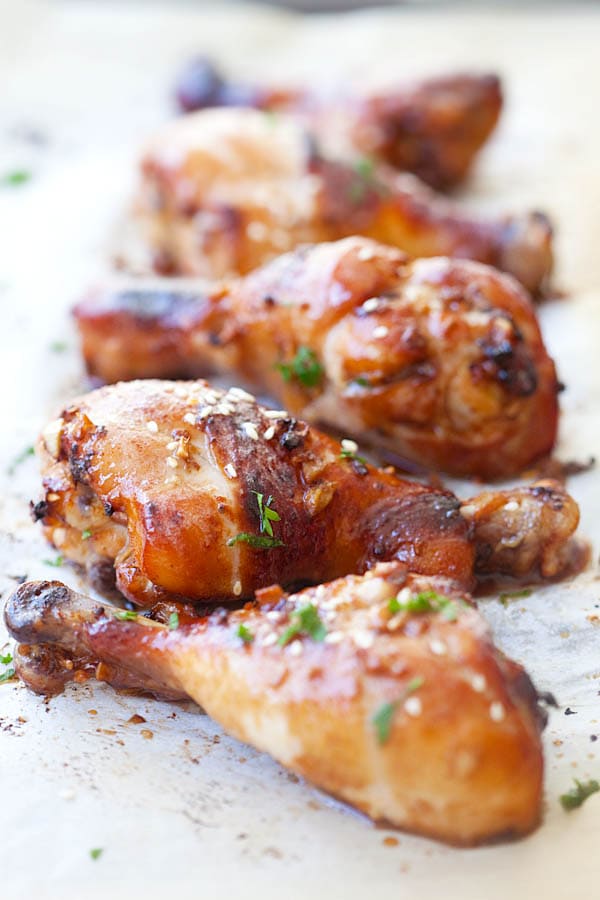 Crab Rangoon (Cream Cheese Wontons)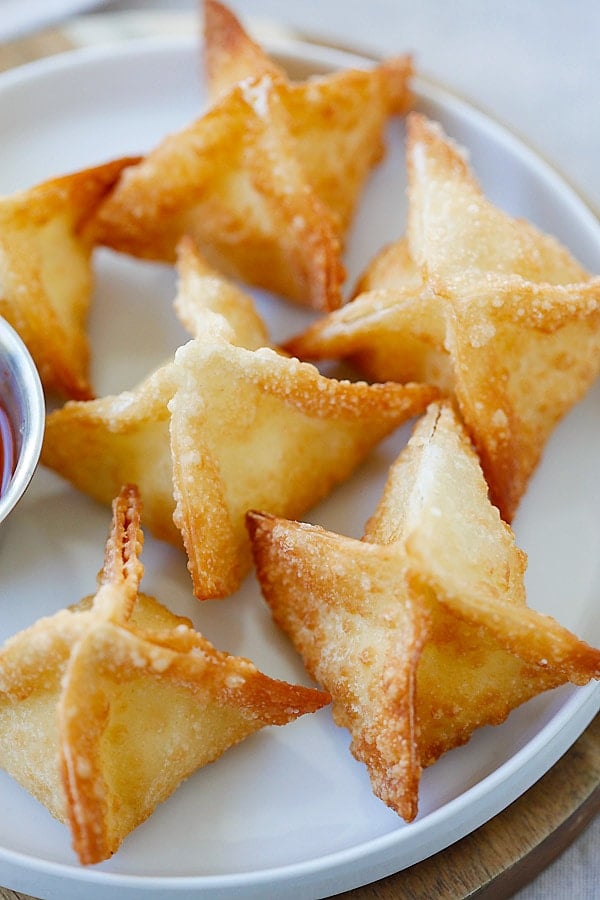 Chicken Wontons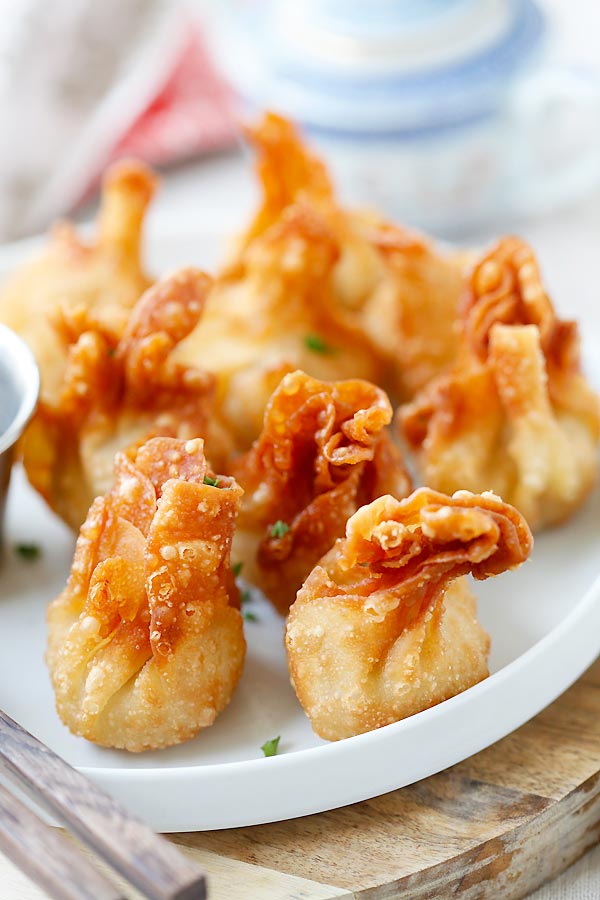 Onion Scallion Beef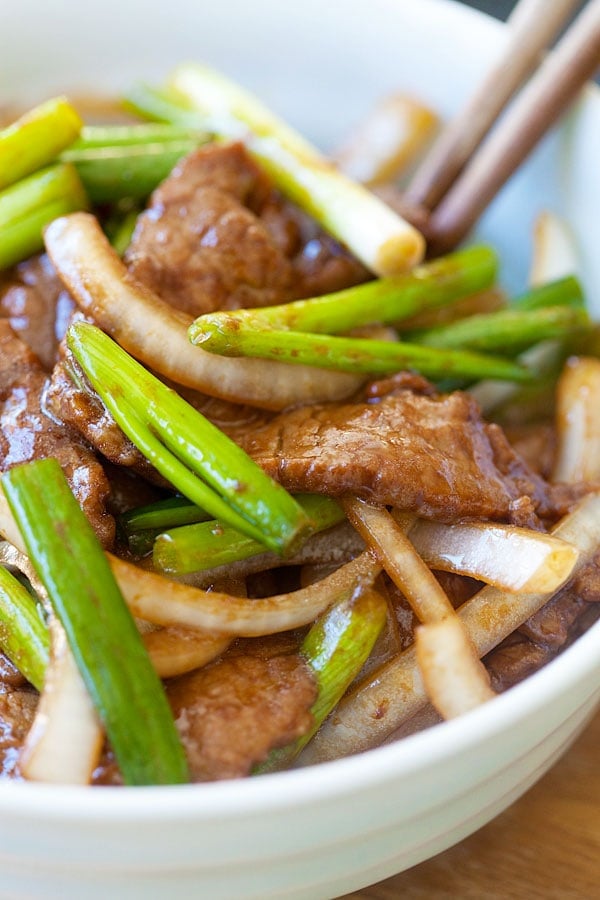 Thai Chicken Sate with Peanut Sauce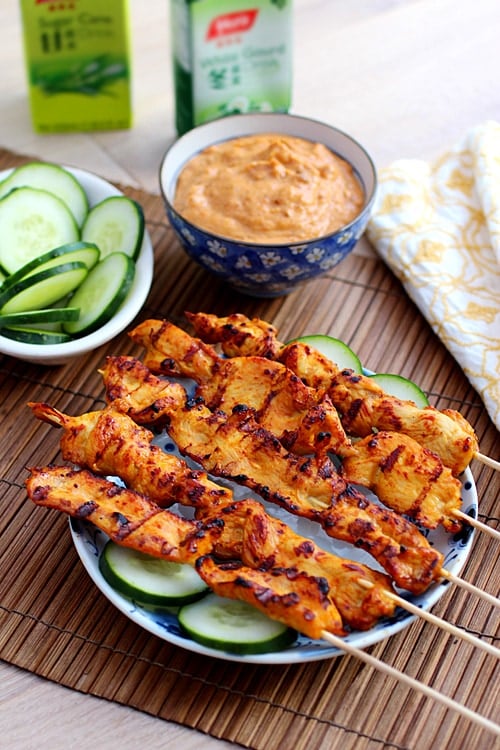 Thai Peanut Sauce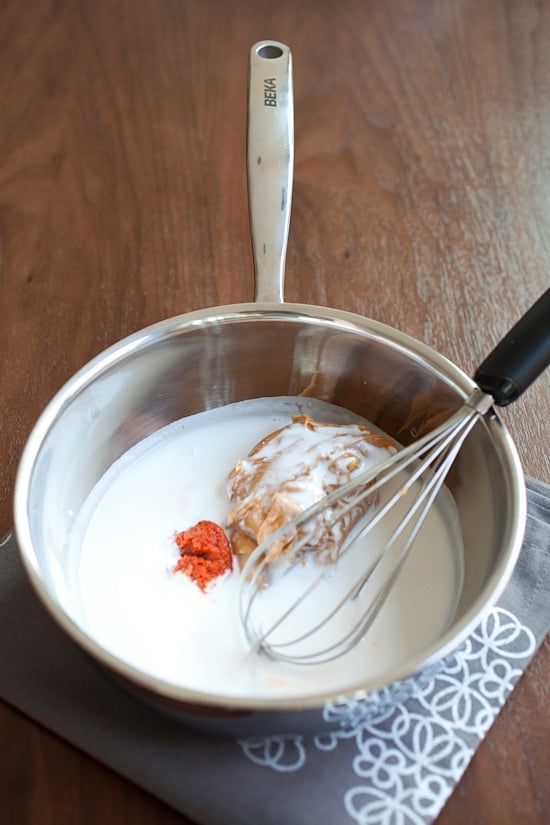 Limited Time Offer: $5.99 only. Available for download WORLDWIDE!
**Use it on Your Tablet, Mobile Phone, Desktop or Laptop**
Copyright © 2016 Rasa Malaysia. All rights reserved.