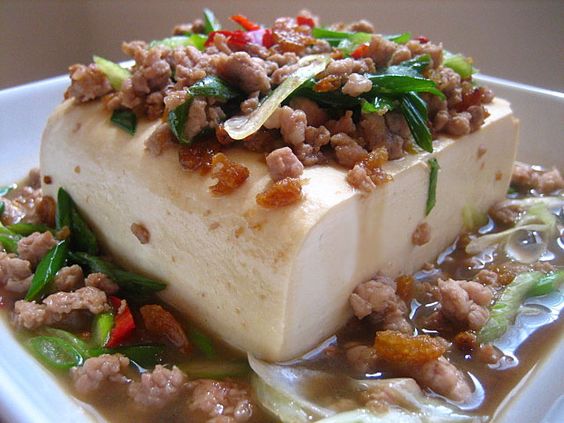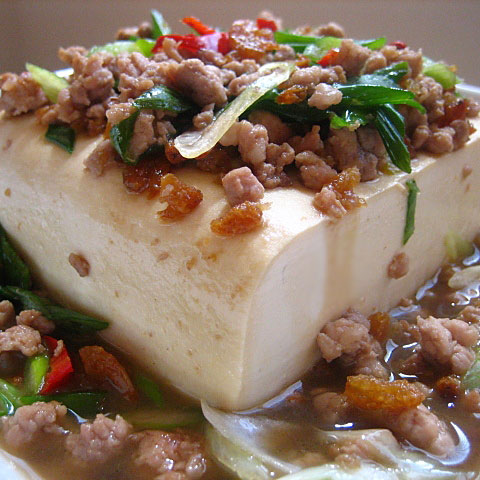 Steamed Tofu with Ground Pork Recipe
Steamed Tofu with Ground Pork – silkly tofu with generous toppings of ground pork, dried shrimp and fresh scallions.
Ingredients:
1 cube of silken tofu
1/4 lb of ground pork
2 tablespoons of dried shrimps
2 stalks of scallions (diagonal cuts)
1 red chili (diagonal cuts)
1 teaspoon of oyster sauce
2 teaspoons of soy sauce
1/2 cup of water
Salt to taste
Sugar to taste
A few drops of sesame oil
White pepper powder to taste
Method:
Soak the dried shrimps in warm water for 10 minutes. Drain the water and chopped the dried shrimps into small pieces. Steam the tofu for 5 minutes and set aside. Heat up a wok with some oil and stir fry the ground pork and dried shrimps until fragant. Add in the water, oyster sauce, soy sauce and bring it to boil. Add in the scallions, red chili, sesame oil, salt and sugar (to taste) and white pepper powder. Quick stir for 30 seconds and pour the toppings onto the steamed tofu. Serve hot with rice.
Rasa Malaysia 30-minute meal is back and this time with a homey recipe that would remind everyone of your mom's cooking.
A painless, hassle-free dish that is surprisingly (and extraordinarily) satisfactory.
Just look at the soft and smooth as silk tofu with the generous toppings of ground pork, dried shrimps, and fresh scallions…need I say more?