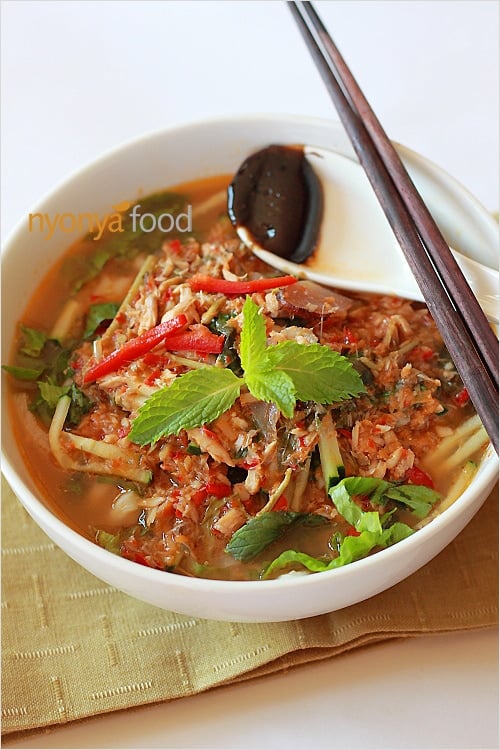 Nyonya Assam Laksa
Ingredients:
1 1.2 lb Mackerel fish
8 cups water
5 pieces assam keping (peeled tamarind)
Laksa noodles
Spice Paste:
15 dried red chilies
5 fresh red chilies
8 small shallots
1 inch galangal
2 tablespoons belacan (shrimp paste)
1 stalk lemon grass
Tamarind Juice:
Tamarind (about golf ball size)
1/2 cup water (repeat 3-4 times)
Seasonings:
1 teaspoon salt or to taste
2 tablespoons sugar or to taste
Garnishing:
1 cucumber (julienned)
1 bunch mint leaves (use only the leaves)
1 bunch polygonum leaves/Vietnamese mint leaves (daun kesom/daun laksa)
1 bungan kantan/torch ginger flower (cut into small pieces)
1 red onion (sliced thinly)
1 lettuce (thinly cut)
1 red chili/3-4 bird's eye chilies (cut into small slices)
1 small pineapple (cut into short strips)
Condiment:
Heh Ko/Prawn Paste
Method:
Clean the fish, remove scales and guts. In a pot, bring 8 cups of water to boil. Add in the fish and boil for about 10 minutes. Transfer the cooked fish out into a bowl and let cool. Strain the fish stock, then add in the peeled tamarind, and the polygonum leaves and continue to boil in low heat.
Wet your hands constantly with a bowl of water, pick the flesh out of all the fish and discard the bones. Break the fish meat into tiny pieces and put the fish back into the stock, cover the lid, and lower the heat.
Using a mini food processor, grind the spice paste until fine. Heat up a wok and saute the spice paste with cooking oil for about 6-8 minutes or until it smells aromatic and spicy. Transfer the spice paste into the boiling stock.
Extract the tamarind juice and add it into the stock. Strain the tamarind juice and keep the seed. Repeat it 3-4 times with 1/2 cup of water each time to make sure you extract all the essence from the tamarind. Continue to taste your Assam Laksa stock to make sure it's sour and to your liking. For seasoning, add salt and sugar to taste.
In a serving bowl, add in the laksa noodles and garnish all vegetables on top. Pour the fish broth into the bowl and serve immediately with a spoonful of Heh Ko/prawn paste.
Cook's Notes:
If you can't find fresh laksa noodles, you can use dried noodles. I like Mount Elephant brand "Guilin Rice Vermicelli" (象山牌桂林濑粉) found at Asian/Vietnamese stores. (In Vietnamese, it's called Bun Bo Hue Guilin.) It's very smooth and exactly like the laksa noodles back home, but slightly thinner.
For a good alternative, try LaiFen Rice Stick/中山濑粉 from Guangdong, China. Lai Fen is available fresh in many Asian stores.
Bunga kantan, torch ginger flower is unfortunately not available in the US.
Most-Pinned Recipes
Ginger Garlic Baked Chicken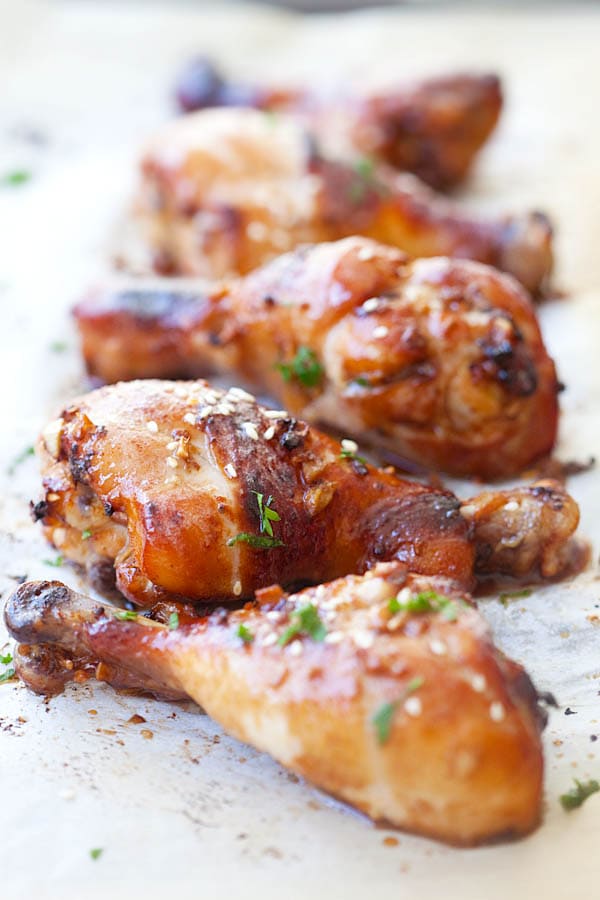 Crab Rangoon (Cream Cheese Wontons)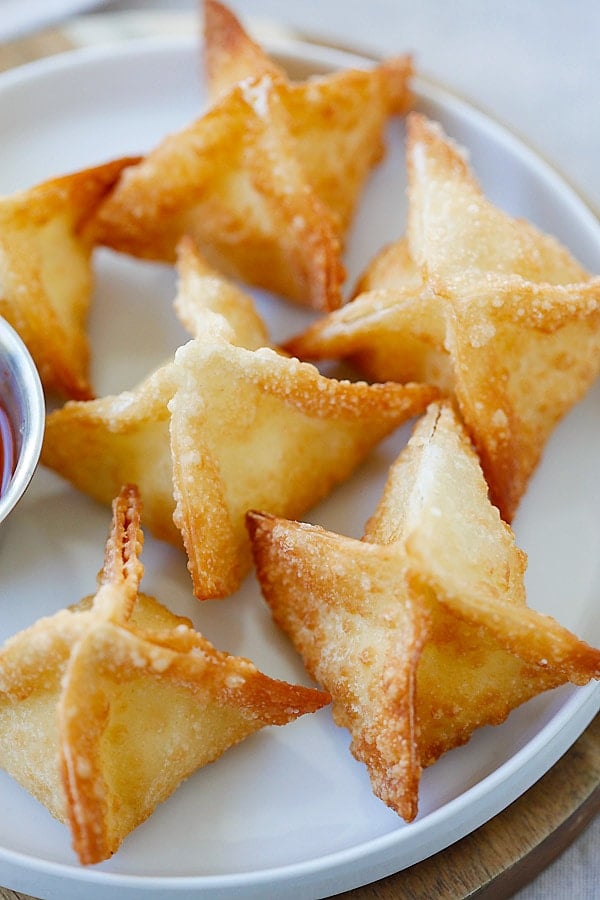 Chicken Wontons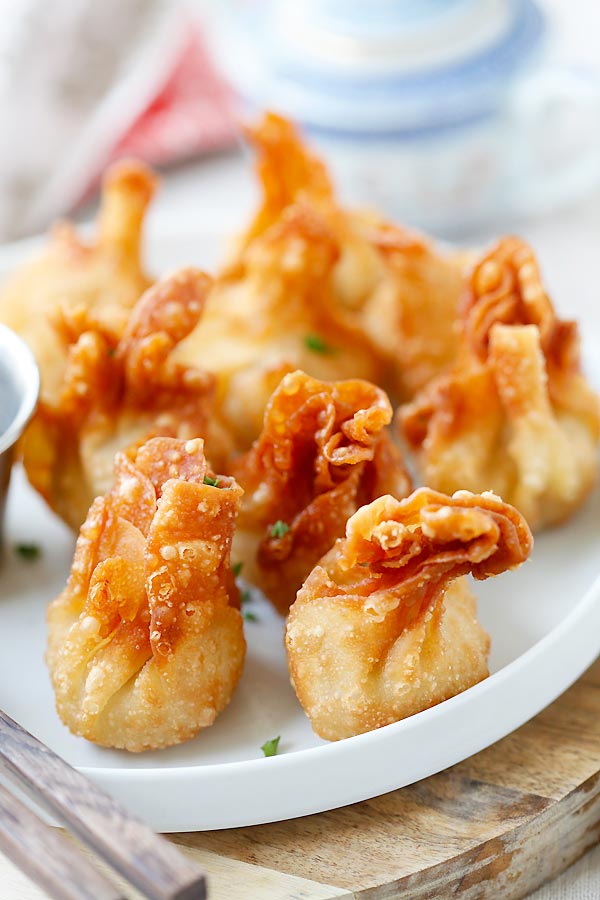 Onion Scallion Beef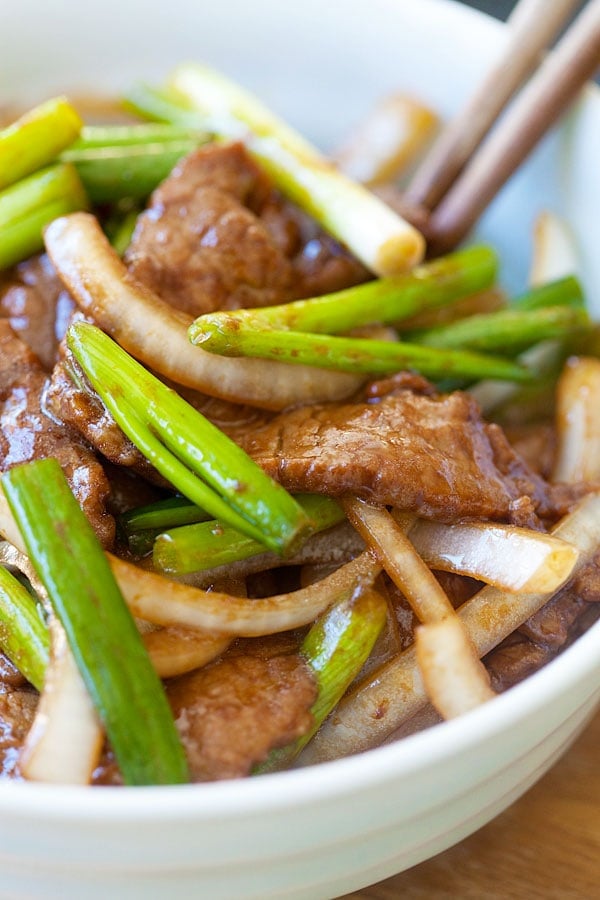 Thai Chicken Sate with Peanut Sauce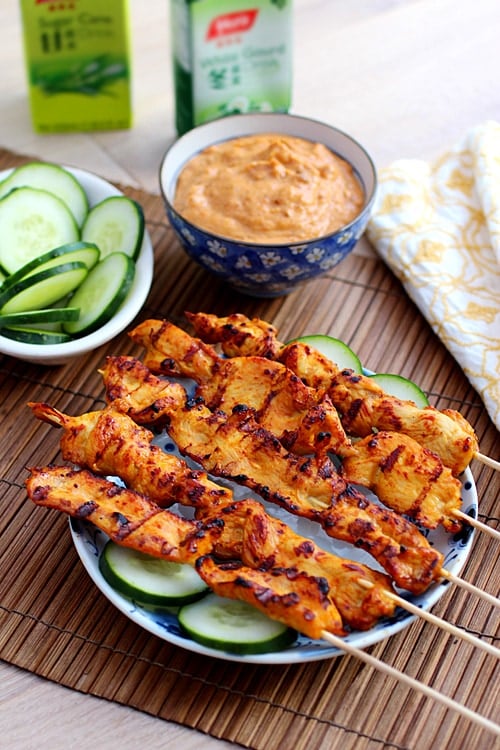 Thai Peanut Sauce