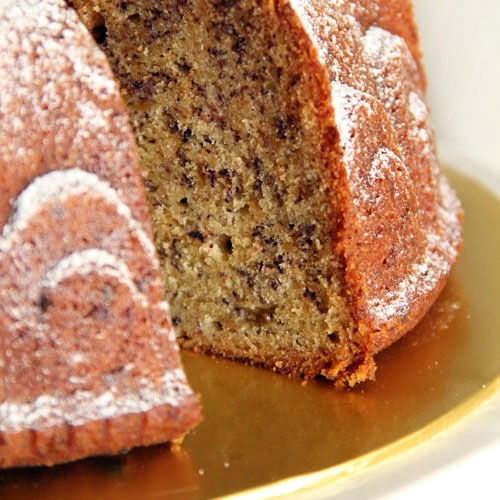 Best Banana Bundt Cake
Best Banana Bundt Cake Recipe. Moist and buttery with the sweetest smell of bananas. | rasamalaysia.com
Prep time:
Cook time:
Total Time:
Ingredients:
3 cups all-purpose flour
2 teaspoons baking soda
1/2 teaspoon salt
2 sticks (8 ounces) unsalted butter, at room temperature
2 cups sugar
2 teaspoons pure vanilla extract
2 large eggs, preferably at room temperature
About 4 very ripe bananas, mashed (you should have 1 1/2 – 1 3/4 cups)
1 cup sour cream or plain yogurt
Method:
Center a rack in the oven and preheat the oven to 350 degrees F. Generously butter a 9- to 10-inch (12 cup) Bundt pan. (If you got a silicone Bundt pan there's no need to butter it.) Don't place the pan on a baking sheet – you want the oven's heat to circulate through the Bundt's inner tube.
Whisk the flour, baking soda and salt together.
Working with a stand mixer, preferably fitted with a paddle attachment, or with a hand mixer in a large bowl, beat the butter until creamy. Add the sugar and beat at medium speed until pale and fluffy. Beat in the vanilla, then add the eggs one at a time, beating for about 1 minute after each egg goes in. Reduce the mixer speed to low and mix in the bananas. Finally, mix in half the dry ingredients (don't be disturbed when the batter curdles), all the sour cream and then the rest of the flour mixture. Scrape the batter into the pan, rap the pan on the counter to debubble the batter and smooth the top.
Bake for 65 to 75 minutes, or until a thin knife inserted deep into the center of the cake comes out clean. Check the cake after about 30 minutes – if it is browning too quickly, cover it loosely with a foil tent. Transfer the cake to a rack and cool for 10 minutes before unmolding onto the rack to cool to room temperature.
If you've got the time, wrap the cooled cake in plastic and allow it to sit on the counter overnight before serving – it's better the next day.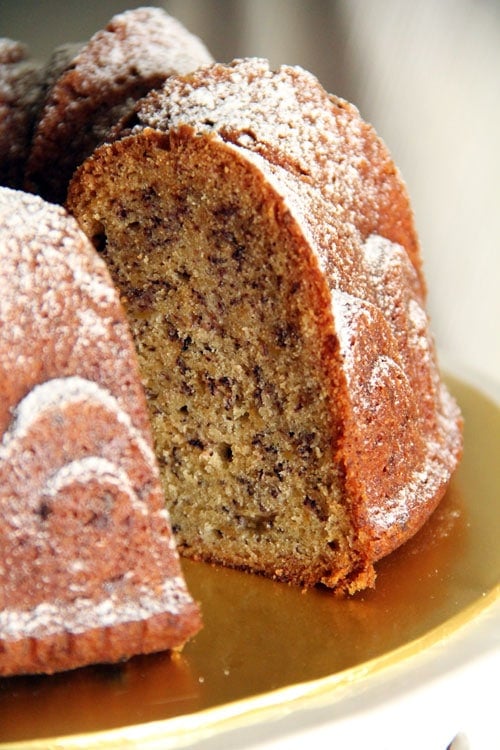 For most Americans, fall/winter means baking, a lot of baking, especially with the upcoming holidays season. Turkey Day is a week away and I am sure by now, you have already planned out your menu. If you haven't, you can check out the roasted turkey recipe with parchment paper and the popovers recipe on my site. When it comes to Thanksgiving, there is always the usual suspect of pumpkin pie as the dessert, but bundt cake makes a beautiful, and utterly sweet finale to your Thanksgiving dinner.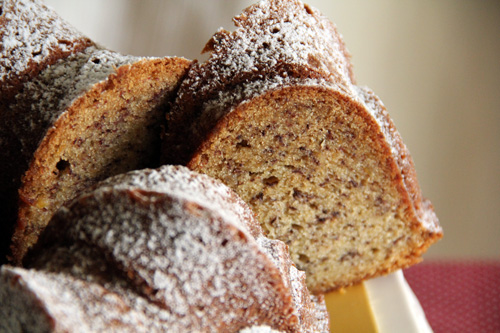 What I love about this classic banana bundt cake by Dorie Greenspan is that you can make ahead and it tastes better the next day, plus there is no need to make a crust. This banana bundt cake recipe is pretty straight forward but yields incredibly moist, absolutely mouthwatering and aromatic banana bread/cake. What's more, the bundt pan perks up the presentation and a little powdered sugar dust immediately transforms the banana bundt cake into a seasonal and festive centerpiece. Just take a look at the pictures, don't you just love it?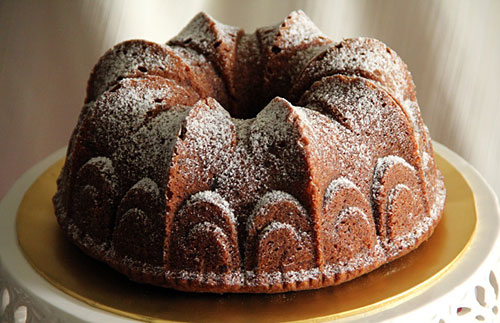 I am so thankful to my contributor CP Choong for her wonderful creation. In the next few weeks, I will be sharing more of her amazing baking recipes with you. Enjoy, and I hope you will add this Banana Bundt Cake to your Thanksgiving menu next week!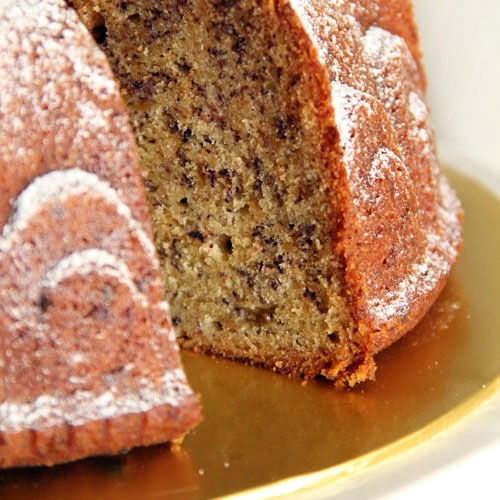 Rate This
Recipe Name
Preparation Time
Cook Time
Total Time
Average Rating

Based on 3 Review(s)