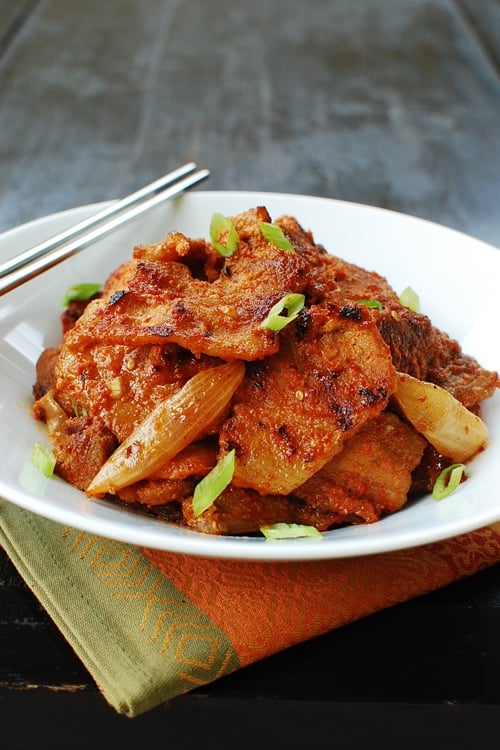 I stumbled upon Eating and Living, a Korean food blog by Hyosun earlier this year. I was so delighted that I spent hours reading through Eating and Living, learning authentic Korean home cooking that Hyosun has been making for her family. When it comes to learning authentic Asian cooking, nothing beats learning from a native home cook who prepares the food for the family on the daily basis. Eating and Living is a wonderful food blog about Hyosun's love for Korean recipes, complete with step-by-step photos and vibrant food photography. Let's learn how to make Bulgogi!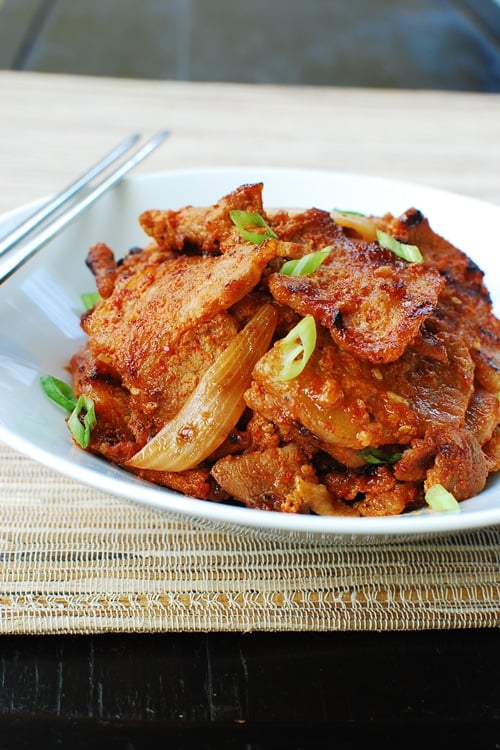 Hi! I'm Hyosun from eating and living, the Korean home cooking blog. I was so excited and flattered when I received an e-mail from Bee inviting me to guest post on her blog. It really is an honor to have the opportunity to guest post on this amazing blog. Bee asked if I could share a bulgogi recipe that uses gochujang, which is Korean red chili pepper paste. So I decided to show you how to make dwaeji bulgogi (aka jeyuk bokkeum) using pork belly (samgyupsal). You can also use pork shoulder or loin or chicken for this recipe.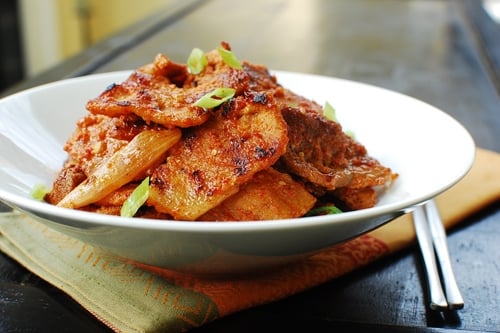 Bulgogi is a marinated meat dish made with thin slices of beef, usually rib eye. It is no doubt one of the most well-known Korean dishes outside of Korea. When it's made with pork, it's called dwaeji (pork) bulgogi. Unlike its beef counterpart, which is traditionally marinated in a soy sauce based sauce, pork is typically marinated in a spicy gochujang sauce. Gochujang is a fermented red chili pepper paste made primarily with gochugaru (Korean red chili pepper flakes), glutinous rice powder and fermented soybean powder. It's pungent, spicy, slightly sweet and salty. For an authentic Korean dish, there is simply no substitute for gochujang. Gochujang can be found in any Korean market. The marinated pork can be either grilled or pan-fried. The best way to enjoy it is to wrap a bite-size piece in lettuce or a perilla leaf and eat the whole wrap. If you love fatty pork and spicy food, this is the perfect dish for you!