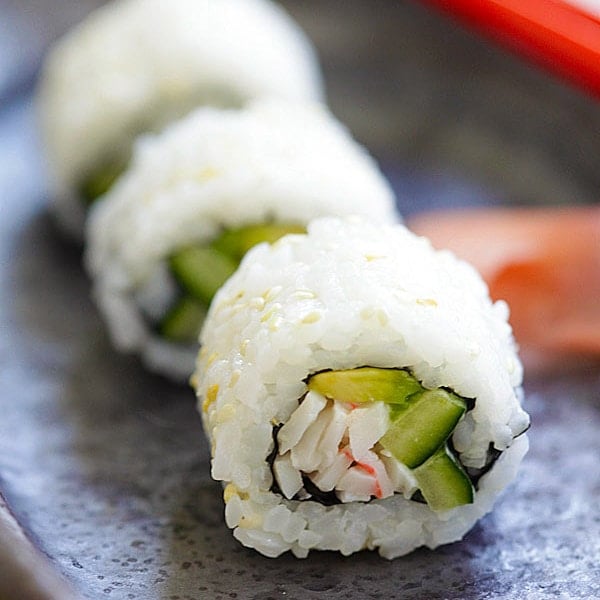 California Roll
California Roll – easy homemade California roll. Learn how to make this popular sushi with the step-by-step picture guide
Prep time:
Cook time:
Total Time:
Makes4 rolls
Ingredients:
Sushi Rice:
1 cup sushi rice (Japanese short-grain rice)
1 1/2 cups water
1 tablespoon Japanese rice vinegar
1/2 tablespoon sugar
Scant 1/4 teaspoon salt
Toasted white sesame
Filling:
3 oz Louis Kemp Crab Delights®, Flake Style
2 tablespoons mayonnaise
Squirt of lemon juice
1 small cucumber, seeded and cut into 3.5-inch strips
1 avocado, peeled and cut into strips
Condiments:
Soy sauce
Wasabi
Pickled sushi ginger
Method:
Rinse the sushi rice with cold water until the water becomes clear. Discard all the cloudy water and add 1 1/2 cups clean water to the rice. Cook the sushi rice in an electronic rice cooker. After the rice is cooked, scoop the rice out onto a plate, let cool.
Mix the rice vinegar, sugar and salt together in a small bowl. Make sure the sugar is dissolved. Add the vinegar mixture to the rice, stir evenly. Set the sushi rice aside.
Chop the Crab Delights and mix with mayonnaise and lemon juice. Stir to combine well.
Lay the bamboo mat on a flat surface and cover it with plastic wrap. Lay a small sheet of nori (3.75 inch x 8 inch) on the bottom part. Using a spoon, scoop the rice onto the seaweed and distribute it evenly in a thin layer. Use the back of the spoon to press and flatten the surface of the rice. Sprinkle some toasted sesame seeds on top of the rice and use the back of the spoon to press the sesame onto the rice.
Turn the seaweed over. Arrange 4 strips of cucumber and 2 strips of avocado, follow by the crab. Make sure you don't overfill. Roll the California Roll using the bamboo mat and make sure that you tug the sushi rolls very tight. Keep rolling using the bamboo mat until you have have a nice roll.
Cut both ends of the sushi rolls using a sharp knife, about 1/2 inch off each end. Wipe off the residue on the knife and wet with some water before cutting each end. Wipe off the residue again and wet with some water before you start slicing the sushi rolls into pieces. Each roll should yield about 5 – 6 pieces of sushi.
Repeat the steps above to make 4 sushi rolls. Arrange the sushi on a plate and serve immediately with soy sauce, wasabi and pickled ginger.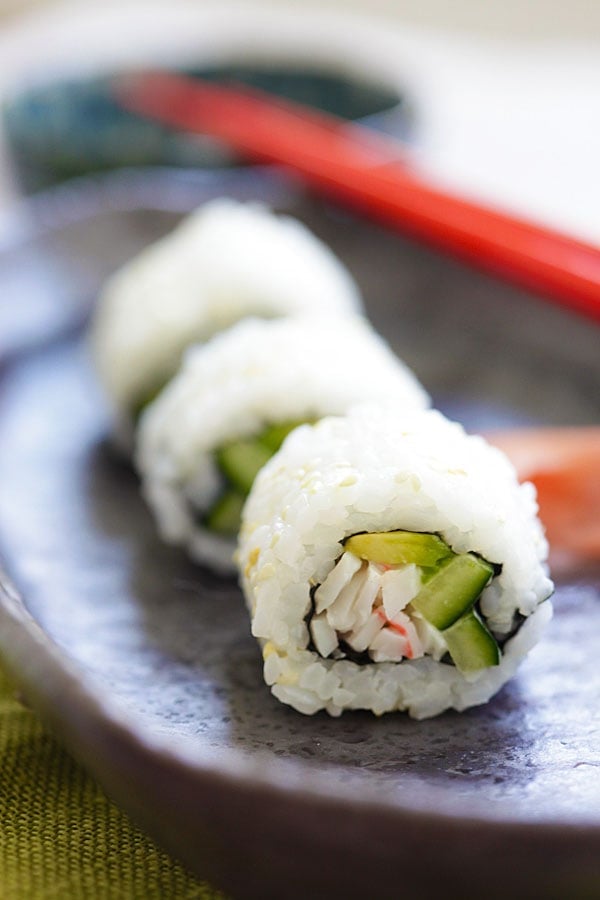 California Roll
California Roll – easy homemade California roll. Learn how to make this popular sushi with the step-by-step picture guide and recipe.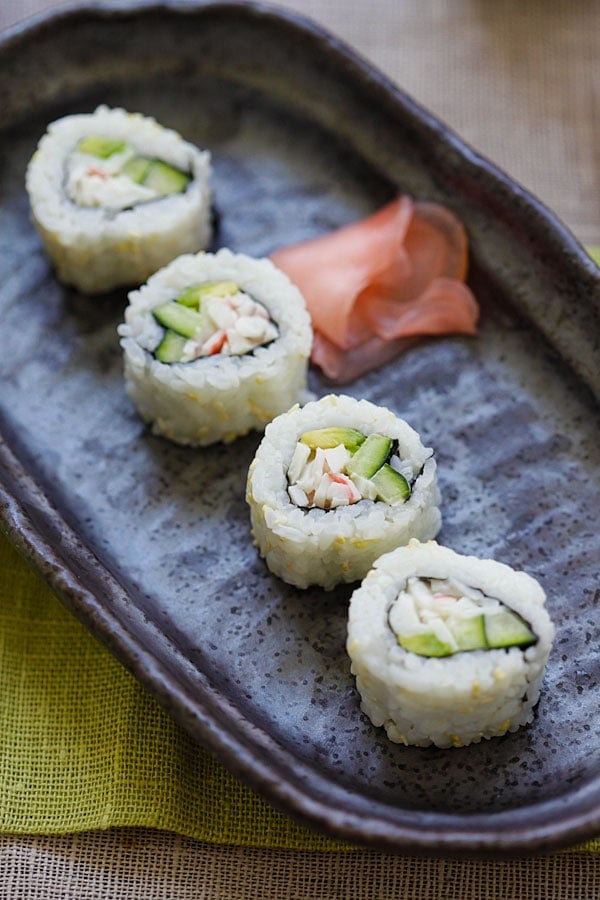 Everyone loves California Roll, a delicious sushi wrapped with nori (seaweed) and stuffed with crab, cucumber and avocado. I am a huge fan of California Roll; the dainty California Roll is a must-have for me whenever I dine out at Japanese restaurants.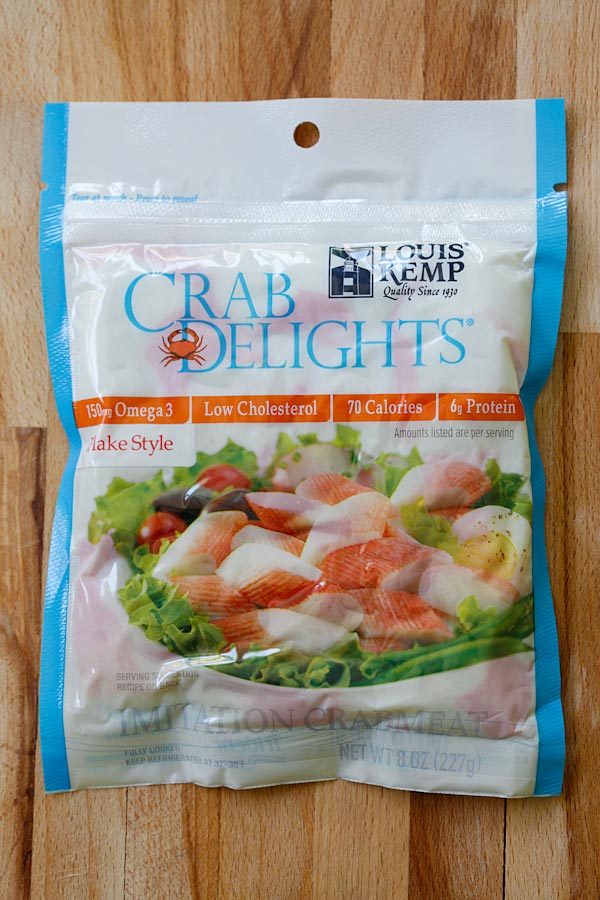 Today, I am going to teach you how to make California Roll, with a step-by-step picture guide so you can have it anytime you want. While you can make California Roll with crab meat, most California Roll you get at restaurants are made with imitation crab meat. Imitation crab meat products are widely available at grocery stores nationwide, such as my favorite Louis Kemp Crab Delights®, which are made from Alaska Pollock and real snow crab. They are a great source of protein, low in calorie and cholesterol, gluten-free and high in omega 3's.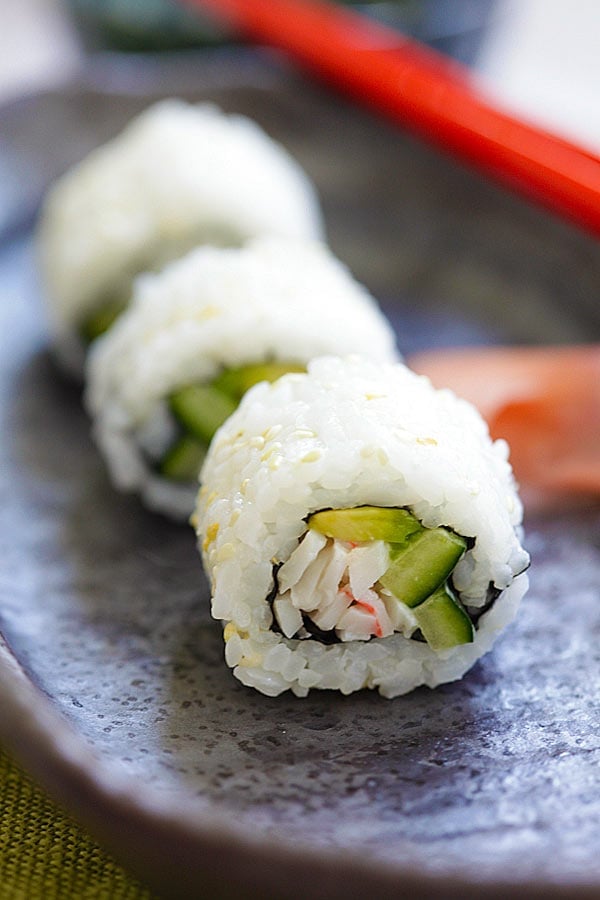 To make sushi at home, you will need a few basic tools. I urge you to shop online for a sushi kit. The toughest part about homemade sushi is the assembling and rolling of the sushi roll. You will need to master the techniques of rolling and tugging the sushi really compact and tight so they turn out beautiful, with a perfect texture. I will warn you that your first sushi roll will never be easy but practice makes perfect, and in no time, you will be rolling sushi like a pro!
This is a sponsored conversation written by me on behalf of Louis Kemp Crab Delights®. The opinions and text are all mine.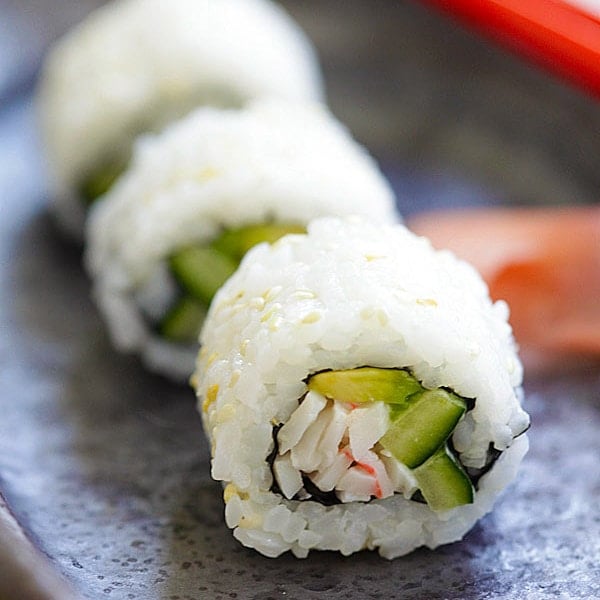 Rate This
Recipe Name
Preparation Time
Cook Time
Total Time
Average Rating

Based on 3 Review(s)