Chicken Tikka Masala Pizza
Chicken Tikka Masala Pizza – cheesy pizza topped with delicious Indian chicken tikka masala. The best homemade pizza recipe ever!
Prep time:
Cook time:
Total Time:
Ingredients:
10 oz skinless and boneless chicken breast, cut into 1/2-inch cubes
1 tablespoon butter
2 cloves garlic, minced
1/2 jalapeno, deseeded
Salt to taste
One (1) 12-inches store-bought pizza crust or three (3) 7-inches mini pizza crusts
Olive oil for brushing
1/4 onion, thinly sliced
1 cup mozzarella cheese
Handful of coriander leaves/cilantro, chopped, save some for garnish
Marinade:
1/2 teaspoon ground cumin
1/2 teaspoon ground cayenne pepper
1/2 teaspoon ground garam masala
1/2 teaspoon minced fresh ginger
1/4 teaspoon salt
1/4 teaspoon ground black pepper
1 tablespoon lemon juice
2 tablespoons plain yogurt
Pinch of cinnamon
Tomato Sauce:
4oz tomato sauce
2 tablespoons plain yogurt
2 tablespoons heavy cream
Spice Mix:
1/2 teaspoon cumin
1/2 teaspoon paprika
1/2 teaspoon garam masala
Method:
In a bowl, marinade the chicken with the Marinade for at least an hour in the refrigerator.
Line a layer of aluminum foil in a baking pan for grilling. Spread the marinated chicken in a single layer on the pan, discard the remaining marinade. Grill the chicken at 450F for 6-7 minutes, turning at half time.
While the chicken is cooking, prepare the Tomato Sauce and Spice Mix in separate bowls. Remove the chicken from the pan when it is done and discard the juice.
Heat a small sauce pan and melt the butter. Sauté the garlic and jalapeno until aromatic. Pour in the Spice Mix and sauté until fragrant, about 1-2 minutes on medium heat. Remove the jalapeno and discard.
Add in the Tomato Sauce and stir well to mix. Sprinkle salt to taste and continue to simmer until the sauce thickens, another 2 minutes. Turn off the heat and add the chicken meat into the sauce and mix well.
Pre-heat the oven to 450F. Place the pizza crust on a pizza pan and brush lightly with olive oil. Spread the sauce/gravy on the pizza crust. Sprinkle 1/2 cup of cheese. Arrange the chicken on the pizza. Top it with the sliced onions, chopped cilantro and the remaining cheese.
Reduce the temperature to 425F. Bake the pizza for 8-10 minutes. Remove the pizza from the pan when is done and garnish the remaining chopped cilantro.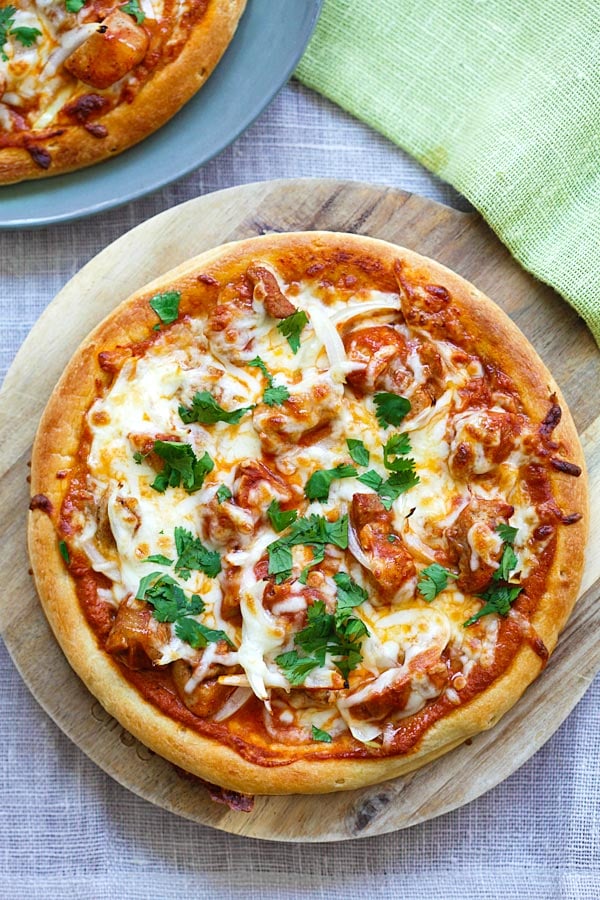 Chicken Tikka Masala Pizza
Chicken Tikka Masala Pizza – cheesy pizza topped with delicious Indian chicken tikka masala. The best homemade pizza recipe ever!
Originally published in June 10, 2012. Updated with new photos.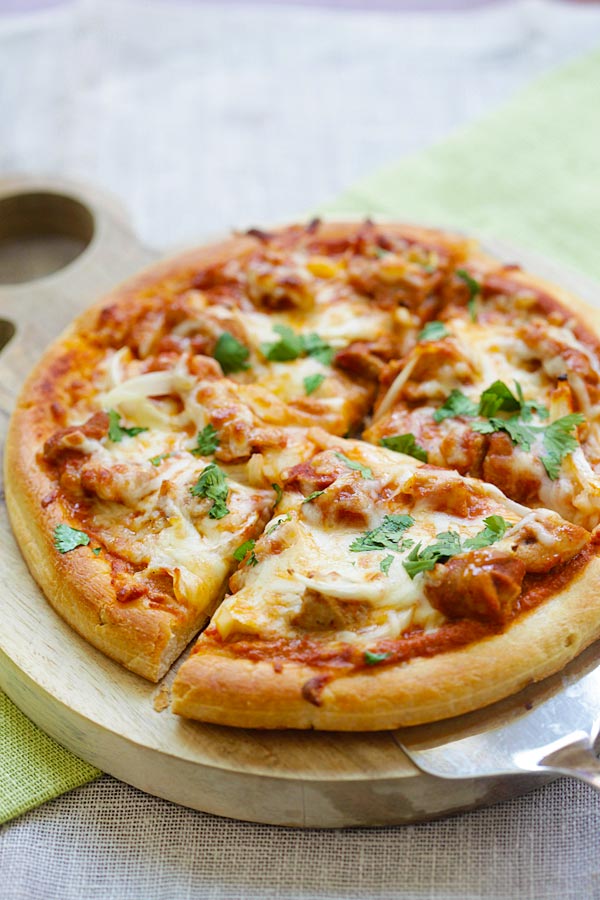 I have always wanted to make pizza at home so recently I asked my friend A to come bake with me. We decided to make an Asian-style pizza and came up with the idea of Chicken Tikka Masala Pizza. Chicken Tikka Masala is a delicious Indian recipe and makes a killer topping for the pizza. The exotic tastes of the spices and the chicken paired beautifully with the cheesy pizza. It was scrumptious and we couldn't stop eating it.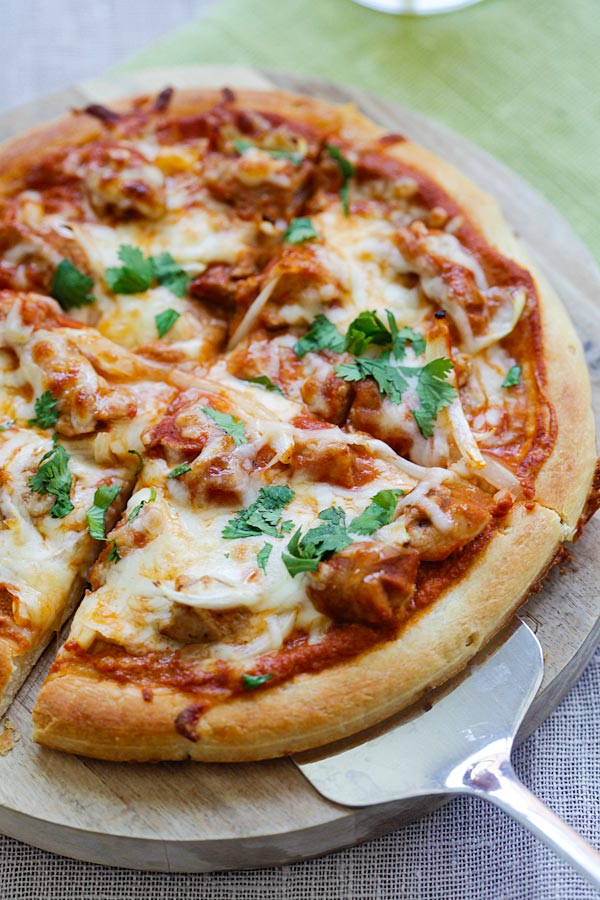 This chicken tikka malasa pizza recipe calls for a store-bought pizza crust. The ingredient list is a bit long and it does take some time to make this pizza but trust me, you won't find this kind of pizza anywhere else.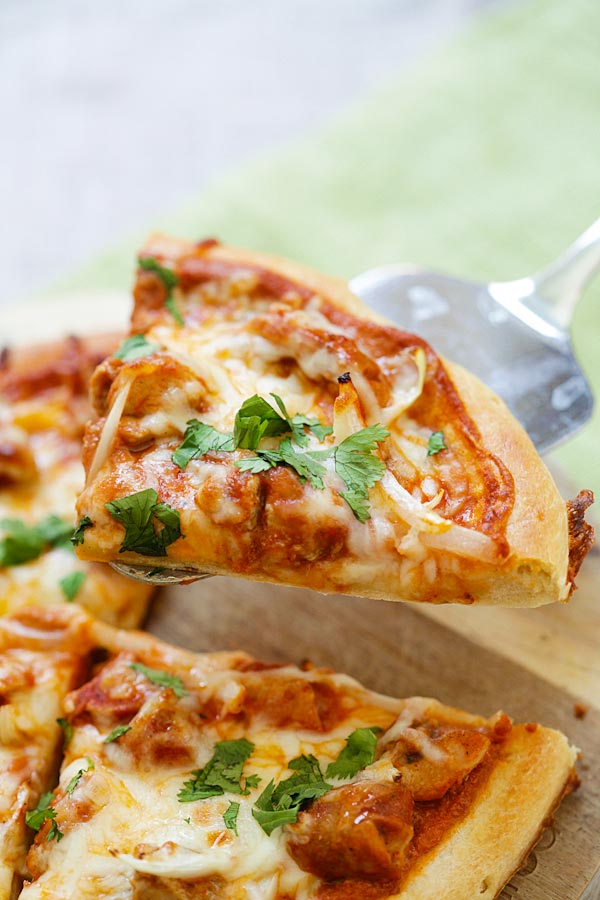 The pizza is cheesy and absolutely amazing that you just can't stop eating. Just make sure you make some extra chicken topping and freeze it. You can make them easily the next time. Enjoy!
Rate This
Recipe Name
Chicken Tikka Masala Pizza
Preparation Time
Cook Time
Total Time
Average Rating

Based on 2 Review(s)