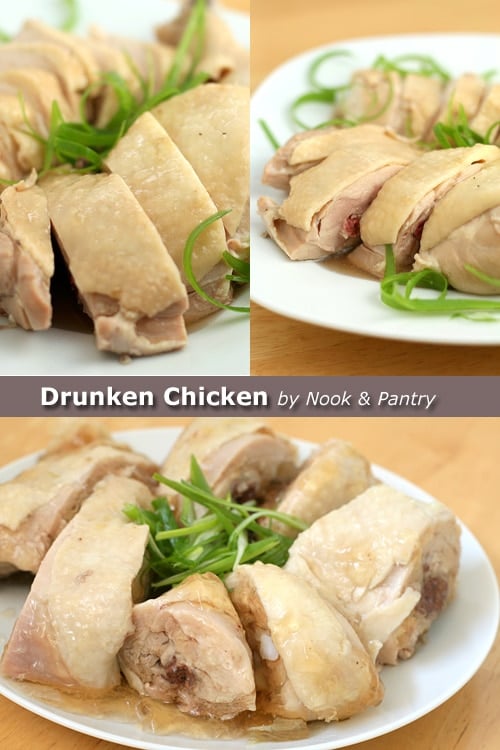 Shanghai Drunken Chicken Recipe
Ingredients:
3 lbs chicken, dark meat preferably
2 Tbsp salt
1/4 tsp ground black pepper
1/4 tsp ground white pepper
0.5 oz. ginger, thinly sliced
4 – 6 green onion, white parts only, sliced lengthwise
1 1/2 C Shaoxing rice wine
2 tsp white sugar
Ice cubes and water
Method:
Mix the salt with the two peppers. Rub the chicken all over with the salt and pepper and let it sit for an hour.
Poaching Method:
Bring 6 cups of water to a boil in a Dutch oven or large pot, add the green onion bottoms and ginger. Add the chicken, make sure there is enough water to cover the chicken, and return to a boil. Lower the heat to a bare simmer and simmer for 10 minutes. If you're using a whole chicken, when the water is simmering for 10 minutes, lift the chicken out of the water and make sure the stock in the cavity empties back into the pot. Do that 3 times for a whole chicken. For chicken pieces or leg quarters, gently stir the pot once or redistribute the leg quarters so they cook evenly. After 10 minutes, cover, turn off the heat, and allow the chicken to poach undisturbed until the water cools almost to room temperature.
Steaming Method:
Bring water to a boil in the steamer. Place the chicken in an even layer, scatter the green onion and ginger all over and steam over medium heat for 30 – 40 minutes or until the internal temperature near the bone reaches 165 – 170 degrees F. If the chicken pieces are larger, they will take longer to steam. If any of the pieces are touching make sure to redistribute them in the middle of cooking so they cook evenly.
Mix the ice cubes and water and shock the chicken in ice cold water for 2 minutes. If you poached the chicken, shock it after the chicken has cooled to room temperature. If you steamed the chicken, shock it immediately after steaming.
After cooking, cut the chicken into bite sized pieces, or score the chicken meat with a knife. Put the chicken pieces into a large container. Mix 3/4 cup to 1 cup of the chicken stock (the liquid you poached the chicken in or the liquid that comes out of the chicken after steaming) with the sugar and rice wine. Taste the marinade and add salt if needed. Pour it over the chicken pieces and let this sit in the fridge at least overnight before serving. Serve cold.
Most-Pinned Recipes
Ginger Garlic Baked Chicken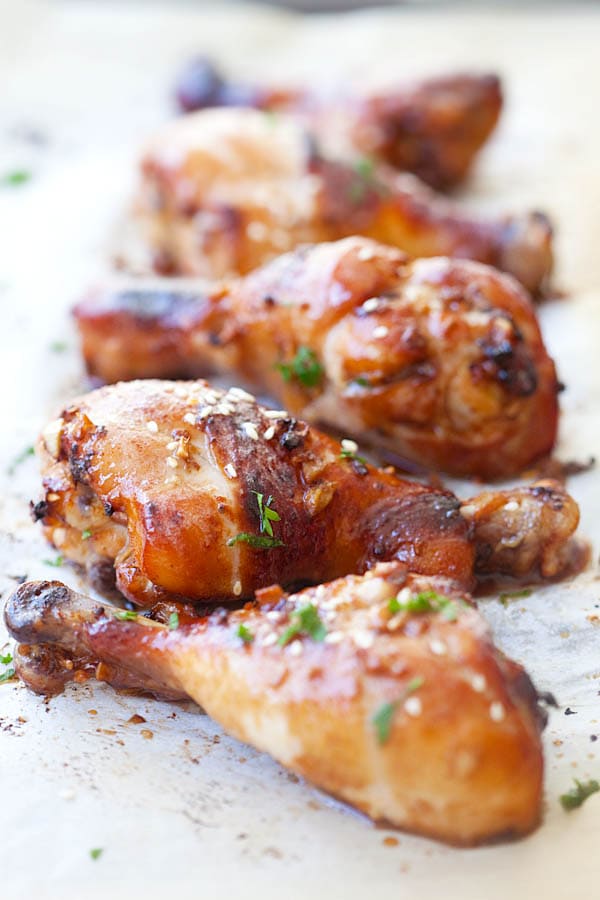 Crab Rangoon (Cream Cheese Wontons)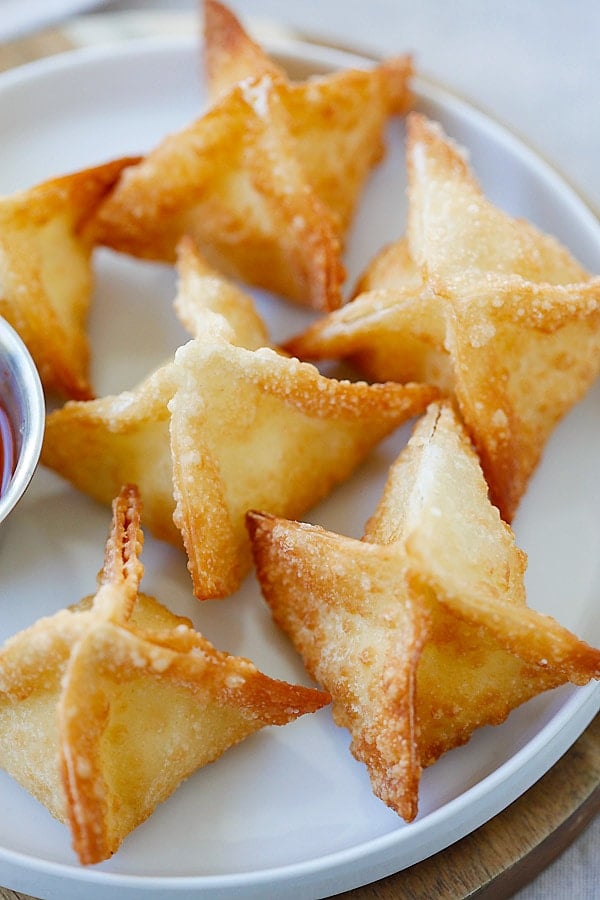 Chicken Wontons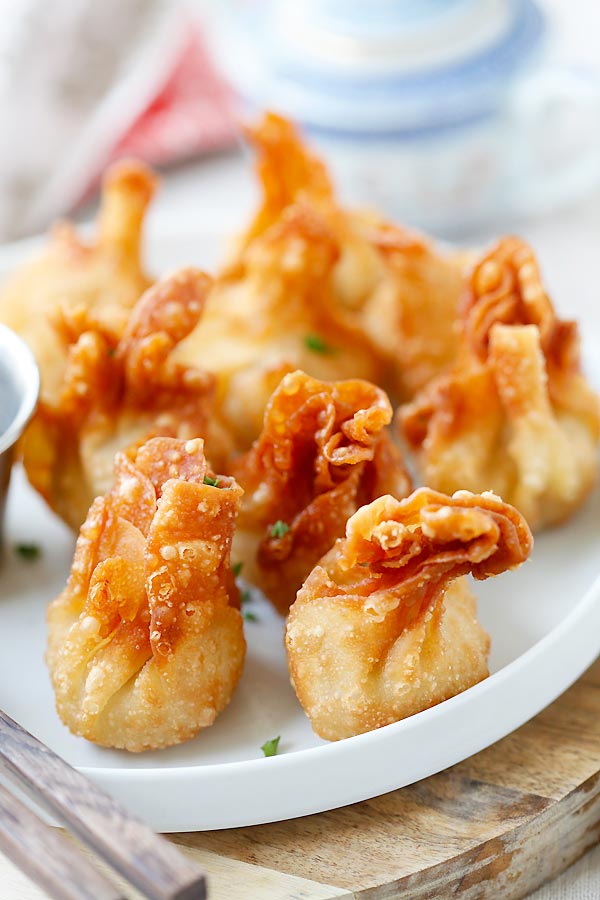 Onion Scallion Beef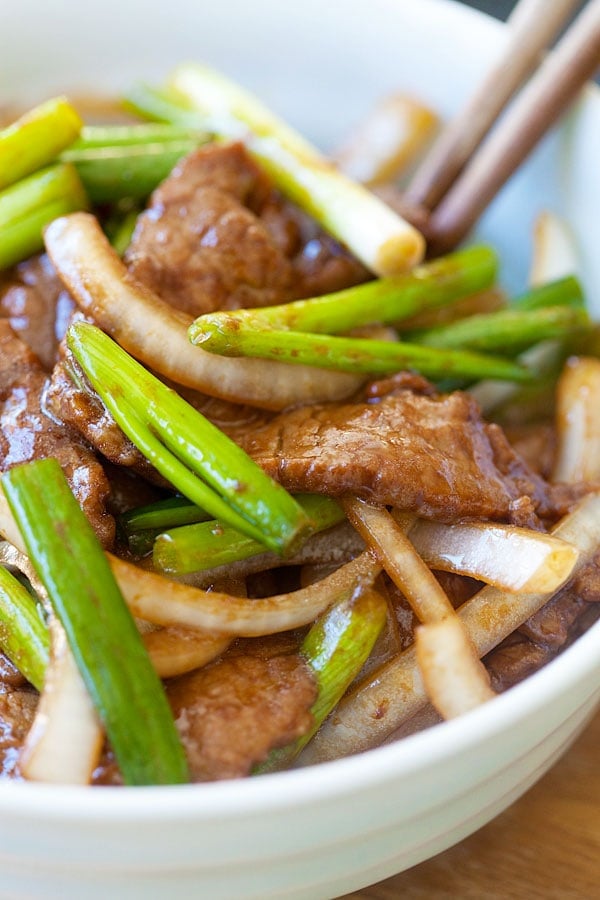 Thai Chicken Sate with Peanut Sauce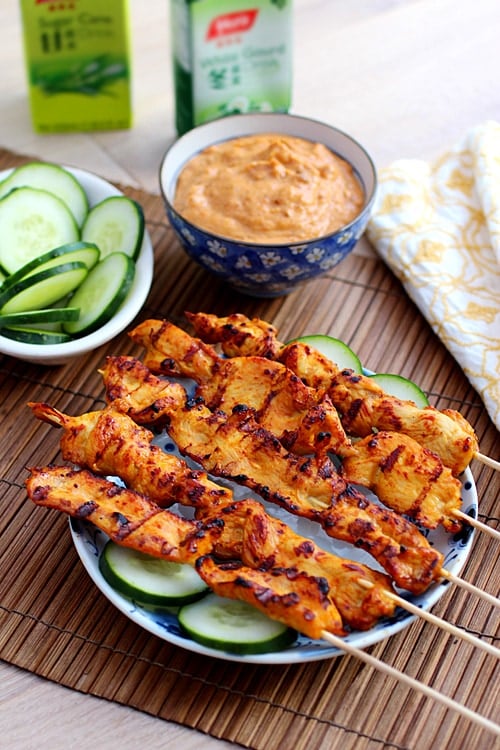 Thai Peanut Sauce