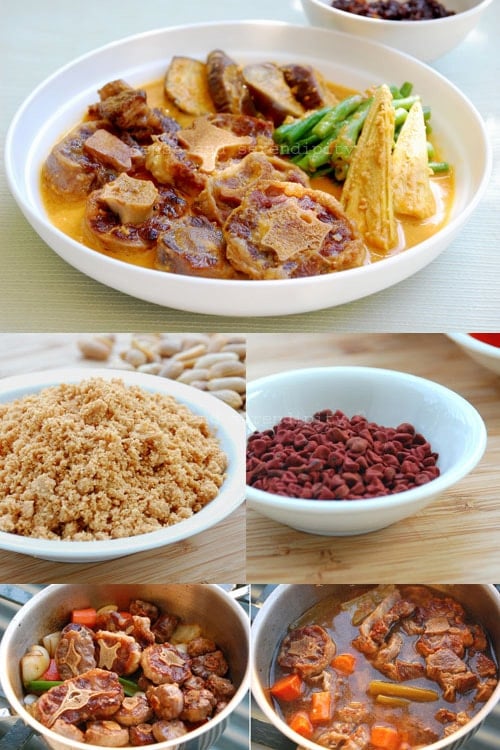 Out of all Asian cuisines, I have to confess that I am most ignorant when it comes to Filipino cuisine. First of all, I have yet traveled to the Philippines to sample its local cuisine; secondly, it's not easy to find Filipino food, as outlined by Marvin of Burnt Lumpia and this article in Los Angeles Times. Divina Pe of Sense & Serendipity is here today to share with us a Filipino kare kare or ox tail and peanut stew recipe. Divina is a professional cook, holistic nutritionist and aspiring cookbook author from the Philippines and you can expect many delicious recipes and mouthwatering food photography at Sense & Serendipity. Please welcome Sense & Serendipity to Rasa Malaysia and learn all about kare kare, a delicious Filipino stew.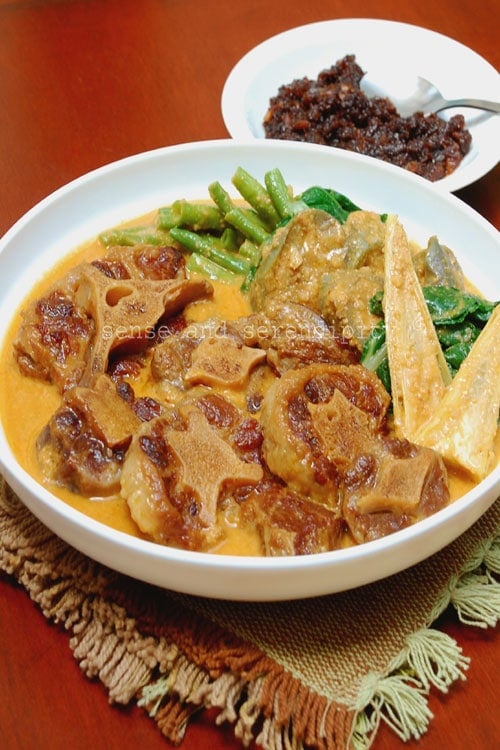 I grew up with my late-father's Chinese cooking and actually regretted not spending more time in the kitchen with him. He never encouraged me to cook but his love for food was contagious enough for me to do the same thing. When Rasa Malaysia invited me to do a Filipino dish on her blog, I am really honored and yet surprised at the same time. I do eat Filipino food but rarely cook them at home except for the classic adobo. I was filled with tension not knowing what to make. Of course, the restlessness shows when one of the authorities in Asian cuisine invited you for a guest recipe. And one of the recipes that came to my attention is Kare Kare.
There are a several stories about the origin of Kare Kare. First, it says the dish came from Pampanga, which is considered as the culinary center of the Philippines. Others believe that it is a noble dish served to Moro elite who once settled in Manila before the arrival of the Spaniards. Another origin states that this traditional dish is credited to the Indian curry introduced by Indians whole lived in the area of Cainta, Rizal and it is also somewhat similar to the Indonesian dish called Gado-Gado. And the name Kare Kare is derived from the Japanese word Kare which might have been contributed by the Japanese while doing business in the Philippines during the pre-colonial times…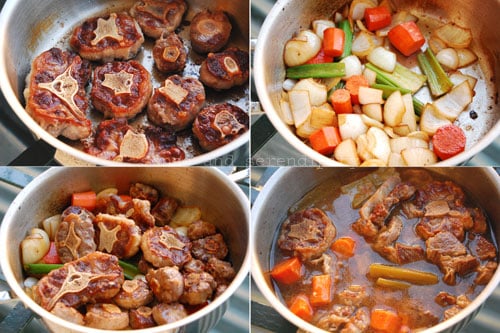 I've learned how to make Kare Kare when the amusing and talented Chef Stephane Meyer asked me to cook Filipino food for staff meal. He was aware that I only have two months left in Vancouver before going back to the Philippines. So, I asked again if he really wants Filipino food hoping that he would ask for something else. And of course he is while giving me that odd look. After my morning shift, I went straight to the library to search for Filipino cookbooks and specifically look for Kare Kare. I know how to cook adobo but I still chose Kare Kare, not knowing that might get offended by the foul-smelling fermented shrimp paste. I even emailed my brother and sister to send me the recipe so I could compare the ingredients and the procedure. I also visited the Filipino store to buy some ethnic ingredients while giving the other market list to the chef requesting for beef short ribs, some vegetables and a green papaya. The chef and 2 other colleagues (not sure about the 2 owners) loved it. I served the Kare Kare with some green papaya salad and steamed rice. After that he requested for another dish.
Kare Kare is a dish that seem complicated to do. But if you compare this with other stews, it's not too difficult at all. I always cook the meat one day ahead, store in the fridge and remove the hardened fat on the surface the following day. There are three components of this dish. First is the meat, which is usually ox tail but it can also be done with other cuts of beef such as beef shanks or short ribs, or a combination of both. Sometimes tripe is also added. Second is the sauce which is made of sliced onions, finely ground peanuts, toasted ground rice and the annatto seeds (mainly for color). The last component is the vegetables which include banana flower bud or heart, eggplant, string beans, okra or bok choy. This is a dish that you could either hate or love because of its naturally bland flavor and the type of peanuts or even peanut butter that you use would make a huge difference. And Kare Kare should be served with bagoong, a pungent and salty condiment of fermented shrimps. Without it, you might as well cook something else.
While beef is the most common ingredient, Kare Kare can also be made with seafood (prawns, squid, and mussels) or all vegetables.