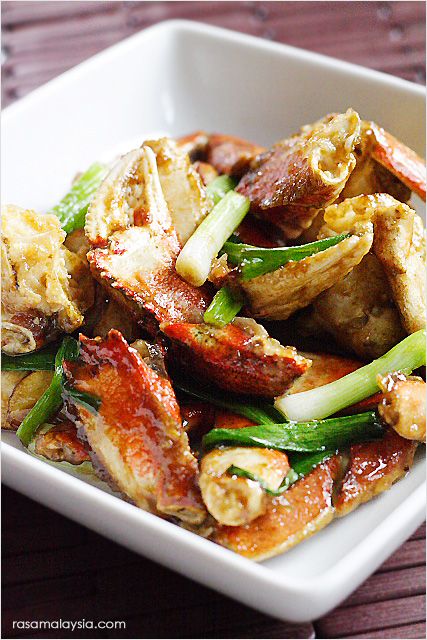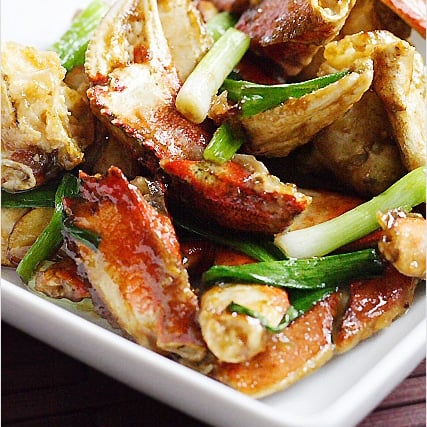 Ginger and Scallion Crab Recipe (姜葱蟹)
Chinese ginger and scallion crab recipe. This ginger and scallion crab recipes makes restaurant-worthy ginger and scallion crab, as good as restaurant's.
Ingredients:
1 crab (about 1 1/2 – 2 pounds)
2 inches ginger (peeled and sliced into 10-12 pieces)
3 stalks scallion (cut into 2-inch length)
3 tablespoons corn starch (for frying)
1 tablespoon cooking oil
Oil for deep frying
Sauce:
1 tablespoon oyster sauce
2 dashes white pepper powder
1/8 teaspoon sesame oil
1/2 teaspoon sugar
6 tablespoons water
3/4 teaspoon corn starch
1/8 teaspoon fish sauce
Method:
Mix the sauce and set aside.
Clean the crab and cut into pieces. Pat dry with paper towels and put into a big bowl. Add the corn flour to the bowl and lightly coat the crab pieces with it. Heat up a wok and add cooking oil. When the oil is heated, drop the crab pieces and deep fry. As soon as they turn red, dish out, strain the excess oil and set aside.
Heat up a wok and add 1 tablespoon of cooking oil. Add the ginger and stir-fry until aromatic. Put the crab pieces into the wok and quickly stir a few times before adding the sauce. Add the chopped scallions, toss the crab in the wok a few times until well coated with the sauce, dish out and serve immediately.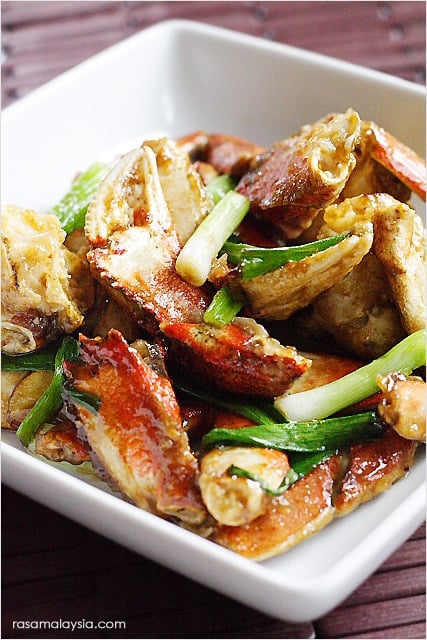 (Chinese recipes, prepare authentic Chinese food now!)
Remember that scene in Pretty Woman when Julia Roberts was trying to devour her escargot and it flew across the table?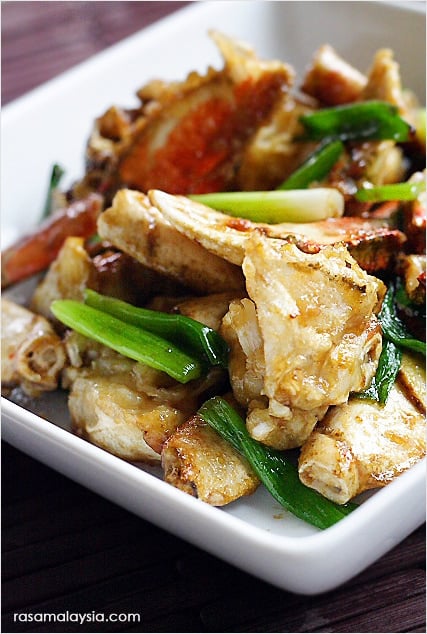 I had that exact "Pretty Woman" moment–a disgraceful and embarrassing one I must say–at a Chinese restaurant recently. It was a plate of mouth-watering ginger and scallion crab, and the character in play was a succulent crab claw, the last one remaining. The culprit was a crab cracker. Being my clumsy self, coupled with the sin of gluttony, my crab claw flew across the table and landed on the carpet at a sad and dark corner of the restaurant. And there was no waiter to catch it for me!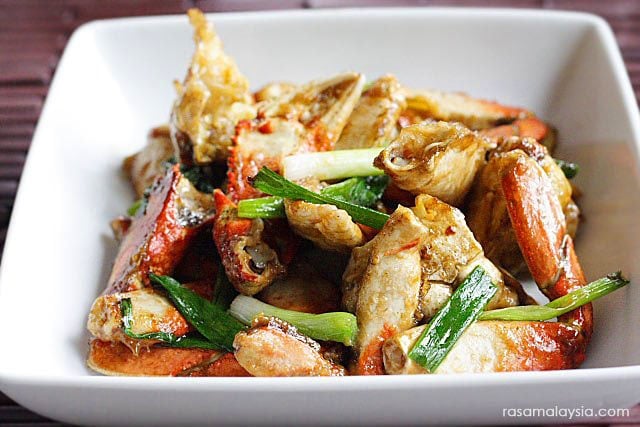 Throughout the dinner, I kept looking down at the poor crab claw that I almost had in my mouth. It was a huge and beautiful crab claw. The shell was perfectly cracked and revealed the juicy meat inside. Drool…mmmm….I was this close to eating that crab claw. Darn it.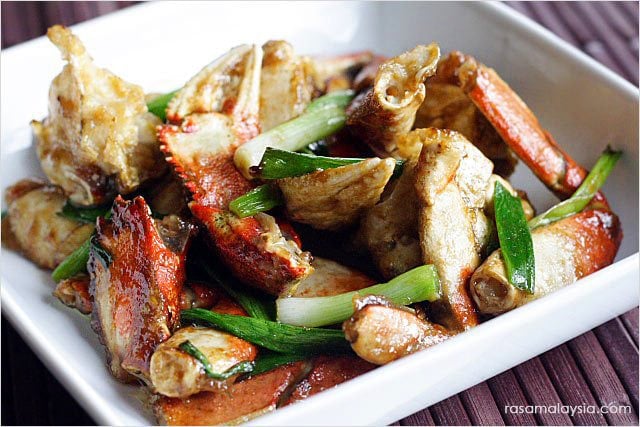 So when I was grocery shopping today and saw that Dungeness crab was on sale for $3.99 per pound, I knew exactly what I was going to make–ginger and scallion crab.
If you've been to a real Chinese restaurants in the United States, I am sure you are familiar with ginger and scallion crab (姜葱蟹). Crabs are mostly prepared two ways in these Chinese restaurants: ginger and scallion or salt and pepper crab. Personally, I love the wok-hei infused ginger and scallion crab. In my opinion, ginger and scallion are perfect matches made for Chinese stir-fry dishes–be it seafood or meat. (Previously on Rasa Malaysia, I had dished up ginger and scallion chicken.)
Eating out, ginger and scallion crab is rather pricey but I spent less than $6 making it at home. If you think that ginger and scallion crab is one of those dishes that is better served at Chinese restaurants, think twice. The recipe is very easy and takes only a few basic ingredients.
As for me, not only did I have my fix of ginger and scallion crab, I had two crab claws all to myself. And no, they didn't fly across the table this time. ;)
The Dungeness crab season is starting soon. Get ready for a fabulous crab season with these crab recipes on Rasa Malaysia:
Black Pepper Crab – A Malaysian and Singaporean favorite