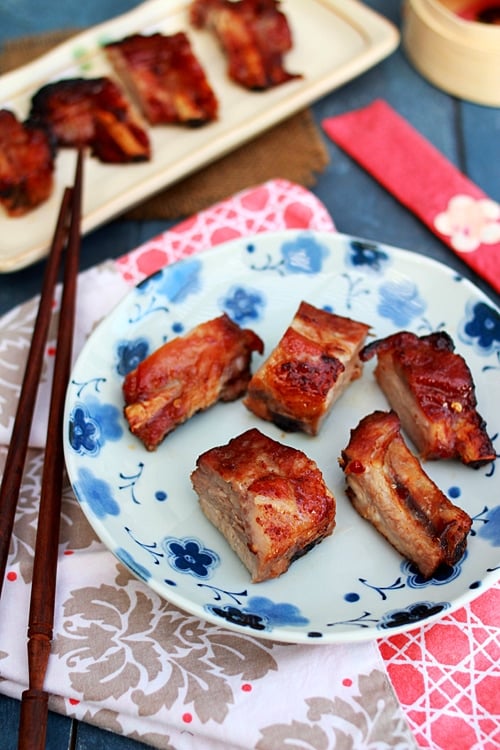 One of the favorite food of Mr. Rasa Malaysia is baby back ribs. He loves all sorts of ribs, but especially partial to Chinese-style ribs and American BBQ ribs. He doesn't have much of an opinion whenever we dine out as I am always the ones who decide where we eat at, but whenever he is in the mood to take charge, his answer is pretty predictable: ribs. He has taken me and his friends to unknown restaurants at obscure places, for some hole-in-the-wall ribs. If there is one thing he is obsessed with when it comes to food, I think that would be it, and very lucky for us, our good friend Slap Yo' Daddy is one of the top BBQ pit masters in the US, and he would always bring us some of his award-winning and extremely delicious baby back ribs.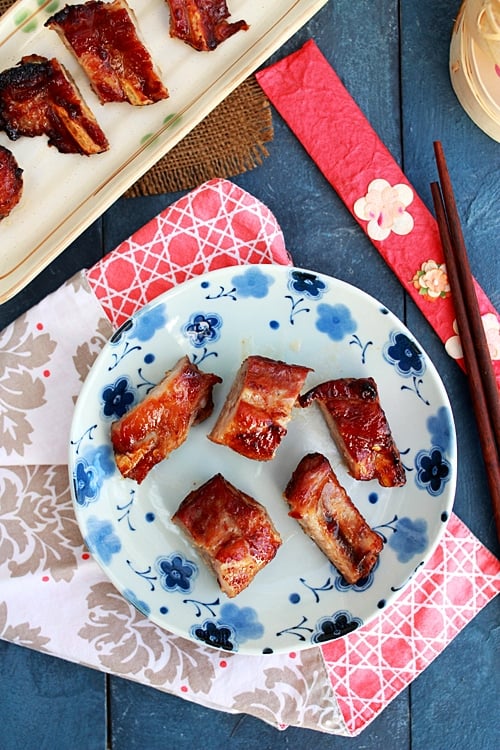 These honey-glazeed baby back ribs was prepared for him. I am not much a ribs person, other than using them to flavor my Chinese soups or stews, but I was pleasantly surprised with the sticky, gooey, and addictive great taste of this recipe. This honey-glazed baby back ribs recipe is adapted from the Food & Wine magazine. I love the addition of sambal oelek or chili-garlic sauce for a tint of spicy note.
Either way, Mr. Rasa Malaysia happily devoured the dish which was specially cooked for him. If you love yourself some Chinese/Asian-style good ribs, you can certainly try this recipe out!