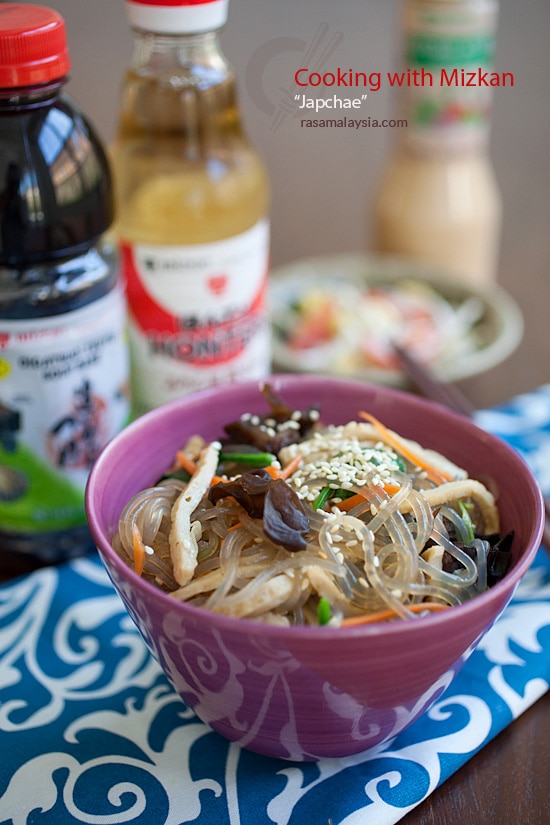 Japchae Recipe
Serves 4 | Prep Time: 15 Minutes | Cook Time: 15 Minutes
Ingredients:
2 tablespoons oil
1/2 tablespoon sesame oil
3 garlic, finely minced
1/2 onion, thinly sliced
2 oz Busan fish cake, cut into thin strips
2 oz fresh wood ear mushrooms (or 1 oz dried wood ear or 1 oz or Shiitake mushroom), cut into pieces
1/2 red bell peppers, cut into thin strips
1 cup tightly packed spinach with stems
1/2 carrot, peeled and cut into matchstick strips
1 stalk scallion, cut into thin threads
12 oz dried Korean sweet potato noodles
1/2 cup Mizkan Oigatsuo Tsuyu Bonito Flavored Soup Base (green label no MSG), or more to taste
1/4 cup Mizkan Honteri Mirin
2 tablespoons sugar
3 heavy dashes black pepper powder
Toasted white sesame seeds
Method:
Closewise from top: dry sweet potato noodles, fresh wood ear mushrooms, and Busan fish cake.
Heat up a big pot of water and bring it to boil. Cook the sweet potato noodles in the hot boiling water until the noodles are completely cooked through but remain al dente. Rinse the noodles with cold running water to remove the starch from the noodles. Transfer to a colander and let the excess water drain. Set aside.
Heat up a stir-fry pan and add the oil and sesame oil, on medium heat. Stir-fry the garlic and onion until aromatic, then add the fish cake, wood ear mushrooms, and red bell peppers. Stir-fry for 1 minute before adding the spinach, carrot and scallions. As soon as the spinach leaves start to wilt, turn off the heat but leave the pan on the stove.
Transfer the noodles into the pan. Add the Mizkan sauces, sugar, and black pepper. Using a pair or chopsticks, toss and combine the noodles with all the ingredients in the pan. Continue to toss and mix until everything is well combined. Add more Mizkan Oigatsuo Tsuyu Bonito Flavored Soup Base to taste if you like. Adjust the taste by adding more sauce and/or sugar until the Japchae reach your desired taste. Transfer into bowls, topped with some toasted white sesame seeds and serve immediately.
Cook's Notes:
There are two types of Mizkan Soup Base: Mizkan Oigatsuo Tsuyu Bonito Flavored Soup Base (green label no MSG) and Mizkan Bonito Flavor Soup Base (red label with a little MSG). I used the former in this Japchae recipe.
 You can add beef bulgogi to the japchae. Cook the bulgogi and then cut the beef into small, thin, and long pieces.
If you can't find fresh wood ear mushroom, you can use dried wood ear mushroom. Soak in warm water before using.
If your noodles are still wet after draining in a colander, pat dry with paper towels before mixing.
If you can't find Busan fish cake (pictured above), you can use other Korean, Japanese, or Chinese fish cake. Just cut the fish cake into thin strips.
Most-Pinned Recipes
Ginger Garlic Baked Chicken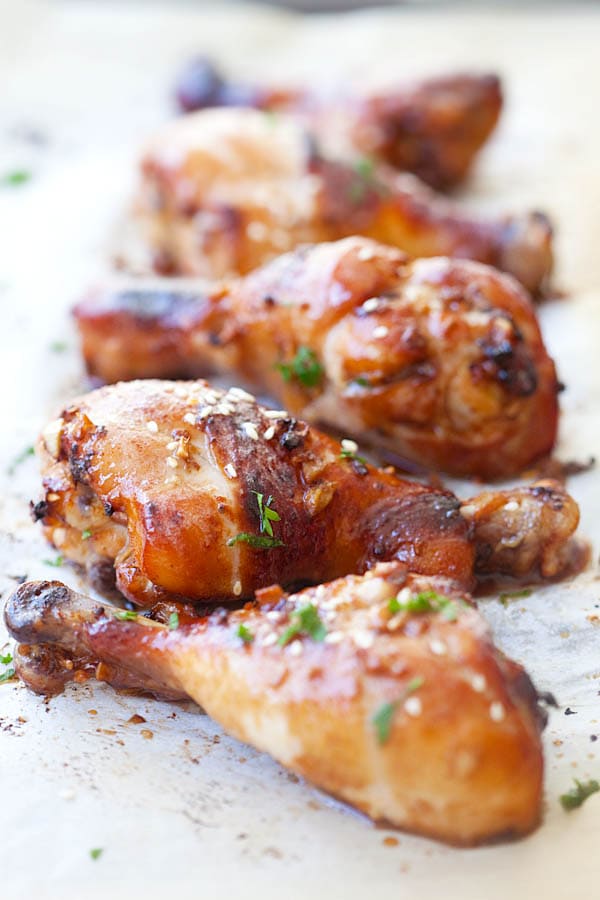 Crab Rangoon (Cream Cheese Wontons)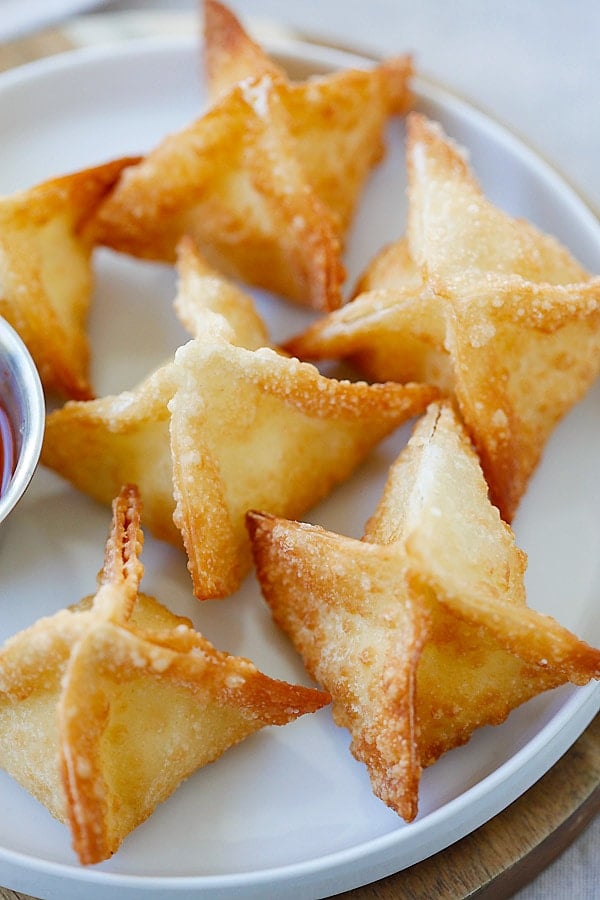 Chicken Wontons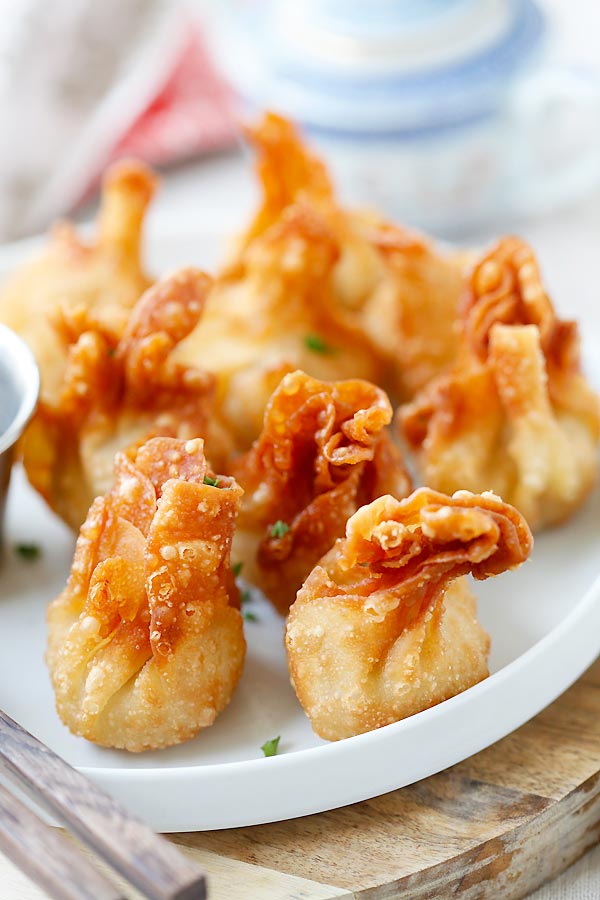 Onion Scallion Beef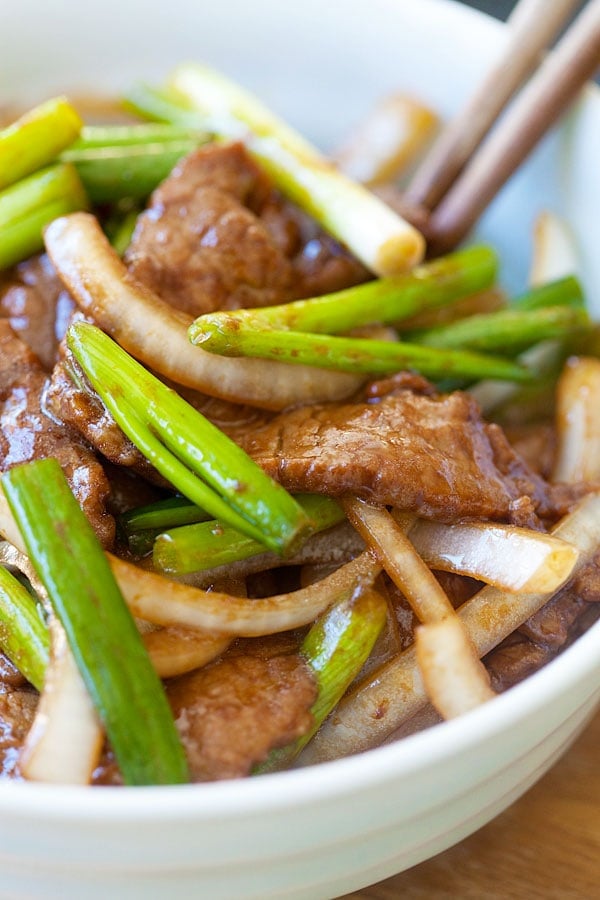 Thai Chicken Sate with Peanut Sauce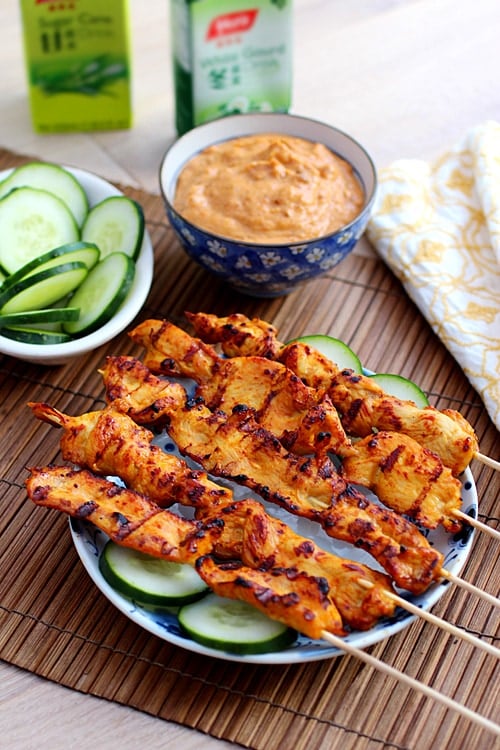 Thai Peanut Sauce