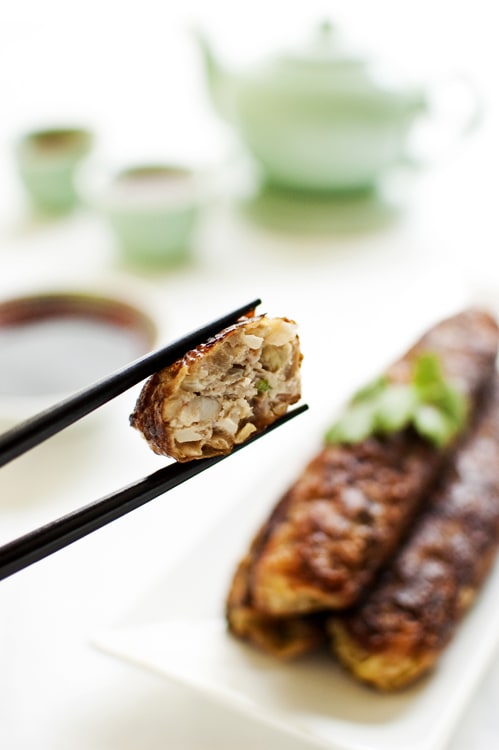 Ngoh Hiang is one of the most requested recipes from my Singaporean readers. Being a Malaysian, I have no idea what ngoh hiang is. After poking around, I finally realized that ngoh hiang is the local Singaporean name for a similar dish "loh bak" or five-spice pork rolls wrapped with tofu skin. So, I invited Danielle of Bon Vivant back for another guest post. (Check out her claypot chicken rice recipe.) Please welcome Bon Vivant to Rasa Malaysia again as she shares her mother's ngoh hiang recipe. And to all my Singaporean readers, I hope you enjoy this post! Let us know if your family makes the Hokkien version or Teochew version.

These pork rolls are a delicious and dangerous concoction. Named for the Chinese five spice powder that gives the rolls their unique flavor, Ngoh Hiang (五香) is another take on the pork sausage, if you will. A whole array of ingredients are stirred into a pound of fatty ground pork, which is then seasoned with five spice powder and snugly wrapped in dried beancurd skins. First steamed, then pan-fried to a crisp, one bite of these juicy chunks is never enough for me as I'd have worked up a massive appetite by the time these rolls hit the table, thanks to the aromas that leak out in the cooking process…
Like any good Chinese dish, these rolls have their sub-cultural variations, depending on whether the cook was of a Teochew or Hokkien dialect. In my maternal grandfather's Teochew version, there were shrimp and water chestnuts, but no onions or yam. Before cooking, each roll was tied with string, sectioning out pieces for easy cutting and serving once ready. In my paternal grandmother's Hokkien version, however, there were the pork and onions, but no shrimp or water chestnuts. After tasting both versions, my mother, like any curious cook, took it upon herself to fuse the two traditions to produce a pork roll to her taste.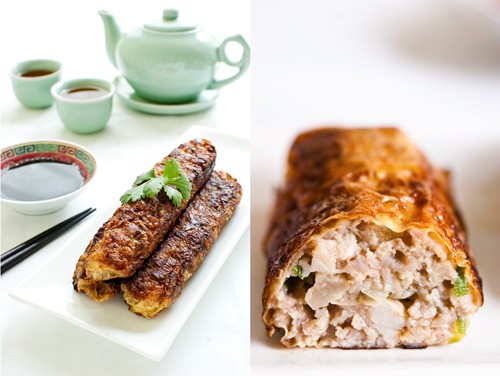 This took years of trial and error, and neverending rounds of scrutiny and questioning before her rolls received the seal of approval from the seasoned palates on both sides of the family.
With a new recipe for utterly addictive pork rolls came a change of cooking traditions: the Hokkien grandmother saw the merits of water chestnuts and started featuring them in her rolls, while the Teochew grandfather slowly came round to adding onions to his. As you try out this particular recipe, take the liberty to substitute, add or remove ingredients according to your taste – it is, after all, in the spirit of culinary evolution and curiosity that led to this version in the first place!