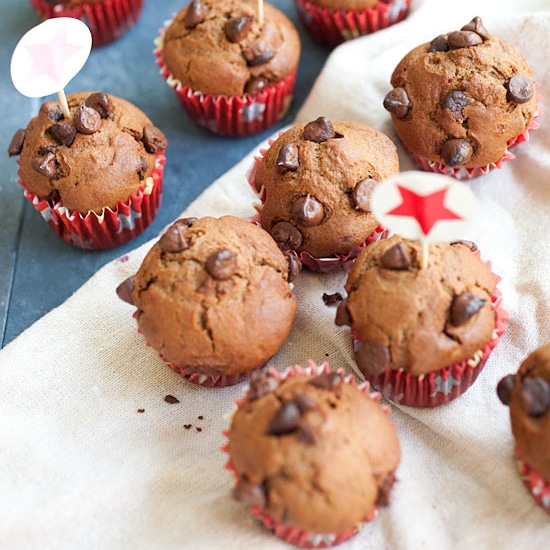 Nigella's Chocolate Chocolate Chip Muffins
Nigella Lawson's chocolate chocolate chip muffins. Loaded with chocolate, these muffins are decadent and a perfect way to wake up to breakfast | rasamalaysia.com
Prep time:
Cook time:
Total Time:
Ingredients:
1 3/4 cups all-purpose flour
2 teaspoons baking powder
1/2 teaspoon baking soda
2 tablespoons cocoa powder
3/4 cup superfine sugar
3/4 cup Hershey chocolate chips, plus 1/4 cup for sprinkling
1 cup milk
1/3 cup plus 2 teaspoons vegetable oil
1 egg
1 teaspoon pure vanilla extract
Method:
Special equipment: Mini muffin tin with paper muffin cases
Preheat the oven to 400 degrees F.
Put the Flour, Baking powder, Baking soda, Cocoa, Sugar and 3/4 cup of the Chocolate chips into a large bowl. Max all dry ingredients evenly, put aside.
Get another bowl put in Milk, Vegetable oil, Egg and Vanilla extract. Whisking all wet ingredients together.
Slowly pour the wet ingredients into dry the ingredients mix to combine, spoon into the prepared muffin cases. Sprinkle the remaining 1/4 cup Chocolate chip on top and then bake for 20 minutes or until the muffins are dark, risen and springy.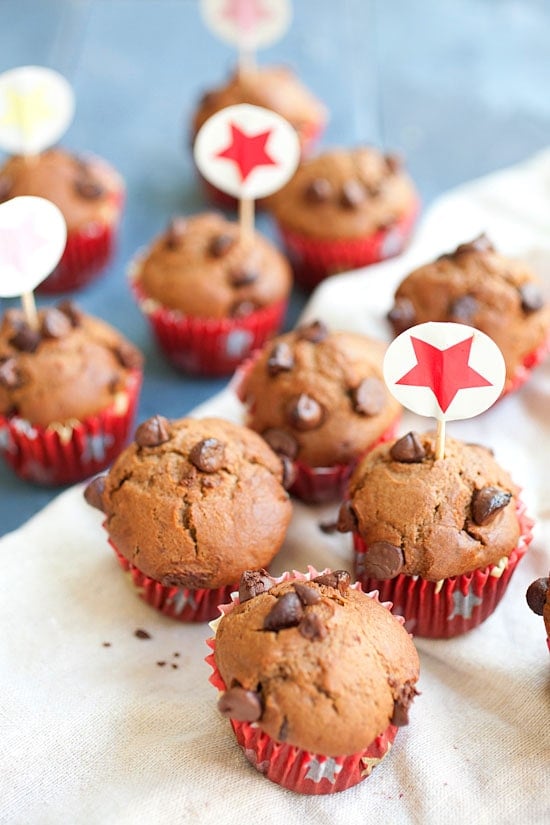 When a muffin carries the name "Nigella's chocolate chocolate chip muffin," I think you pretty much know that you want to eat them all and that the recipe is a keeper. These muffins are not regular chocolate chip muffins, they are chocolate chocolate chip muffins. Not only that, this is Nigella Lawson's recipe…how can we resist them?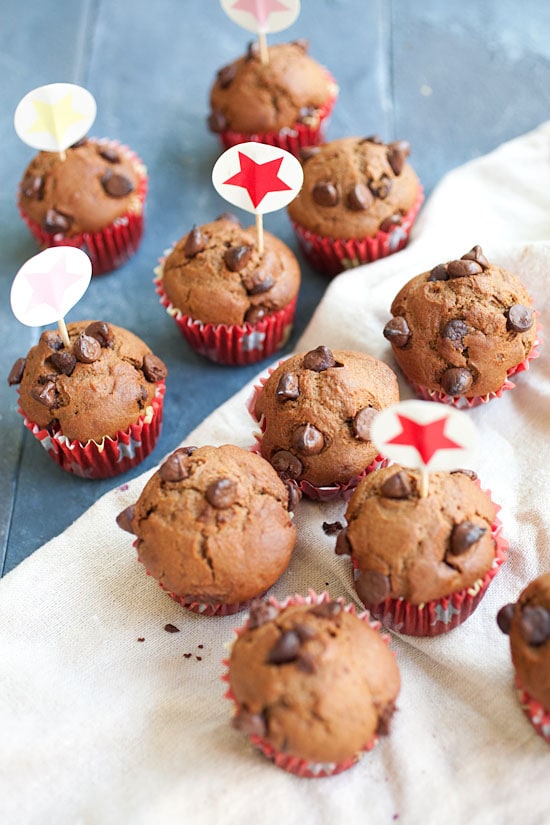 In the past year or so, my picky eater 3-year old son has certainly acquired a liking for all things chocolate, for examples: no-bake chocolate cake, regular chocolate cake, chocolate cupcakes, chocolate chip cookies. Whenever I am out of ideas, I turn to chocolate as I know for sure he would gobble them up whenever I offer him something made with chocolate. I don't let him indulged in too much sugar and chocolate, but I do reward him with his favorite food whenever he is being a good boy.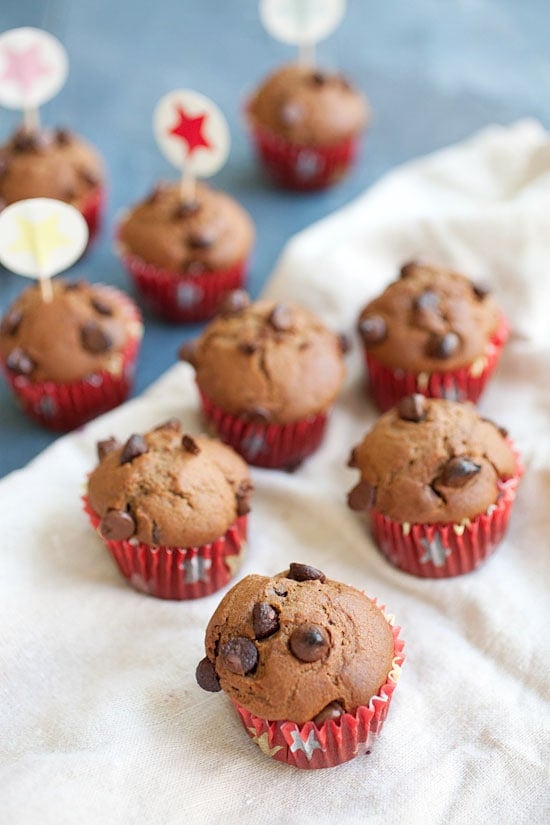 So when I chanced upon this Nigella's chocolate chocolate chip muffin recipe on Food Network, I knew that I just have to make them for him. I actually don't mind some great chocolate chocolate chip muffins and so I baked these last week for the family. I made them into mini muffins and they turned out absolutely delicious and so pretty that I just couldn't stop taking the photos. Happy baking!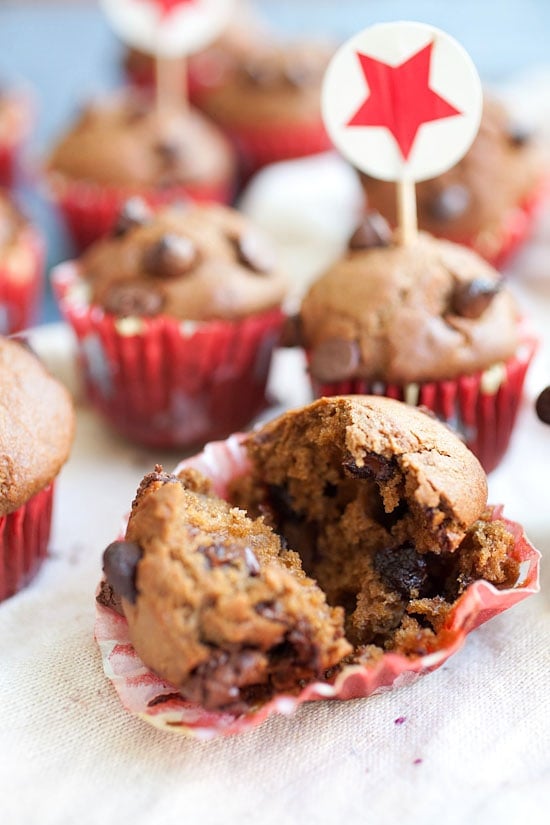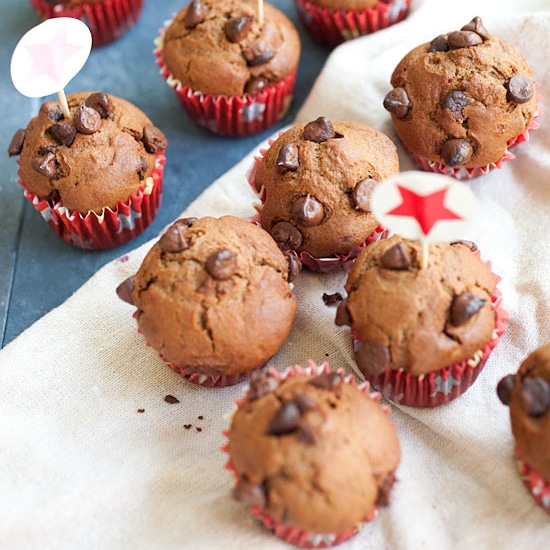 Rate This
Recipe Name
Nigella's Chocolate Chocolate Chip Muffins
Preparation Time
Cook Time
Total Time
Average Rating

Based on 3 Review(s)