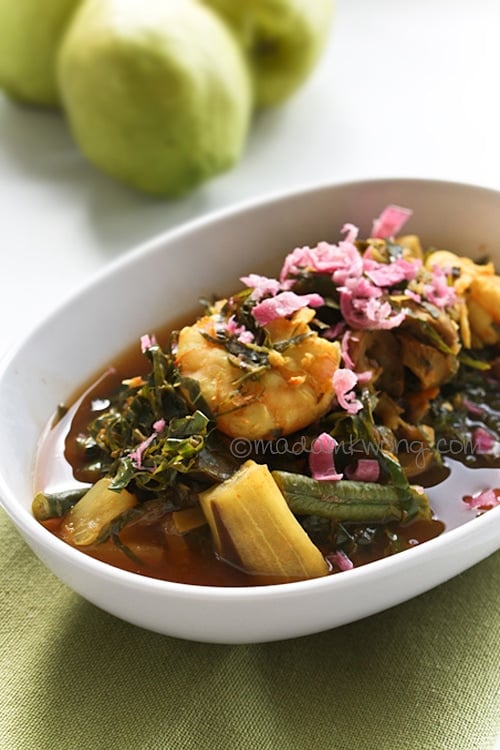 Perut Ikan Recipe
Recipe by: Madam Kwong's Kitchen
Ingredients:
Curry Paste Stock
2 tbsp chilli powder
10 shallots (minced)
2 tbsp minced lemongrass
1 tsp turmeric powder
1 tsp blue ginger powder
2 tsp belacan powder
100 grams tamarind juice
1.5 litres water
60g pickled fish stomach
600 grams peeled fresh prawns
1 can diced pineapple (400g)
2 eggplant/aubergine (cut 2.5cm)
10 snake beans or 500 grams french beans (cut 2.5 cm length ways)
1 ginger flower/bunga kantan
Finely Shredded Vegetables
20 Vietnamese mint (polygonum leaves/daun kesom/daun laksa)
30 beatle leaves (daun kadok)
2 turmeric leaves
5 kaffir lime leave
Salt and sugar to taste
Method:
1. Boil curry paste stock for 15 minutes.
2. Add the shredded vegetables, pickled fish stomach and prawn.
3. Add seasonings and cook for another 15 minutes.
4. Dish out and serve immediately.
Click here for Nutritional Table.