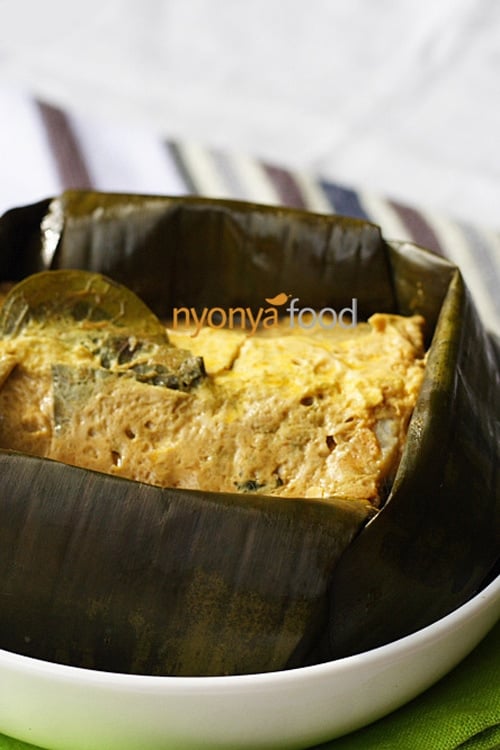 Otak-Otak Recipe (Spicy Fish Custard Parcels)
Adapted from Nonya Flavours: A Complete Guide to Penang Straits Chinese Cuisine
Ingredients:
1 banana leaf (cut into 8 x 10″ rectangles-shapped and soak in hot water to soften the leaf)
500g fish fillet (slices)
20-30 wild betel leaves (daun kaduk)
Custard ingredients:
2 eggs
1 cup coconut milk
2 tsp rice flour
3 kaffir lime leaves (finely sliced)
1 tsp salt
1 tsp sugar
Spice Paste
10 shallots
3 cloves garlic
5 fresh red chilies
4 dried red chilies
2 stalks lemon grass
1 inch galangal
1 inch turmeric
20g shrimp paste (toasted)
Method:
1.  Chop the spice paste ingredients and then blent it in a food processor until fine.
2.  Combine the custard ingredients,add in spice paste and mix well.
3.  Place 2-3 kadok leaves in the center of a banana leaf.Top with 2-3 slices of fish fillet 2 tbsp of the custard mixture.
4.  To form a pyramid-shapped. Fold up both sides of the banana leaf to meet in the centre and fold up the other two ends to meet in the center and secure with bamboo tooth picks.
5.  Heat up wok and boiling water.Steam for 10 minutes over rapidly boiling water.
6. Unwrap the leaves and serve immediately.
Most-Pinned Recipes
Ginger Garlic Baked Chicken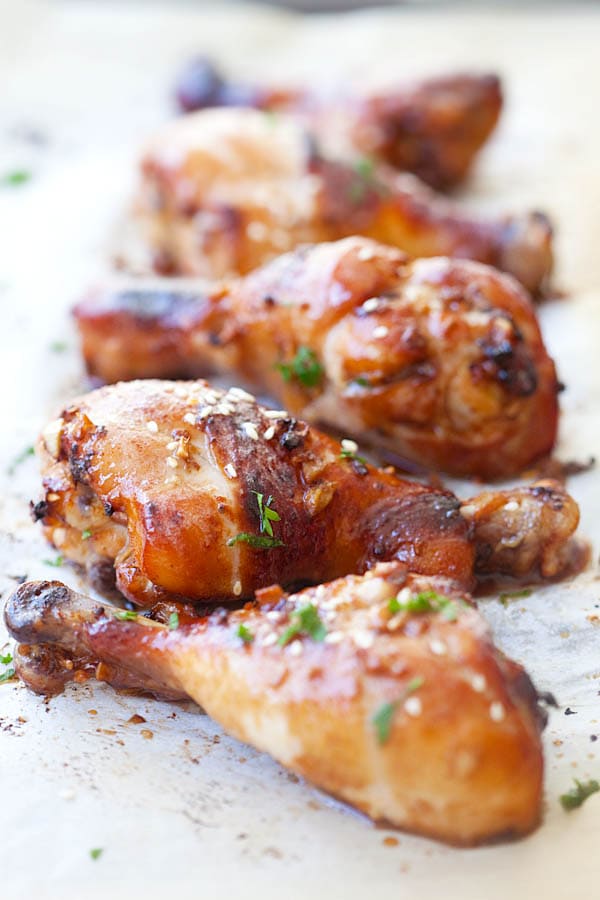 Crab Rangoon (Cream Cheese Wontons)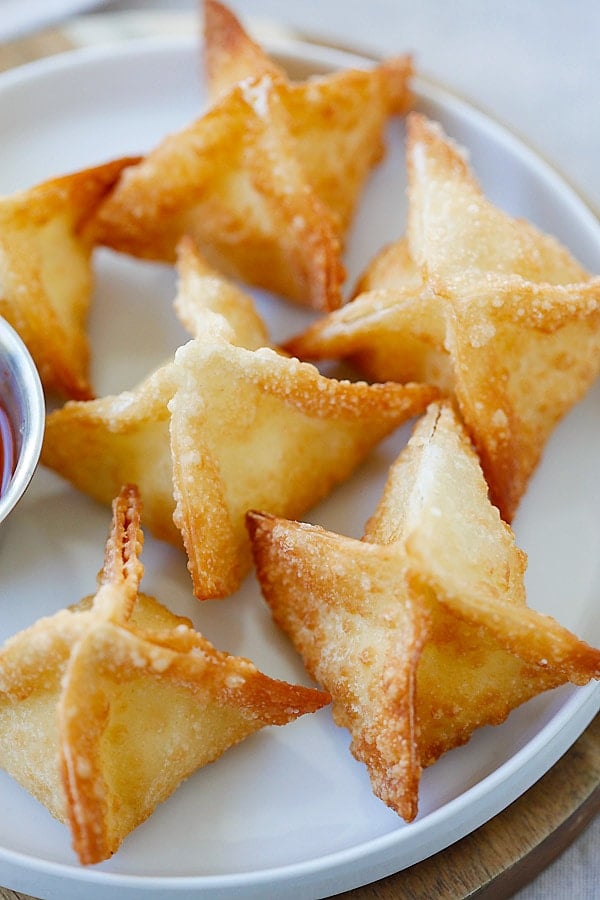 Chicken Wontons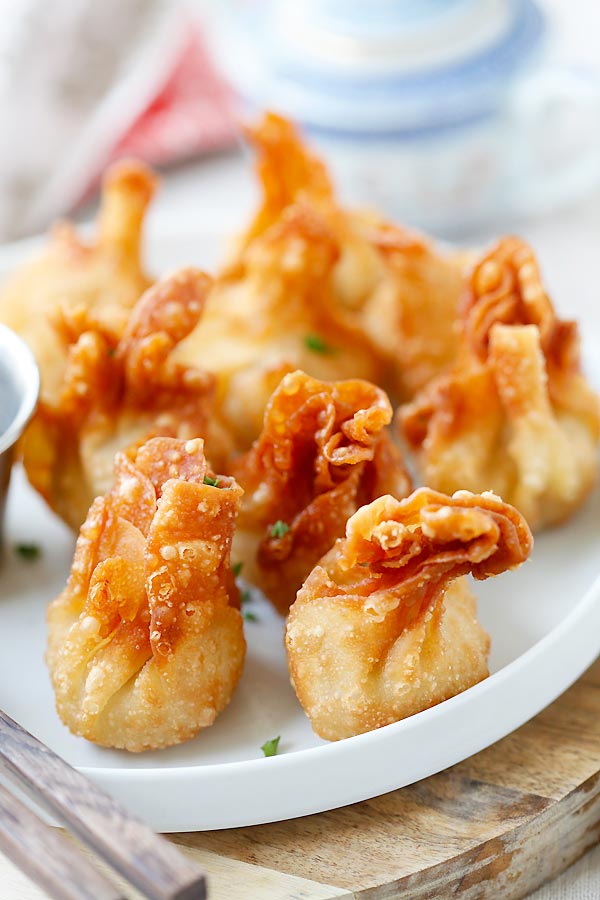 Onion Scallion Beef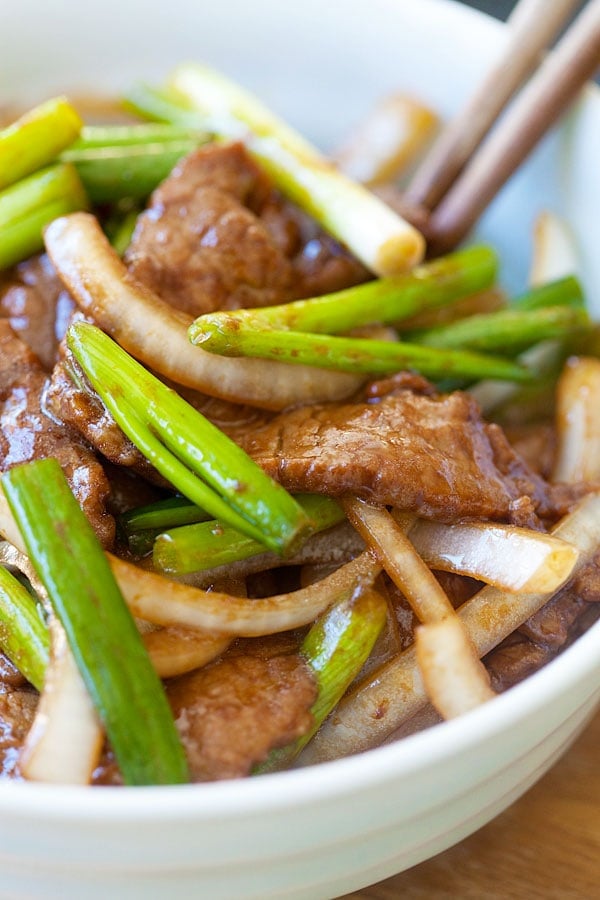 Thai Chicken Sate with Peanut Sauce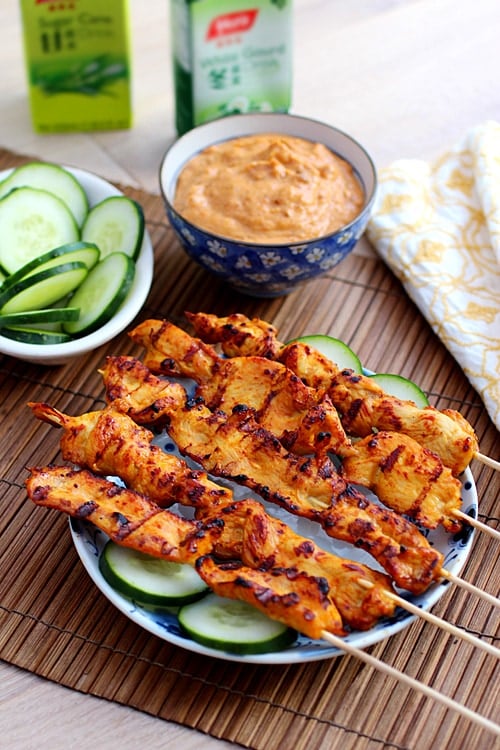 Thai Peanut Sauce