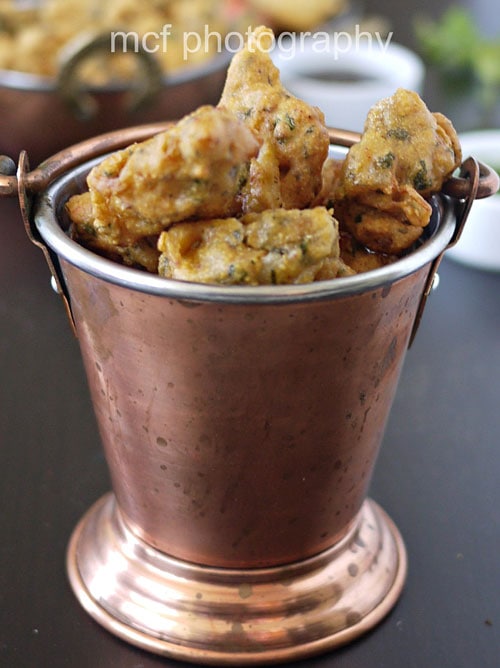 Veggie Pakora Recipe
Ingredients:
Onions: 2
Cauliflour: 1 cup (florets)
Spinach: 1cup (finely chopped)
Sweet Peppers: 7-8
Mashed Potato: 1/2cup (for filling in sweet peppers)
Grated ginger: 2 tsp
Chickpea Flour: 1 cup (add more if required)
Rice Flour: 2 tsp
Salt: 1 tsp or to taste
Paprika: 1/2 tsp
Black Pepper: 1/4 tsp
Chat masala: 1 tsp
Fenugreek flakes: 1 tsp
Carrom Seeds (Ajwain): 1/2 tsp
Water: 3/4 cup (add more if required)
Cooking oil: 1 cup
Corainder, Tamarind and Tomato sauce for serving
Method:
Wash and pat dry the vegetables. Cut the florets of cauliflower, finely chop spinach and thinly slice the onions. Slit the peppers vertically. Boil and mash the potatoes in another bowl and add seasoning to taste.
In another bowl take chickpea flour (besan), rice flour and add spices. Slowly add some water until the mixture reaches the consistency of whipping cream. Beat the batter well and set aside to for couple of minutes and heat some oil in the meantime.
Heat oil in a deep bottomed pan. Check the temperature of the oil by dropping a small drop of the batter in the oil. If the oil is ready and hot, coat the chunk of chopped veggies with the batter and drop it one by one in the hot oil. Fry on medium heat till it turns golden brown from both sides. Drain the chunks on the paper towel to soak the excess oil. Keep frying till you are done with the batter.
For Sweet Peppers:
Stuff the peppers with spiced potato stuffing and coat in chickpea flour batter and fry one by one.
Enjoy it piping hot from the pan to the platter with sweet tomato, coriander and tamarind chutney and of course hot cup of tea. The hot combo of tea plus pakoras is absolutely sumptuous in this festive fall season.
Relish it with a cuppa hot chai or warm hot chocolate.
Most-Pinned Recipes
Ginger Garlic Baked Chicken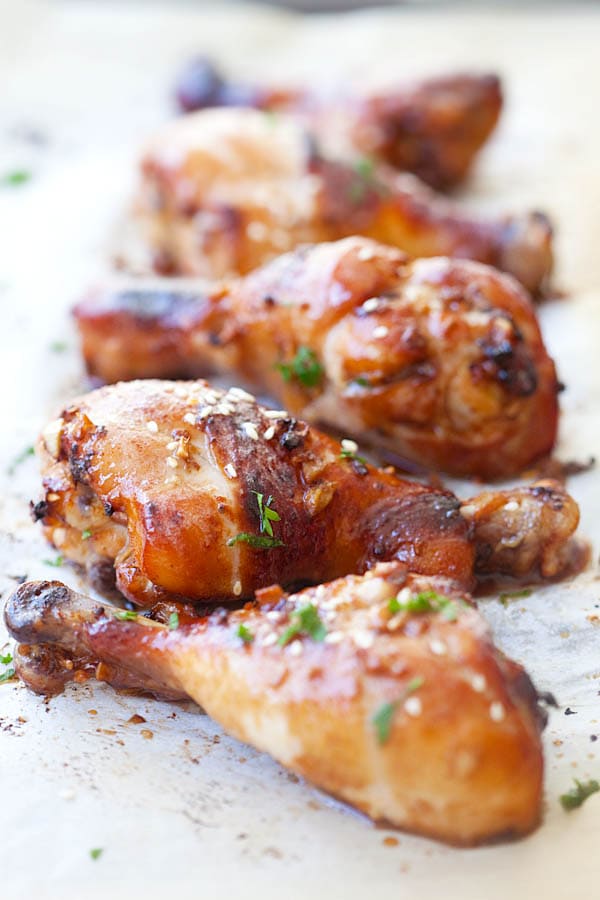 Crab Rangoon (Cream Cheese Wontons)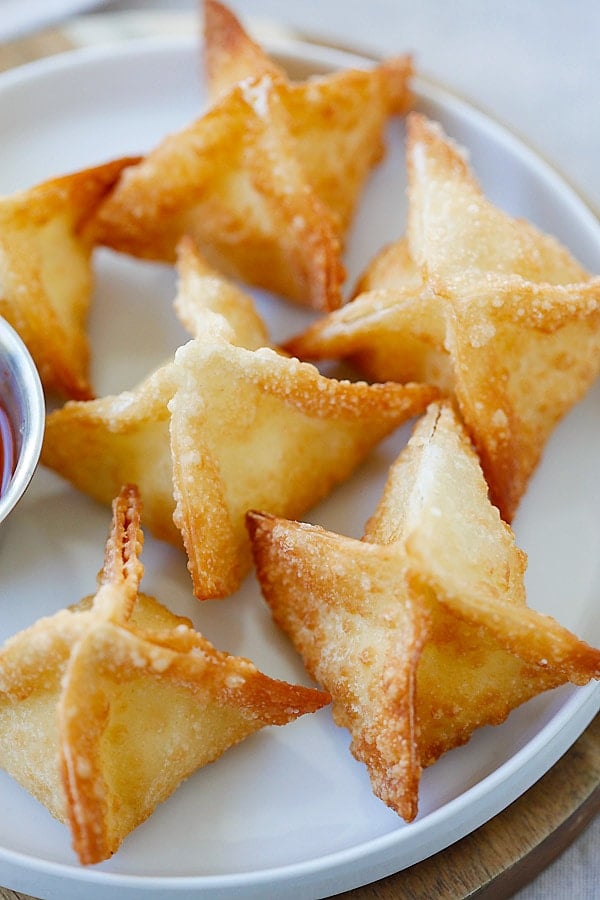 Chicken Wontons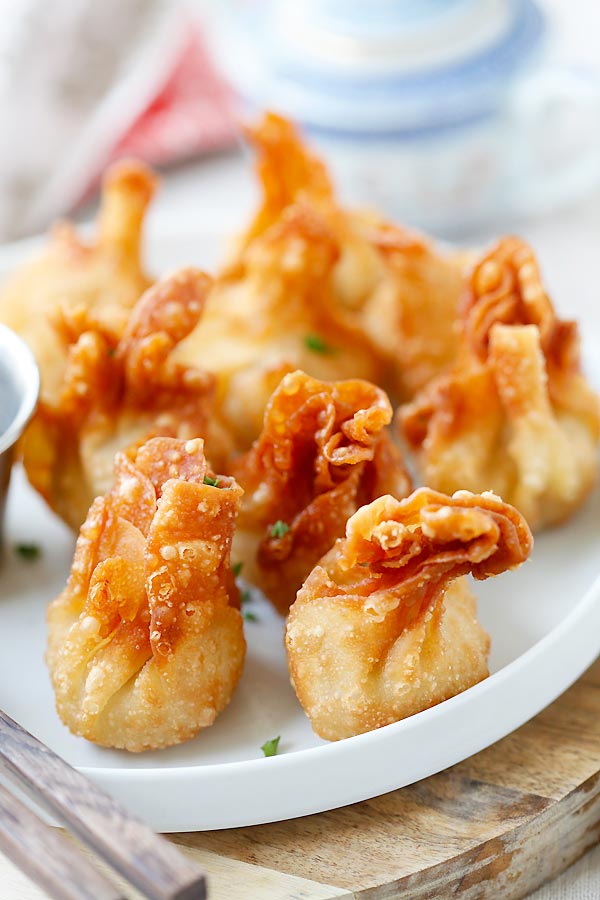 Onion Scallion Beef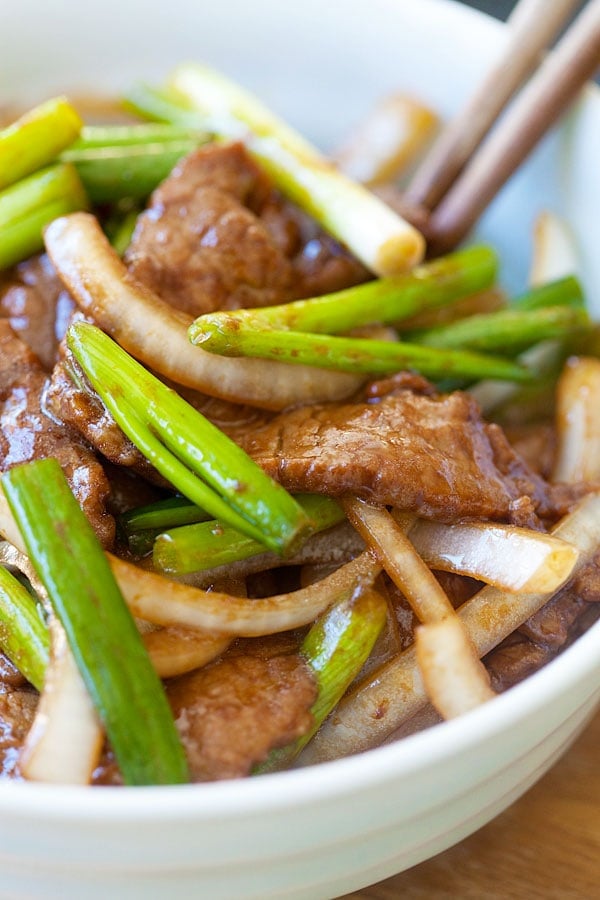 Thai Chicken Sate with Peanut Sauce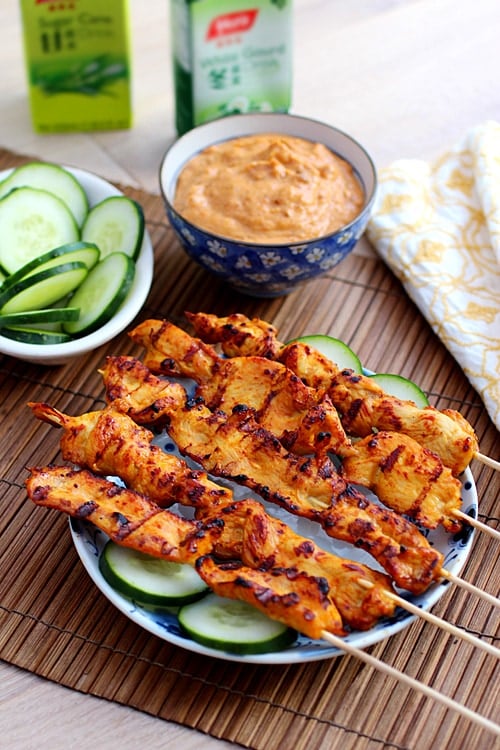 Thai Peanut Sauce