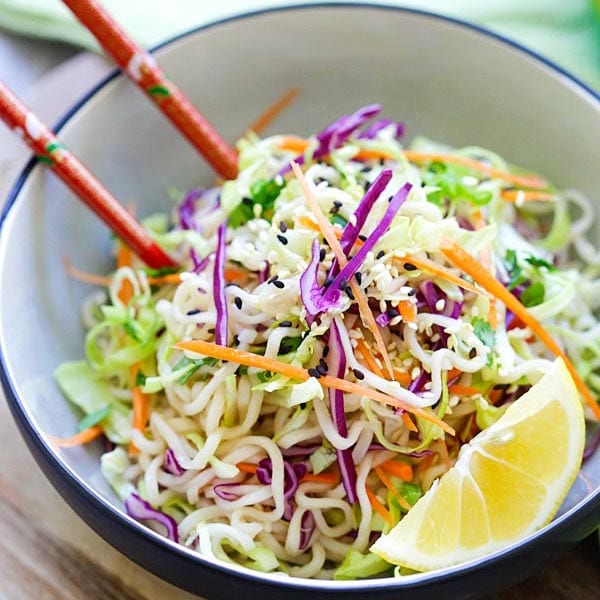 Ramen Noodle Salad
Ramen Noodle Salad – Asian salad made with ramen noodles, cabbage and carrots in a tangy and appetizing dressing. So healthy and delicious | rasamalaysia.com
Prep time:
Cook time:
Total Time:
Makes2
Ingredients:
1 pack instant ramen, discard the seasoning packet
1 cup shredded cabbage
1/4 cup shredded purple cabbage
2-inch carrot, peeled and cut into matchstick strips
Chopped scallions
1/4 teaspoon white and black sesame seeds
Dressing:
1 1/2 tablespoons Japanese ponzu
1 tablespoon Thai sweet chili sauce
1 tablespoon honey
1/2 teaspoon sesame oil
1/4 teaspoon white and black sesame seeds
Method:
Bring water to boil and cook the ramen for about 2 minutes or until al dente. Drained and set aside, let cool. Mix all the ingredients of the Dressing in a small bowl, set aside.
Transfer the ramen to a salad bowl and toss with the shredded cabbages, carrot and the Dressing with a salad tong. Garnish with chopped scallions and sesame seeds. Serve cold.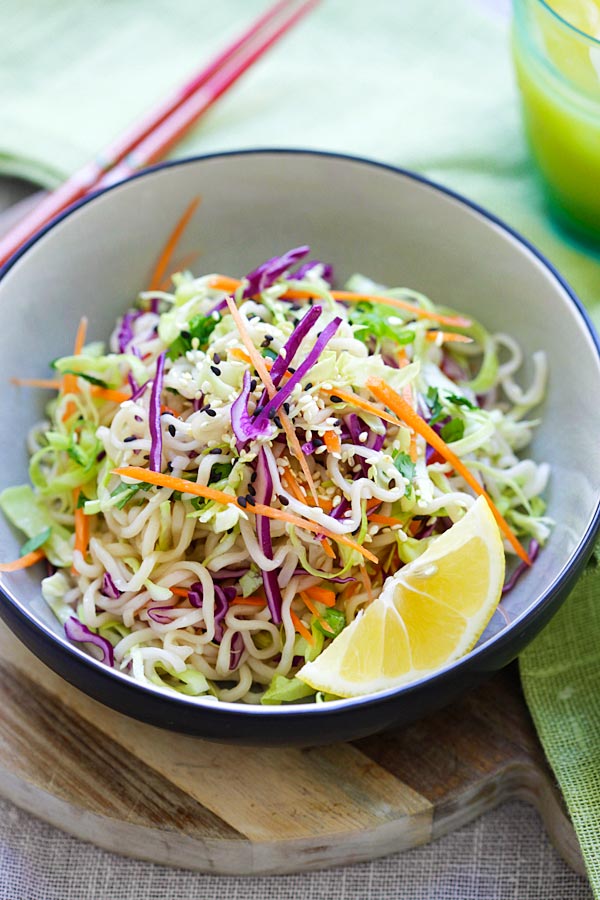 Ramen Noodle Salad
Ramen Noodle Salad – Asian salad made with ramen noodles, cabbage and carrots in a tangy and appetizing dressing. So healthy and delicious!
Originally published in September 2008. Updated with new photos and recipe.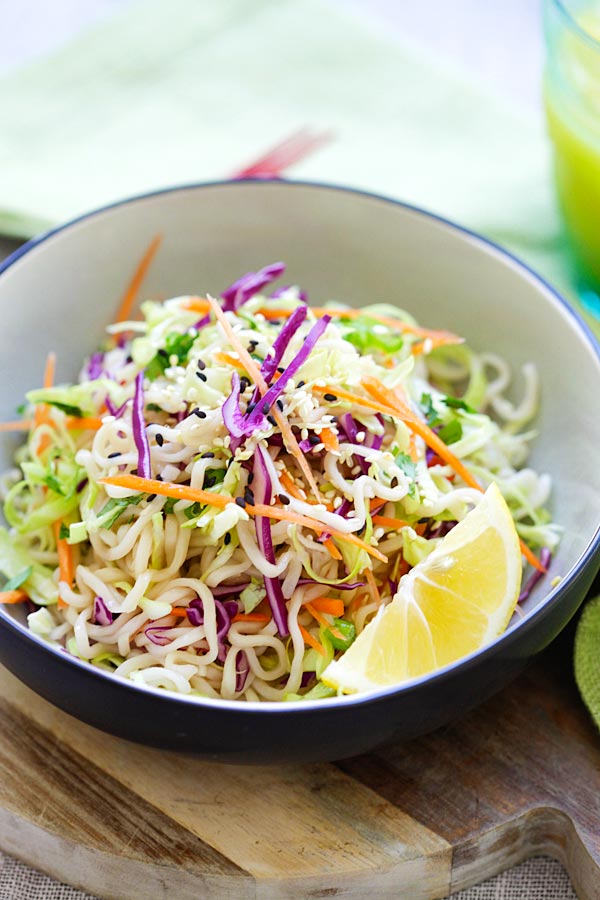 When I was a poor international student in the Midwest, ramen was pretty much my daily diet. On days when I was tired of instant ramen in MSG-laden soup, I made ramen noodle salad, just like the ones shown on the pictures here.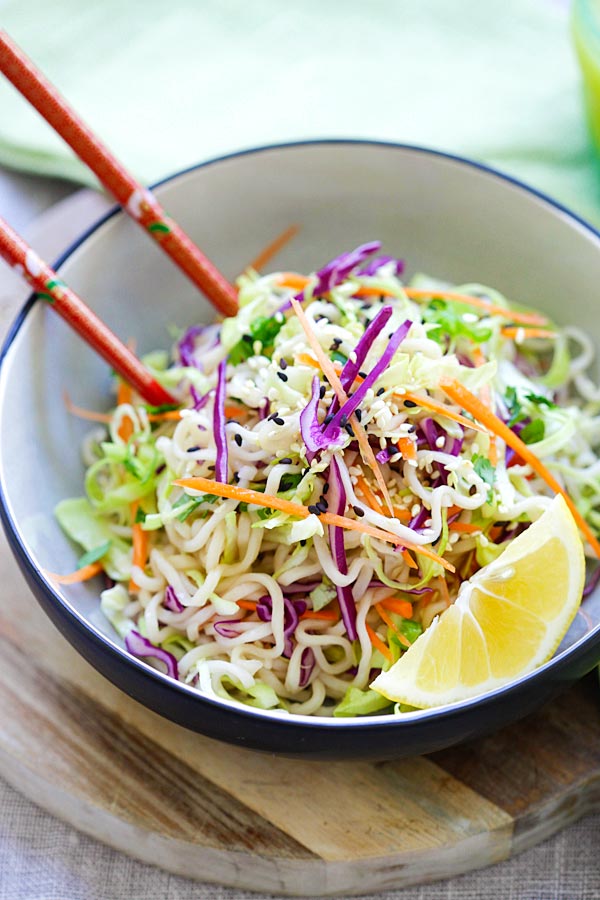 Ramen noodle salad is one of the easiest salads to make and it's quite delicious. Imagine al dente ramen noodles with shredded cabbage, carrots, in a tangy, sweet, and mildly spicy dressing of Japanese ponzu, sesame oil, honey, and Thai sweet chili sauce. It's got flavors, vegetables, carb and tastes just like those expensive salads at fancy Asian-fusion restaurants.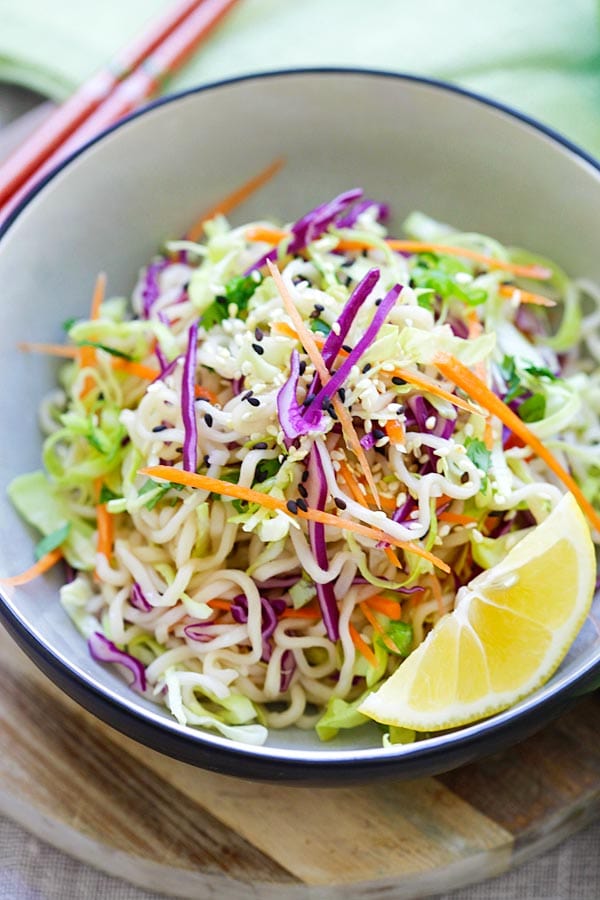 What's more, there is absolutely no cooking involved other than cooking the ramen. Slice the cabbages, carrot, stir and mix, and that's pretty much a salad dinner. Now that I am no longer a poor student, I still make this ramen noodle salad once in a while, thinking of the old days.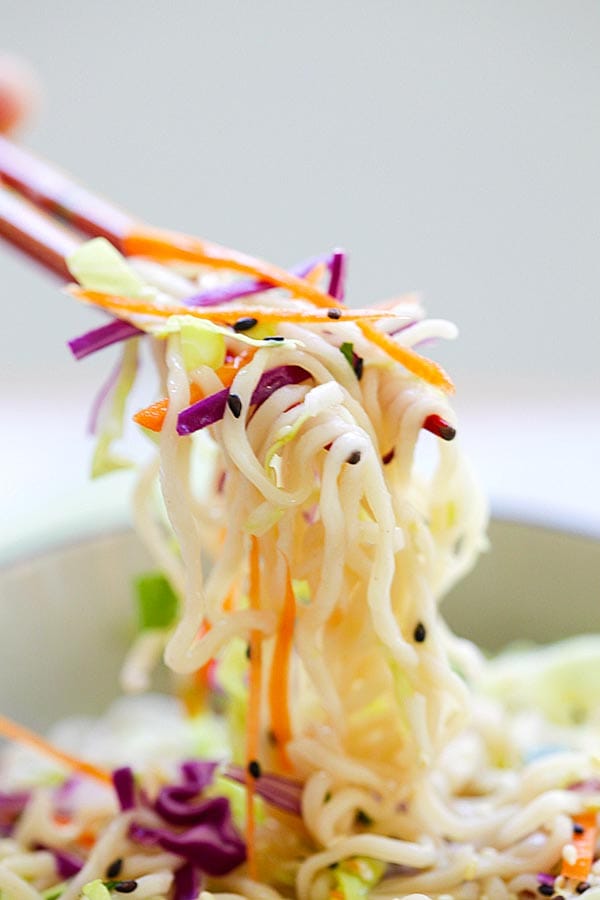 With Spring just around the corner, I am sure you are looking forward to refreshing and colorful salads. This is the perfect spring recipe, try it!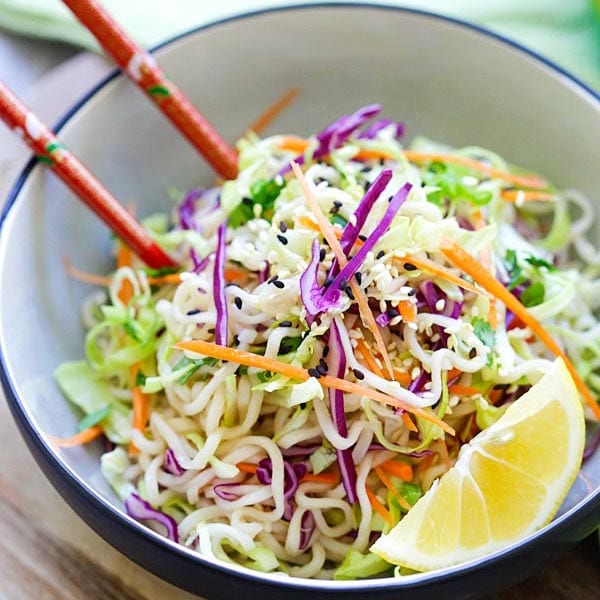 Rate This
Recipe Name
Preparation Time
Cook Time
Total Time
Average Rating

Based on 3 Review(s)