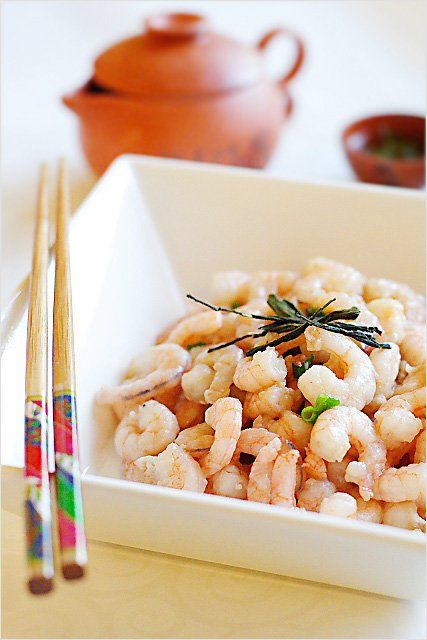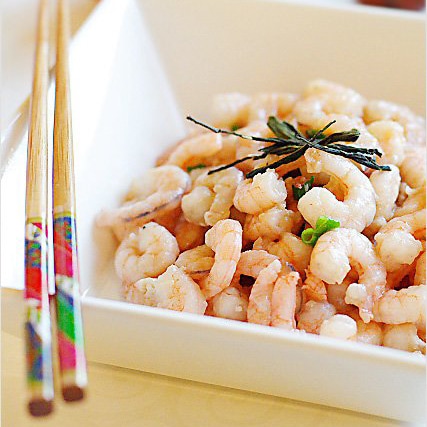 Dragon Well Tea Shrimp Recipe (龙井虾仁)
Dragon Well Tea Shrimp. Infused with the aromatic and highly priced–and valued–Longjing tea, this dish pleases one's palate with the lingering fragrance of the tea and the crunchy texture of the shrimp
Ingredients:
1/2 lb raw, peeled & frozen baby shrimp
1 tablespoon Shaoxing wine
1/8 teaspoon salt or to taste
2 teaspoons oil
1 heaped tablespoon Longjing tea leaves
1/4 cup hot water
Some chopped scallion
1 tablespoon egg white
1 teaspoon corn starch
Method:
Defrost the frozen shrimp, rinse well, and pat dry with paper towels. Add corn starch and egg white to the shrimp and marinate for 15 minutes. Prepare the tea in a small tea pot by adding 1/4 cup hot water to the tea leaves. Set aside for 5 minutes and then filter the tea and set aside for the stir-fry.
Heat up 1 teaspoon cooking oil in a wok and toss in the shrimp. Do a few quick stir until the shrimp is 50% cooked, dish out and set aside. Wash the wok and heat it up again with the remaining 1 teaspoon cooking oil. Add the shrimp back into the wok, and quickly follow by the tea, Shaoxing wine, salt, and chopped scallion. Do a quick stir over high heat until the shrimp is cooked, dish out and serve immediately.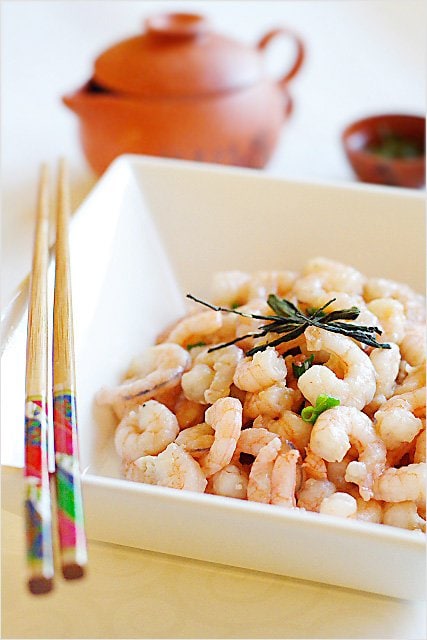 I haven't been dishing out too many home-cooked foods lately, as you all know, I was busy with Menu for Hope 4. The campaign ended with a whopping US$82,611.00 raised, so this means that I am back to my regular posting schedule and will be serving up even more scrumptious and mouthwatering food content for your reading and viewing pleasure.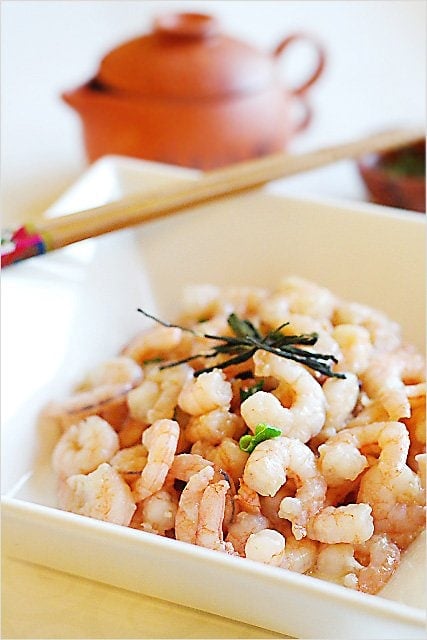 Today, I would like to introduce you to a well-known Hangzhou dish called Longjing Xia Ren (龙井虾仁) or literally, Dragon Well Tea Shrimp. Infused with the aromatic and highly priced–and valued–Longjing tea, this dish pleases one's palate with the lingering fragrance of the tea and the crunchy texture of the shrimp…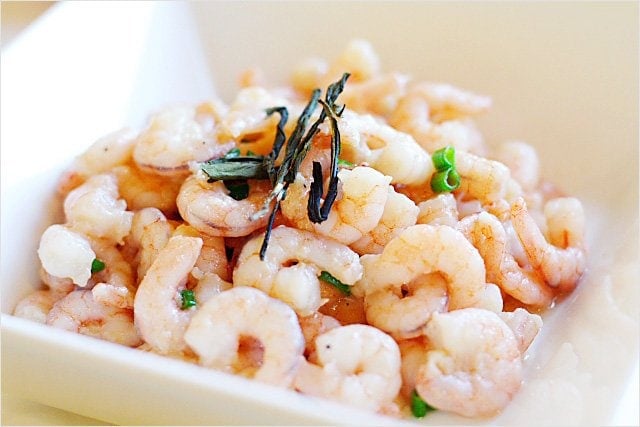 Longjing (Dragon Well) is a famous variety of green tea from Hangzhou (杭州) in the Zhejiang province in China. Renowned for its high quality and intensely fragrant body, Longjing tea is well regarded as one of the most famous teas produced in China. For your information, this tea is priced at US$40.00/lb or more in the tea shops here in the US.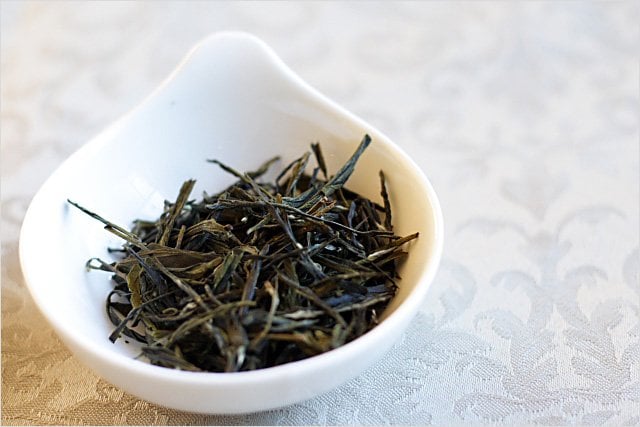 I first had Longjing Xia Ren (龙井虾仁) in a Hangzhou restaurant in Beijing; my Beijing friend told me that Hangzhou cuisine is superior and one of the best in China and that I had to try it out. Prior to that, my friends in Shanghai also raved about the delicate cooking style of Hangzhou and that it's the "secret" why Shanghainese foods are so delectable. (Due to its proximity to Hangzhou, chefs in Shanghai have been adopting and incorporating the best Hangzhou elements into Shanghainese cooking.) I couldn't agree more after the first bite of the famed Dongbo Rou (东波肉/braised pork belly) and this very fine Longjing Xia Ren (龙井虾仁).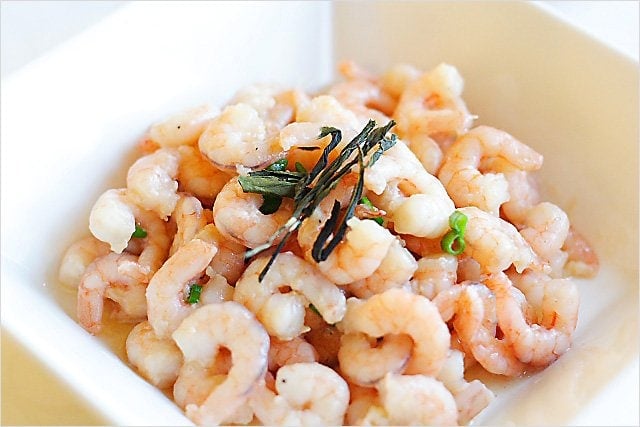 While the original recipe calls for tiny river shrimp native to that region, I opted for raw, peeled, and frozen baby shrimp–which coincidently is an import from Malaysia. The frozen shrimp lends that crunchy texture that I was looking for. With the simplest of ingredients, a wonderful dish was created and superb flavor delivered. I especially love that bitter tint of Longjing tea in the shrimp; it was out-of-this-world.
This Dragon Well Tea Shrimp will go well with the following recipes: