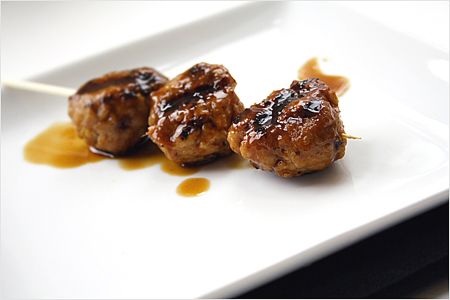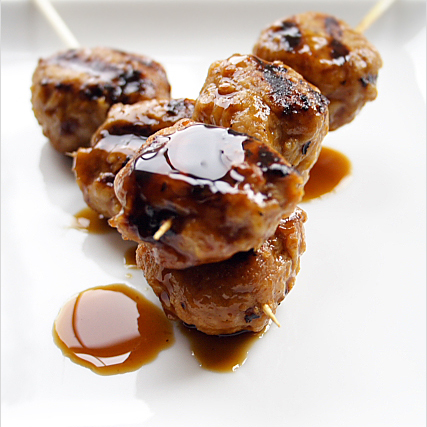 Yakitori Recipe (Grilled Chicken Meat Balls)
Yakitori (Grilled Chicken Meat Balls) recipe – These are juicy, yummy, and definitely my favorite and a must-have item at yakitori restaurants.
Ingredients:
11 oz skinless chicken (minced)
2 eggs
1/2 teaspoon salt
2 teaspoons plain (all-purpose) flour
2 teaspoons corn starch
6 tablespoons dried bread crumbs
2 inches fresh ginger root (grated)
Bamboo skewers
For the "tare" yakitori sauce:
4 tablespoons sake
5 tablespoons shoyu (soy sauce)
1 tablespoon mirin
1 tablespoon sugar
1/2 teaspoon corn starch blended with 1 teaspoon water
Method:
1. Put all the ingredients for the chicken balls (except the ginger) in a food processor and blend well.
2. Wet your hands and scoop about a tablespoonful of the mixture into your palm. Shape it into a small ball about half the size of a golf ball.
3. Squeeze the juice from the grated ginger into a small mixing bowl. Discard the pulp.
4. Add the ginger juice to a small pan of boiling water. Add the chicken balls and boil for about 7 minutes, or until the color of the meat changes and the balls float to the surface. Scoop out and drain on a plate covered with paper towels.
5. In a small pan, mix all the ingredients for the yakitori sauce, except for the corn starch solution. Bring the mixture to boil, and then reduce the heat and simmer for about 5 minutes or until the sauce slightly reduced. Add the corn starch solution and stir until the sauce is thickened. Transfer to a small bowl.
6. Thread 3-4 balls on to each bamboo skewer. Grill the skewers with an indoor grill or broiler or on a barbeque (preferred). Brush them with the yakitori sauce and turn the skewers frequently until the balls turn brown.
7. Serve hot and sprinkle with shichimi togarashi (Japanese chile powder with sesame seeds) and some yakitori sauce if you like.
My current food crush on Japanese food continues with yakitori, or Japanese grilled chicken skewers. If you have tried yakitori before, chances are you have tasted these legendary grilled chicken meat balls.
Known as Tsukune in Japanese, I am nuts for yakitori. They are juicy, yummy, and definitely my favorite and a must-have item at yakitori restaurants or izakaya (Japanese pub-like restaurants serving sake, yakitori and small dishes).
I got this Yakitori recipe from "Japanese Cooking" by Emi Kazuko and these homemade grilled chicken meat balls weren't half bad. All in all though, I enjoyed the cooking process and was pleased with the results, especially the pictures of my yakitori…
You can try to make yakitori/grilled chicken meat balls at home. If you have any questions about the yakitori recipe, please drop me a comment.