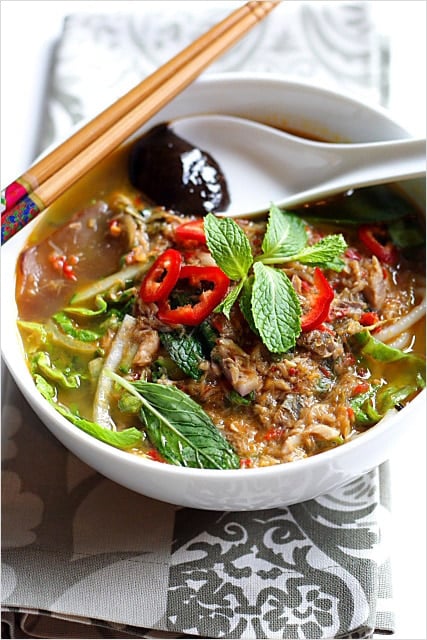 Before I start writing this post, I have a confession to make. I have an Asian (Chinese/Malaysian) mouth. In my gastronomic dictionary, it simply means that I can't live without rice and noodles, soy sauce, sambal belacan, spicy and pungent food–the foods of my Chinese-Malaysian root.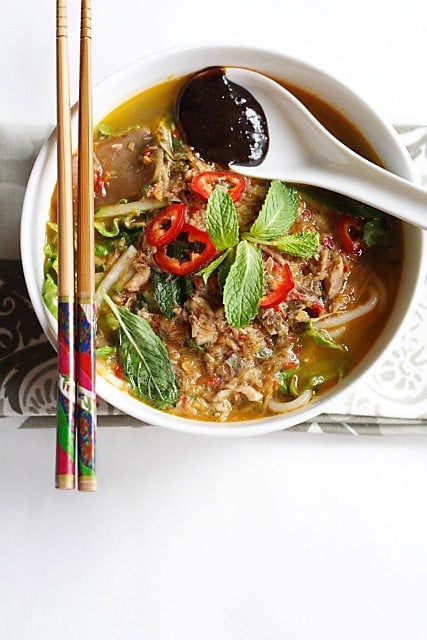 Just this past week, I had a massive Asian mouth attack. Granted, I savored some of the best French foods–foie gras, cheese, mussels, seafood, duck, terrine, and the list goes on. However, three days into eating meals after meals of immaculate French food, I got bored of it…it's too heavy and luxurious for my cheap taste. No offense to French cuisine connoisseur, I wanted something without cream or butter or sauces or excessive details; I wanted something simple and straightforward such as my Asian rice and noodle dishes–Hokkien mee, fried rice noodles, steamed rice rolls, char kway teow, chicken rice, and especially Penang Assam Laksa.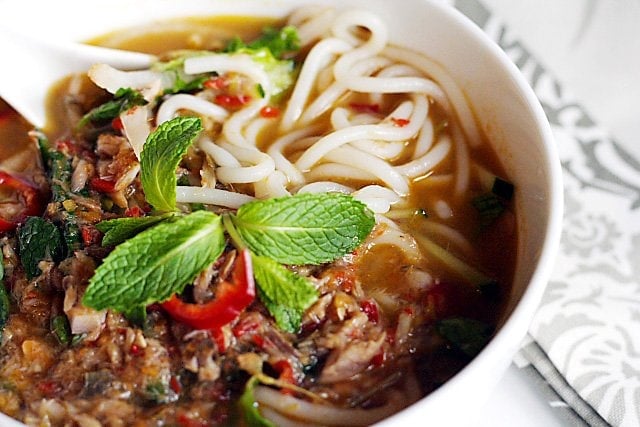 On the flight back home, I knew that I had to make Penang Assam Laksa to cure my Asian mouth disease and fix my craving. So, I went to the market and assembled the long list of ingredients and made myself a small pot of Penang Assam Laksa, or Nyonya noodles in spicy and tangy fish broth/soup.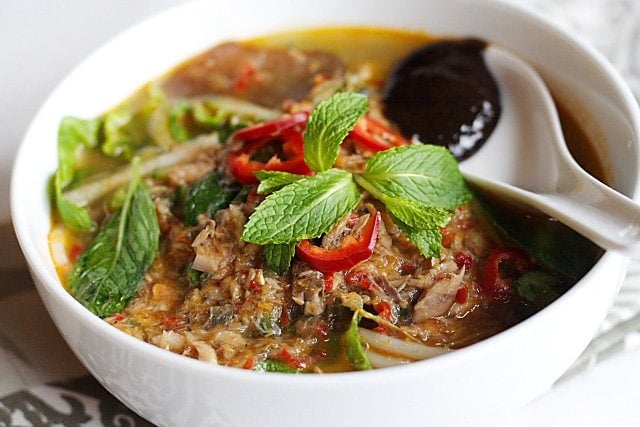 A staple–and arguably the most famous–hawker food in Penang, Penang Assam Laksa is very addictive due to the spicy and sour taste of the fish broth. Tamarind is used generously in the soup base and hence the word Assam (means tamarind in Malay). In addition to tamarind, assam keping or peeled tamarind is also commonly added to give it extra tartness. Another secret ingredient is Polygonum leaf (marketed as Vietnamese mint leaf in the United States) or daun kesom/daun laksa. While the best Assam Laksa broth is infused with the aromatic ginger flower (bunga kantan), I made without it because I couldn't find this special ingredient in the market. Of course, no Assam Laksa is complete without belacan and dollops of heh ko/prawn paste (the dark paste on the spoon).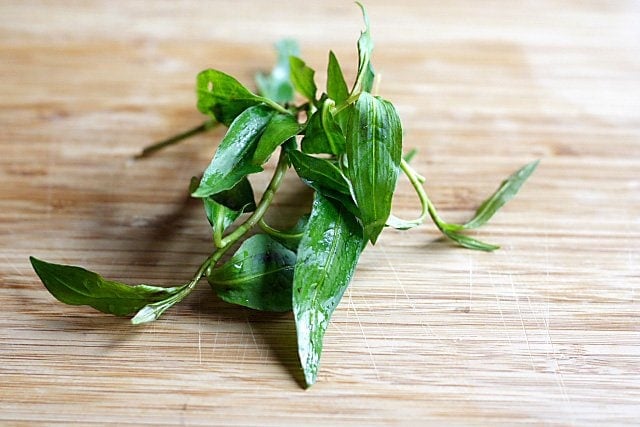 Anyway, my Penang Assam Laksa was spot on–hot, spicy, sour, pungent, and full of flavors. It was very delicious and as good as the ones served by hawkers in Penang. At the first taste of this Penang Assam Laksa, I felt like being home. For now, I declare my my Asian mouth syndrome sorted.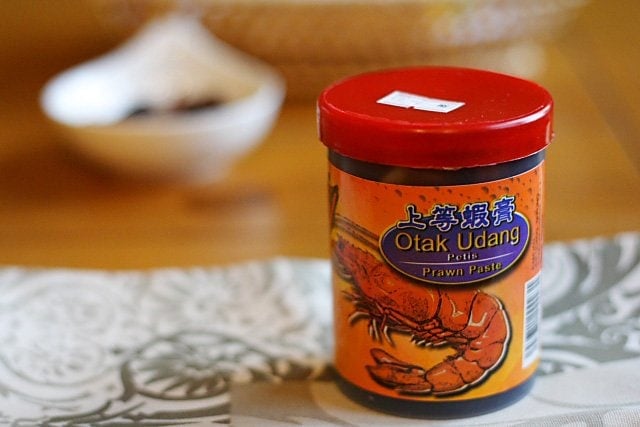 Other "rice & noodles" recipes on Rasa Malaysia: