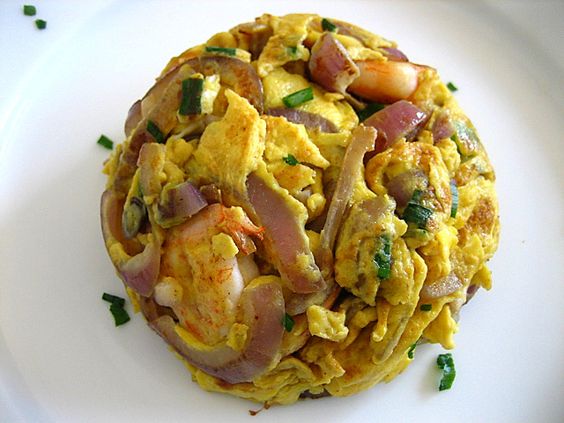 Shrimp Omelet
Shrimp Omelet – fried omelet paired beautifully with some lightly caramelized red onions plus a few sinfully delicious and succulent shrimp
Ingredients:
3 large eggs
1 teaspoon oyster sauce
3 drops of fish sauce
2 dashes of white pepper powder
1/4 teaspoon sesame oil
1 teaspoon of Shaoxing cooking wine
1/2 red onions (cut into rings and then cut the rings into half)
5 shrimps (peeled and deveined)
1 stalk scallion (chopped)
Method:
Beat the eggs with a fork. Add all the seasoning, chopped scallion and mix well.
Heat up the wok and add some cooking oil. Sauté the onions until aromatic or until they turn lightly caramelized. Add in the beaten eggs and keep stirring. Cook the omelet until it's slightly burned. Serve hot.
I absolutely adore eggs.
I cook too much of them. I eat too much of them. But I never get tired of them…
Egg, as simple as it sounds, is a thing of immense versatility. You can pretty much do anything with them—boil, poach, fry, steam, stir-fried, braise—the end results are always pleasing and make my mouth water. For example, this perfectly fried omelet paired beautifully with some lightly caramelized red onions plus a few sinfully delicious and succulent shrimp.
Omelet. Elegance and luxury redefined.