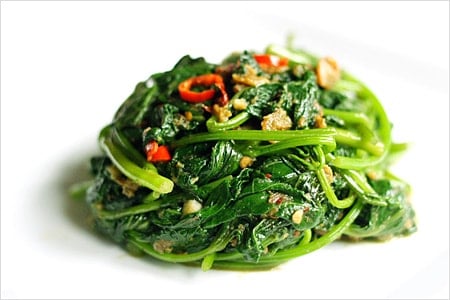 Recipe: Stir-fried Yam Leaf (Sweet Potato Leaf) with Belacan (Shrimp Paste)
Ingredients:
1 box of yam leaf (approximately 0.8 lb)
1 tablespoon of belacan/shrimp paste
2 red bird's eye chilies or 1 regular red chili (remove seeds and thinly cut)
3 tablespoons cooking oil
3 cloves garlic (finely chopped)
1 tablespoon roasted chili paste
1 tablespoon dried shrimp
A few dashes fish sauce
Roasted Chili Paste:
A handful of dried chilies
2 tablespoon of cooking oil
Water
Method:
Grind the dried chilies and cooking oil in a blender. Add a little water while blending.
Heat the wok, pour some cooking oil and stir-fry the chili paste for about 3 minutes. Set aside.
Soak the dried shrimp in warm water for 10 minutes, then coarsely pound them using mortar and pestle. Set aside.
Cut the stems of the yam leaf. Keep only the tender part of the stems. Rinse with cold water and then set aside.
Fire up the wok to HIGH heat and add the cooking oil. Wait till smoke comes out from the wok then add in the chopped garlic. Do a quick stir, add in the belacan, dried shrimp, and roasted chili paste and continue stirring. As soon as you smell the pungent aroma of belacan, toss in the yam leaf. Stir continuously until the leaves started to wilt. Add in a few dashes of fish sauce, continue stirring (make sure the color of the vegetable remains green). Dish up and serve hot.
Cook's notes:
In the US, sweet potato leaf (蕃薯叶) is marketed as yam leaf.
If you use water spinach, the recipe works the same.
Dried shrimps should complement the belacan instead of competing with it, so you don't want to use too much of them.
Most-Pinned Recipes
Ginger Garlic Baked Chicken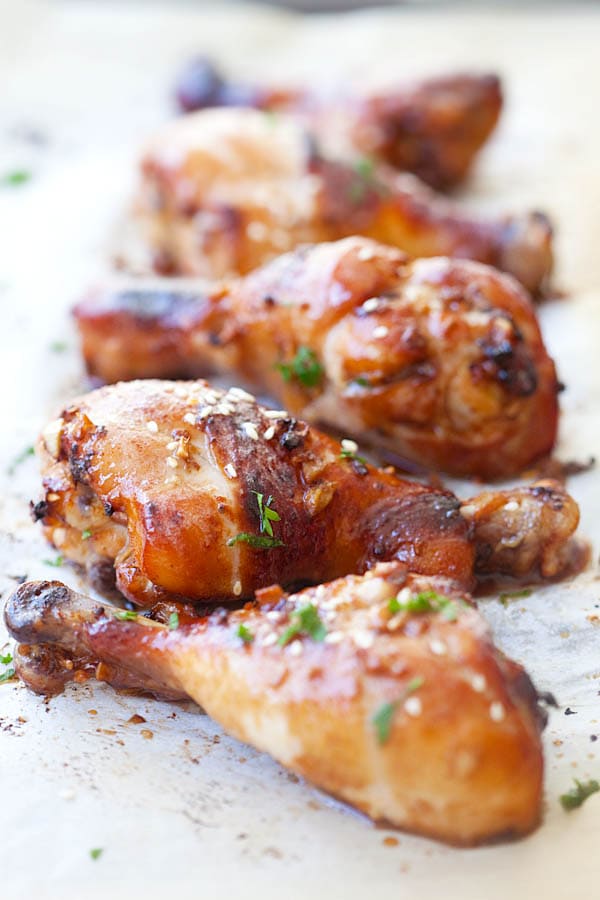 Crab Rangoon (Cream Cheese Wontons)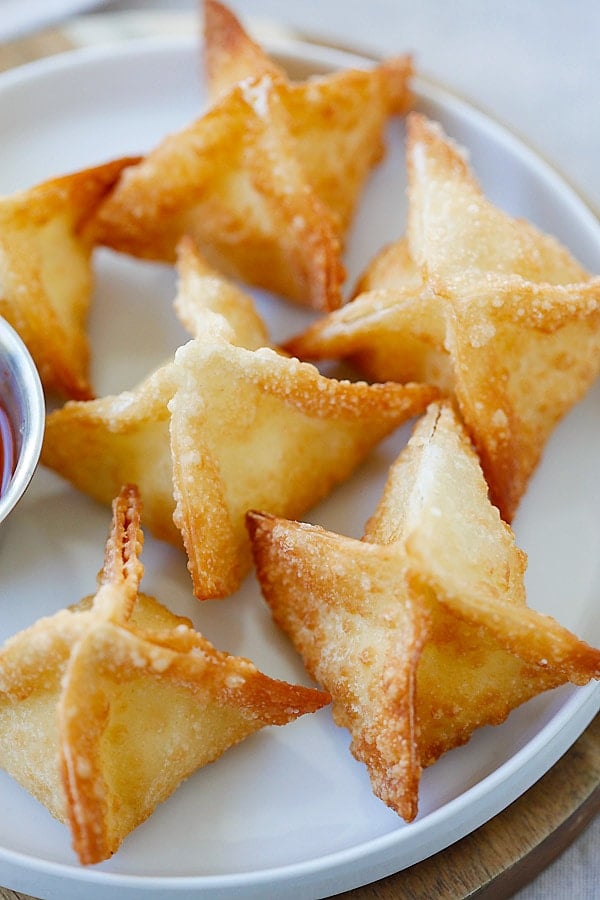 Chicken Wontons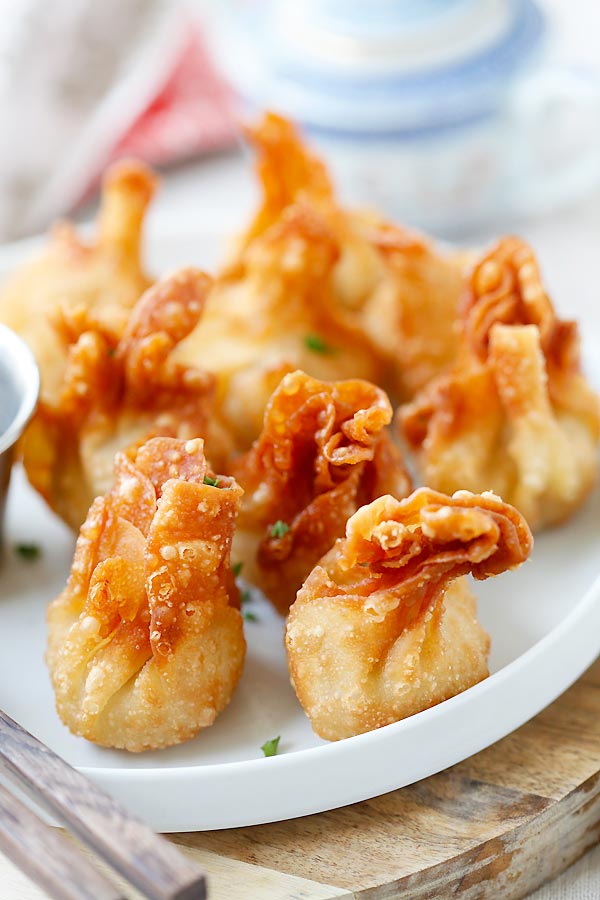 Onion Scallion Beef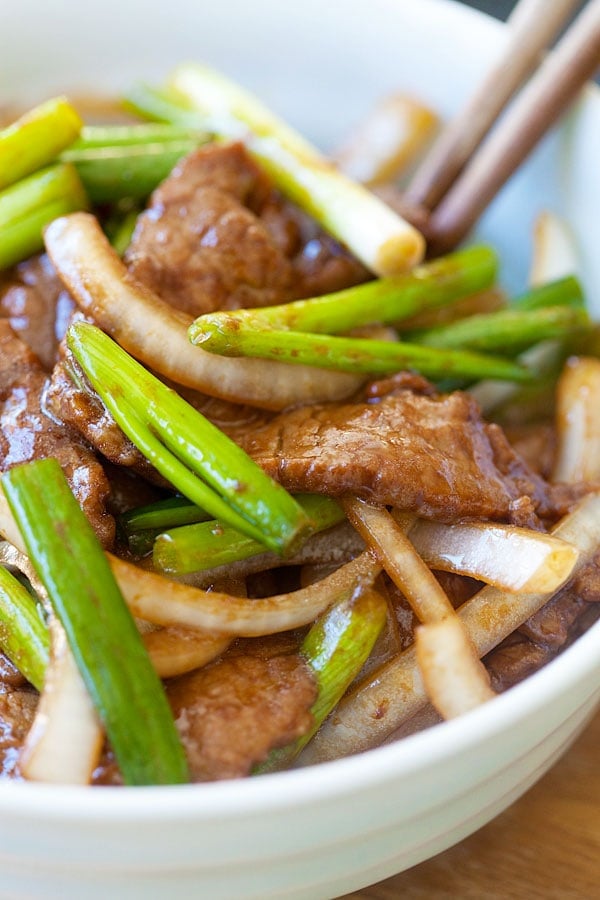 Thai Chicken Sate with Peanut Sauce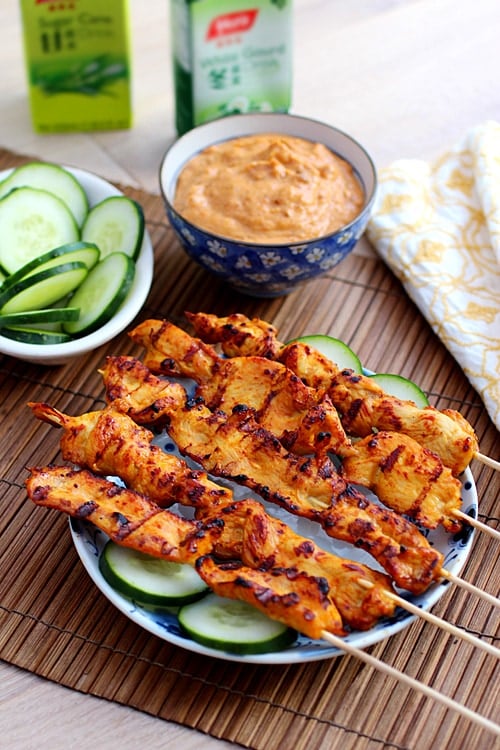 Thai Peanut Sauce