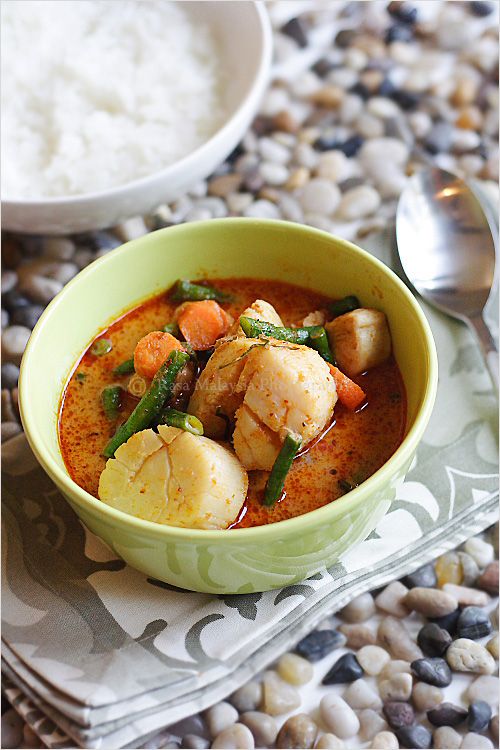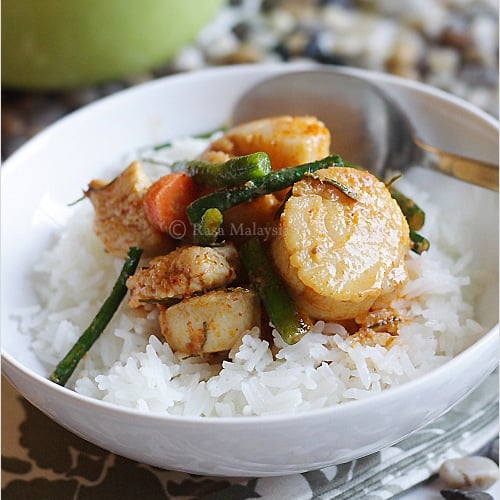 Red Curry Recipe
Thai red curry and red curry recipe. Easy and authentic red curry recipe for a bowl of tasty Thai red curry. Complete with red curry photography. A must try!
Ingredients:
4 oz. boneless and skinless chicken breast (cut into small cubes)
4 oz. big scallops
2 long beans (cut into 2-inch lengths)
Some thickly sliced carrot
1 kaffir lime leave (cut into fine thin strips)
1 tablespoon oil
1 1/2 tablespoon red curry paste ( I used Mae Ploy red curry paste)
2 teaspoons palm sugar
1/4 teaspoon fish sauce
80 ml. coconut milk
1/4 cup water
Method:
Heat up a small pot with the cooking oil. Saute the red curry paste until aromatic.  Add the scallops and chicken into the pot and stir well with the curry paste. Add coconut milk, water, long beans, carrots, kaffir lime leaves, and bring the curry to boil. Add fish sauce, palm sugar, and stir-continuously for 1o seconds or so, dish out and serve immediately with steamed jasmine rice.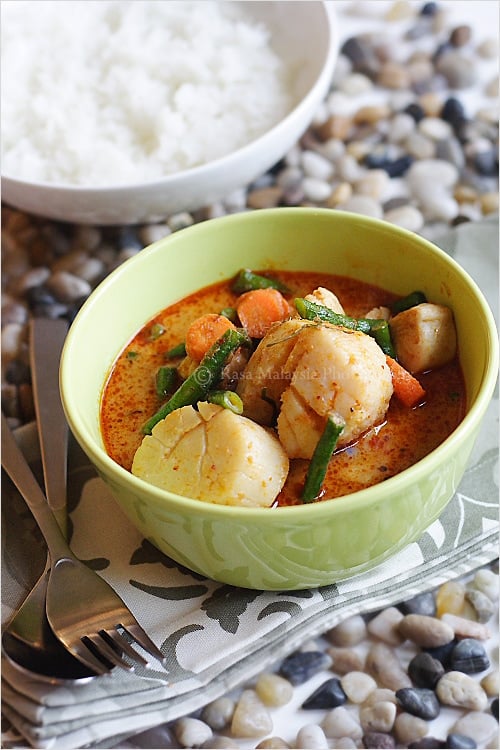 I love red curry and Thai curries in general—be it green curry, Panang curry, massaman curry, yellow curry, or red curry. There are many red curry recipes, each with slightly different ingredients, for example: potatoes, bamboo shoots, winter squash, pumpkins, Thai egg plants, etc. Chicken is commonly used for red curry, but there are pork red curry and beef red curry. Regardless of the meat of choice and side ingredients used, red curry is invaribly satisfying.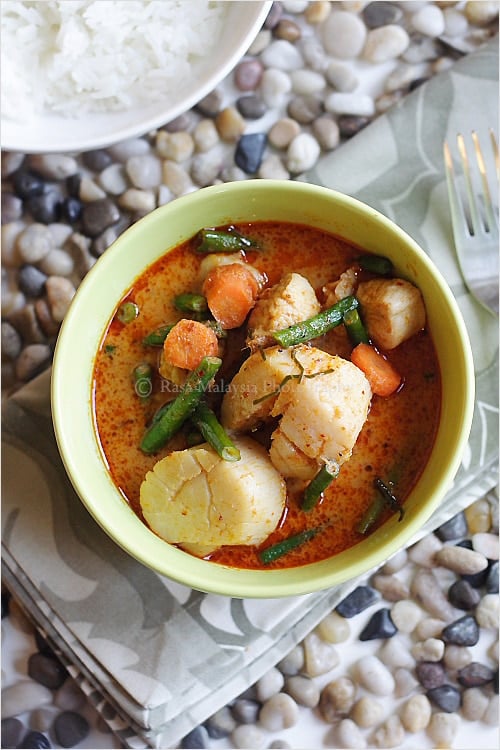 Thai red curry is traditionally richer compared to Malaysian chicken curry and Indian curries. Infused with lots of coconut milk, spice paste, and flavored with palm sugar plus fish sauce–two secret ingredients of Thai recipes—red curry goes extremely well with soft and aromatic jasmine rice. It is no wonder Thai curries are fast gaining popularity across the world.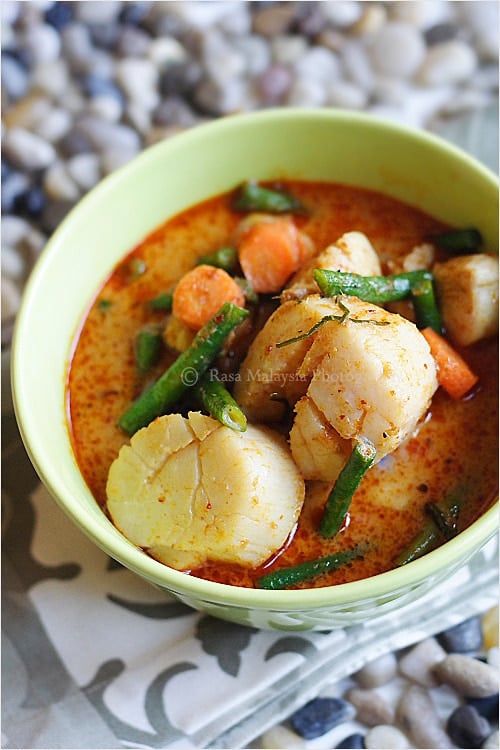 For my red curry recipe, I used scallops, chicken, and paired them with some long beans and carrots.  I also added some finely cut kaffir lime leaves that inevitably made the red curry extra aromatic and exotic in flavor. My red curry tasted utterly delicious, so much as that I finished the whole serving of steamed rice that was used for my photo prop. Talking about my red curry food photography, you ought to check them all out. I really like the red curry photo set–the vibrant colors and the tempting looking red curry would make you hungry. Just click on the image or "NEXT" to view the complete photoset.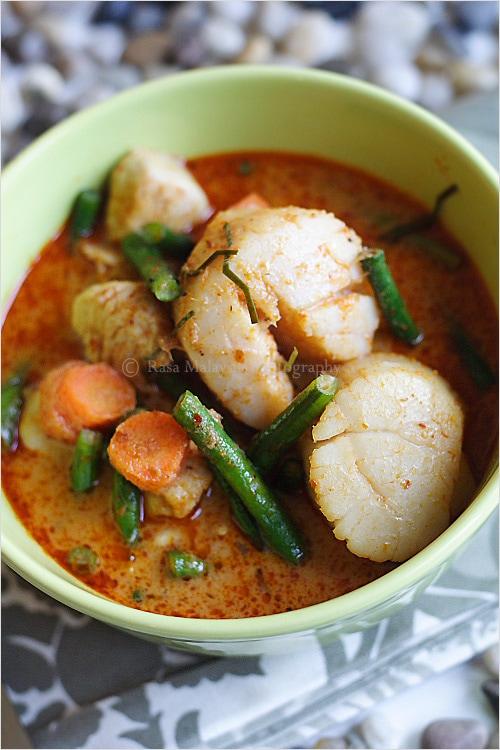 Below please find my red curry recipe–a painless recipe that takes less than 30 minutes to prepare, and you will have a bowl of scrumptious and authentic Thai red curry.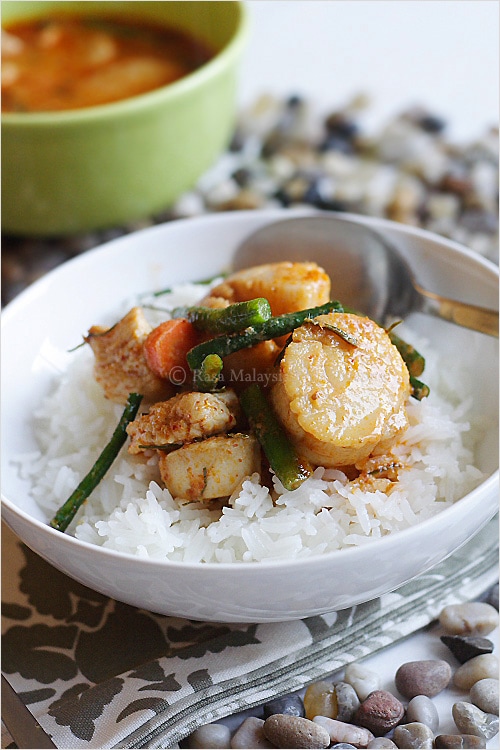 Enjoy!