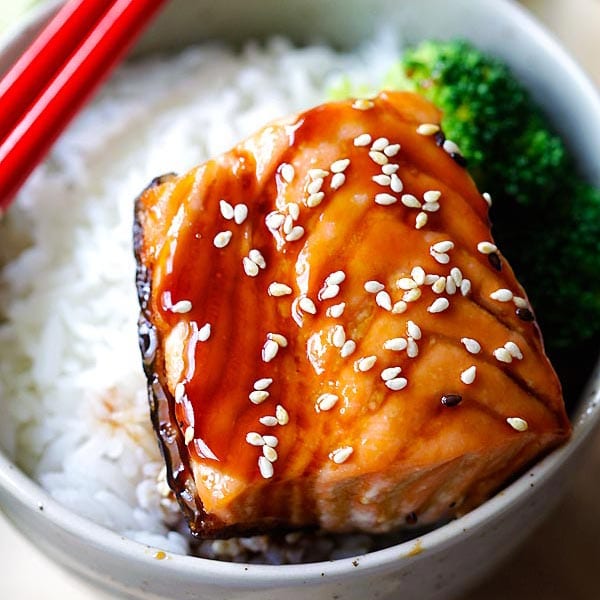 Salmon Teriyaki
Salmon Teriyaki – moist and juicy pan-seared salmon with teriyaki sauce. This easy salmon teriyaki recipe takes only 4 ingredients
Prep time:
Cook time:
Total Time:
Makes2
Ingredients:
1 lb salmon fillet
Oil
White and black sesame seeds, for garnishing
Teriyaki Sauce:
3 tablespoons soy sauce or Tamari
1/2 cup mirin
2 tablespoons sugar
Method:
Add all the ingredients in the Teriyaki Sauce in a saucepan and reduce it on low heat. As soon as the teriyaki sauce thickens, remove it from heat. Let cool.
Heat up a pan or skillet over low to medium heat. Add a bit of oil and pan-sear the salmon (skin-side down) until the bottom part becomes super crispy. Cover the pan or skillet to make sure that the salmon is cooked through. Remove the salmon from heat, drizzle with the teriyaki sauce and garnish with the sesame. Serve immediately with steamed rice.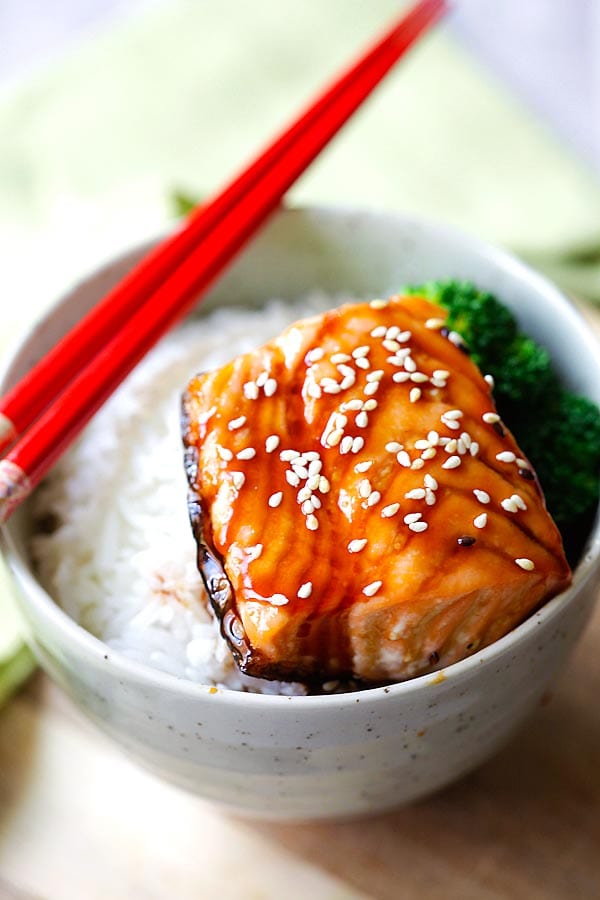 Salmon Teriyaki
Salmon Teriyaki – Salmon Teriyaki – moist and juicy pan-seared salmon with teriyaki sauce. This easy salmon teriyaki recipe takes only 4 ingredients!
Originally published on October 2010. Updated with new photos and recipe.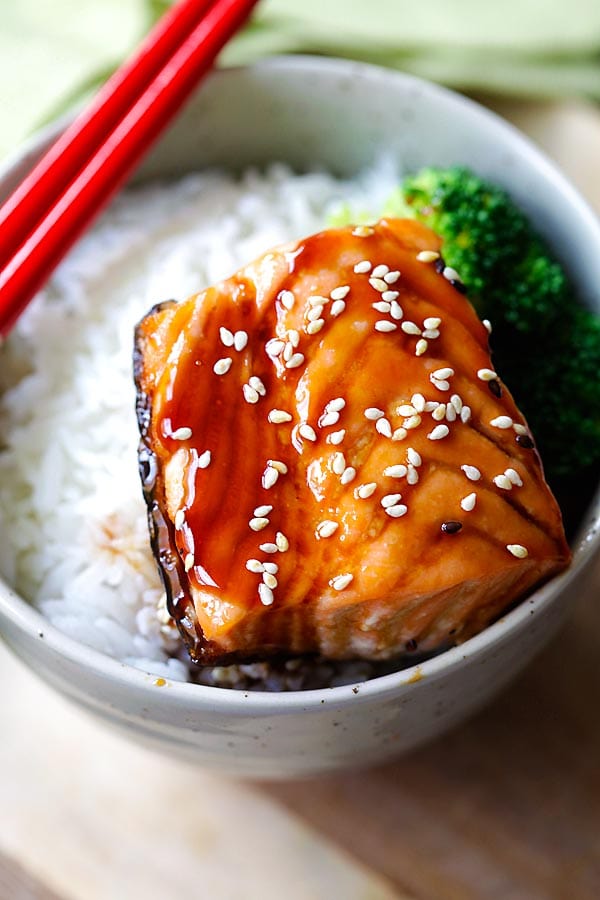 I make salmon on a weekly basis because everyone, including picky eater little G loves Salmon. Salmon is loaded with omega-3 fatty acids and protein, it's delightful and healthy, if you have a great recipe, such as this amazing, juicy, tender and absolutely flavorful salmon teriyaki.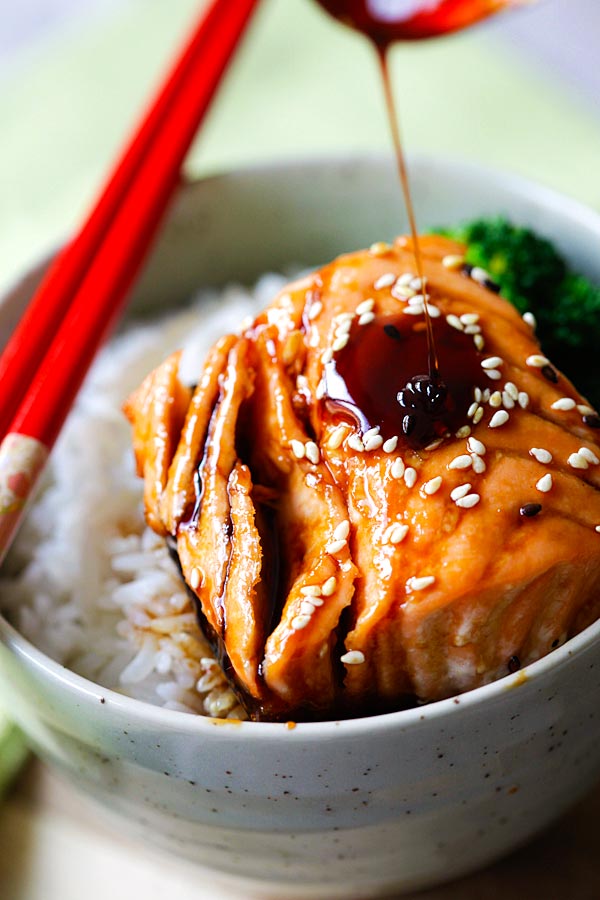 This salmon teriyaki recipe is so easy. It takes only four (4) basic ingredients: salmon, soy sauce, mirin and sugar. I usually start out by making the teriyaki sauce. While I wait for it to reduce, I start to pan-sear and cook the salmon on a skillet.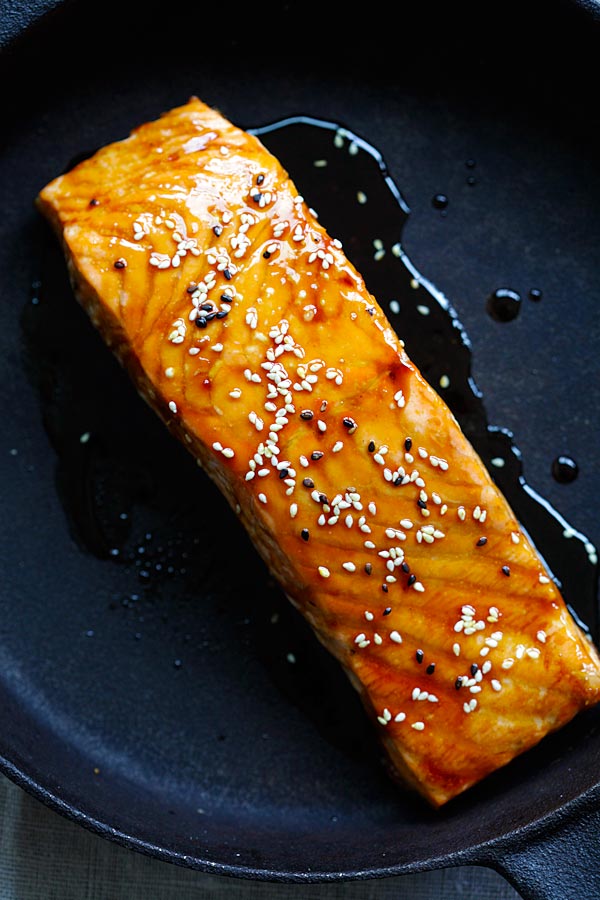 I love to pan-fry the skin side part until it becomes super crispy, on low to medium heat. Then I cover the skillet so the entire salmon is cooked through. The end result is moist, tender, perfectly cooked salmon that is bursting with natural sweetness. Drizzle the teriyaki sauce on top of the salmon and you have a healhty, delicious and mouthwatering teriyaki salmon for dinner!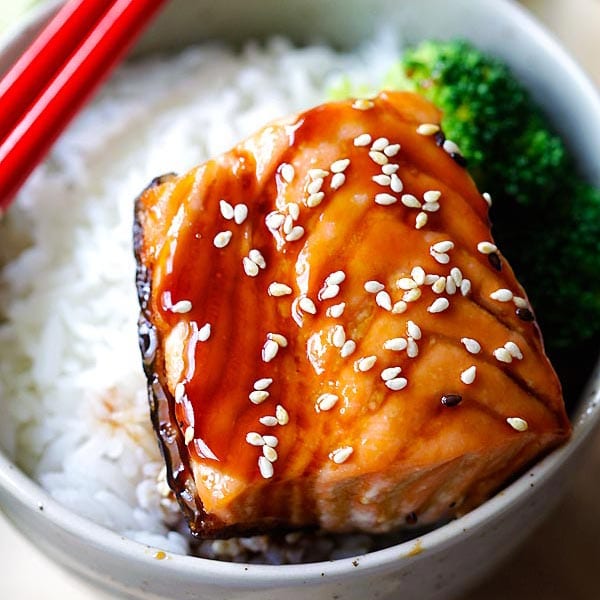 Rate This
Recipe Name
Preparation Time
Cook Time
Total Time
Average Rating

Based on 3 Review(s)