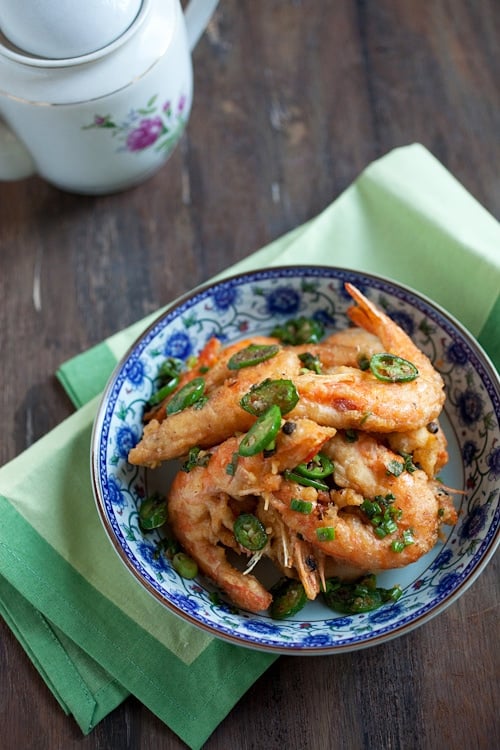 Salt and Pepper Shrimp Recipe
Serves 4 as part of multi-course meal | Prep Time: 15 Mins | Cook Time: 10 Mins
Ingredients:
10 oz (330 g) head-on, shell-on shrimp
¼ teaspoon salt
¼ teaspoon white pepper
Oil, for deep-frying
Frying Batter:
½ cup (65 g) all-purpose flour
¼ cup (35 g) corn starch
½ teaspoon baking powder or baking soda
1 egg white
½ cup water
1 tablespoon cooking oil
A pinch of salt
Stir-fry:
½ tablespoon oil
1 heaping tablespoon chopped green onion (scallion)
Some sliced red chili or green jalapeno
½ teaspoon salt
½ teaspoon white pepper
Method:
1. Rinse the shrimp with cold running water. Pat dry with paper towels and then marinate with the salt and white pepper, about 15 minutes.
2. Mix all the ingredients in the Frying Batter until well combined. Add the shrimp into the Frying Batter, stir to coat evenly with the batter.
3. To deep fry the shrimp, heat 2 to 3 inches (5 to 7.5 cm) of the oil in a wok or stockpot to 350° F (175° C). Gently drop the shrimp into the oil and loosen them up immediately with the spatula to prevent them from clumping together.
4. Deep-fry the shrimp to a light golden brown or until the batter becomes crispy. Dish out with a strainer or slotted spoon, draining the excess oil by laying the shrimp on a wire rack or a dish lined with paper towels.
5. To stir-fry, heat the oil in a skillet over high heat. Add the chopped green onion and chili/jalapeno and stir quickly for a few times. Add the fried shrimp into the skillet and then add the salt and white pepper. Stir to combine all the ingredients well, dish out and serve immediately.
Most-Pinned Recipes
Ginger Garlic Baked Chicken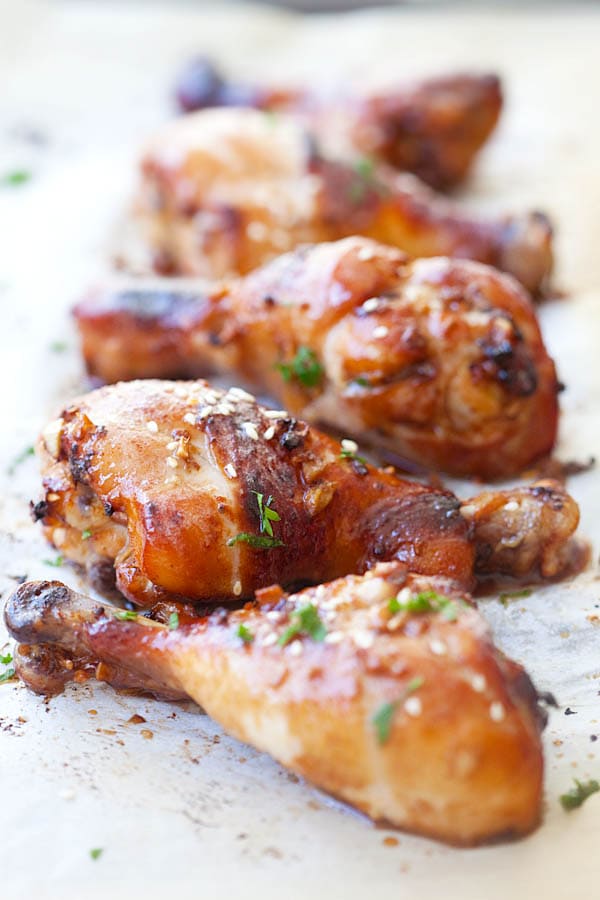 Crab Rangoon (Cream Cheese Wontons)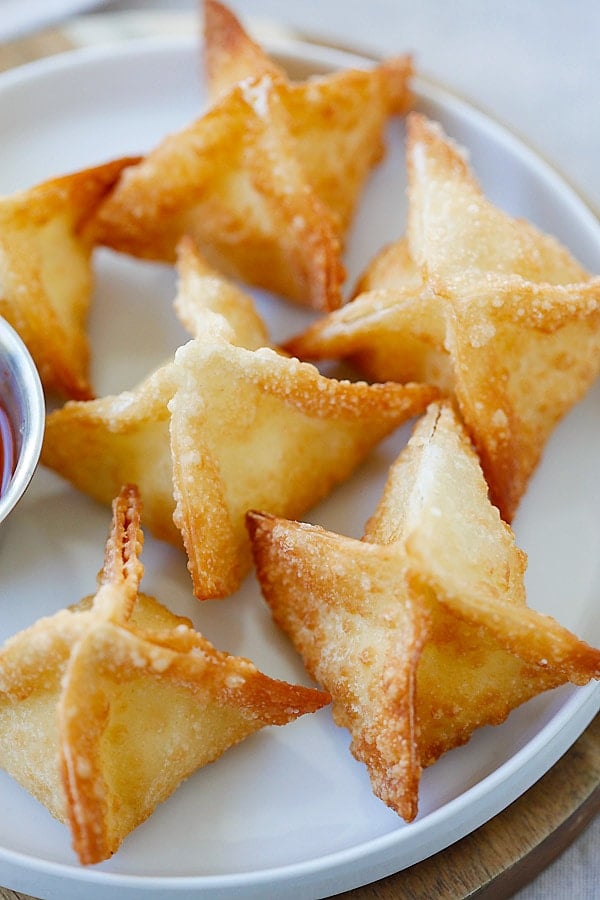 Chicken Wontons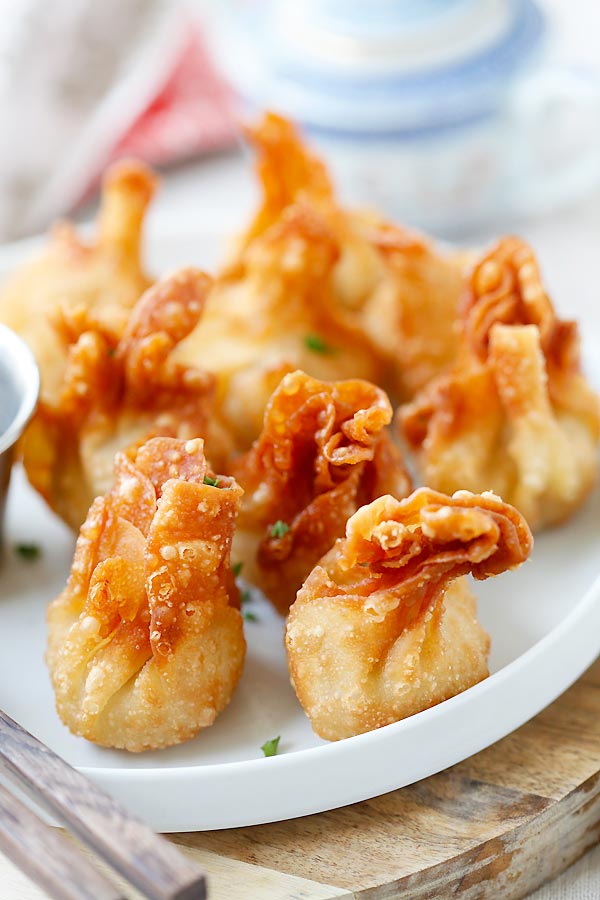 Onion Scallion Beef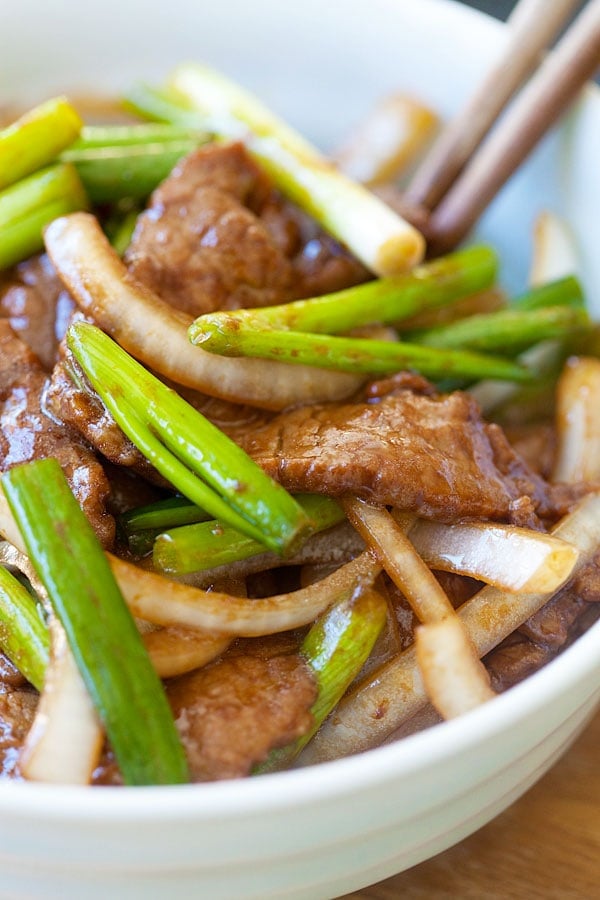 Thai Chicken Sate with Peanut Sauce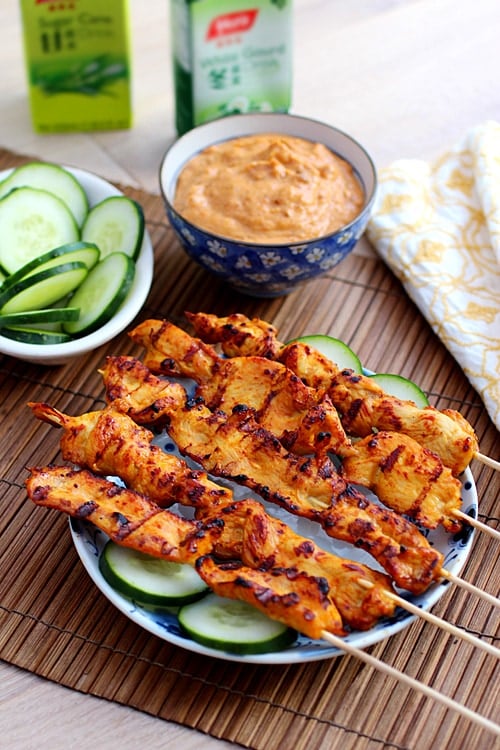 Thai Peanut Sauce