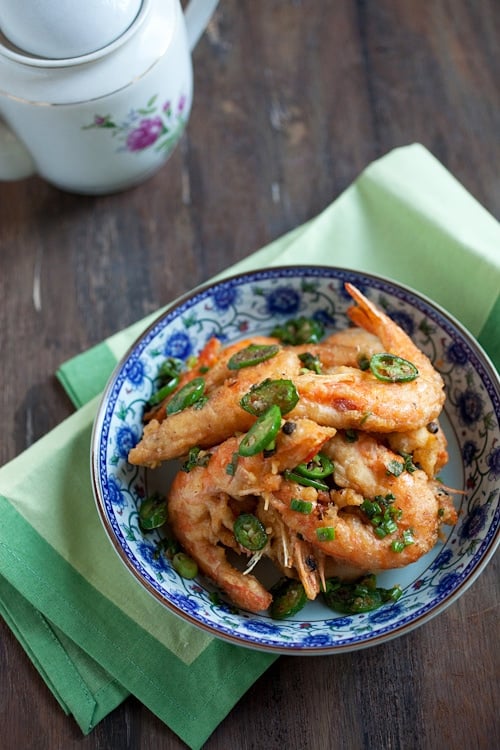 Salt and pepper, two of the most basic ingredients in a kitchen and they do wonders for Chinese deep-fried dishes, such as this Salt and Pepper Shrimp. This Salt and Pepper Shrimp is one of the most requested recipes from my readers and finally, you can have the recipe and try to make it at home.
For the shrimp, I recommend buying shell-on and head-on shrimp because salt and pepper shrimp will not be the same if it's made with peeled shrimp. I usually get my shrimp from the seafood section of Asian supermarkets. They are frozen and come in a rectangle paper box but you can always buy the quantity you want from the seafood section. Somehow, the shrimp sold in regular supermarkets usually has an amonia taste and they are not ideal for this recipe.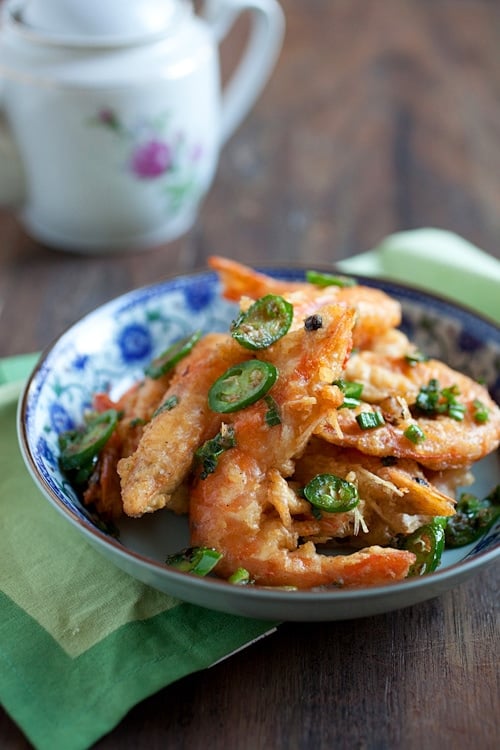 My recipe calls for a two-step process that promises restaurant-style Salt and Pepper Shrimp. First, deep fry the shrimp with a light and crispy frying batter, and then lightly toss the fried shrimp in a wok with chopped green onion, red chili, salt, and pepper. The end result is a serving of Salt and Pepper Shrimp that tastes like it's straight from a Chinese restaurant kitchen!
This salt and pepper shrimp recipe is actually adapted from the salt and pepper squid recipe in my cookbook Easy Chinese Recipes. The cooking process is the same, which meas that you can use the same recipe to make squid.