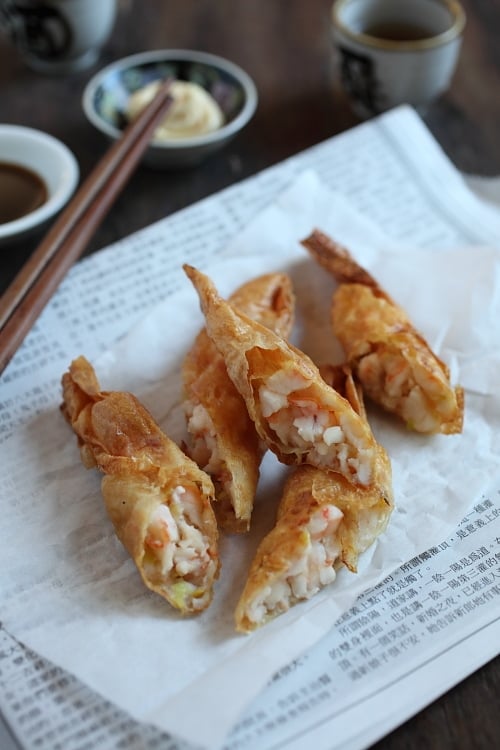 Shrimp Wrapped in Tofu Skin (鮮蝦腐皮券)
Makes 7-8 rolls | Prep Time: 45 Minutes | Cook Time: 5 Minutes
Ingredients:
8 oz shelled and deveined shrimp
1 tablespoon finely chopped yellow chives
7-8 pieces tofu skin, cut into 6×6-inch pieces
Oil, for deep-frying
Worcestershire sauce or mayonnaise
Seasonings:
1/2 teaspoon chicken bouillon powder
1/4 teaspoon salt
1/2 teaspoon Shaoxing wine
1/2 teaspoon sesame oil
3 dashes white pepper powder
1/2 teaspoon oil
1 heaping teaspoon potato starch or cornstarch*
1/2 tablespoon egg white*
Method:
If you wish to make your shrimp bouncy, you can treat the shrimp according to the steps in this post: How to make shrimp crunchy. Adjust the ingredients accordingly.
Cut the 2/3 of the shrimp into small pieces and mince 1/3 of the shrimp. Mix the shrimp with all the ingredients in the Seasonings. If you treat the shrimp using the method above, you can skip the last two ingredients (marked *) in the Seasonings, which are cornstarch and egg white. If the filling is lose and not sticky, add more starch to bind it.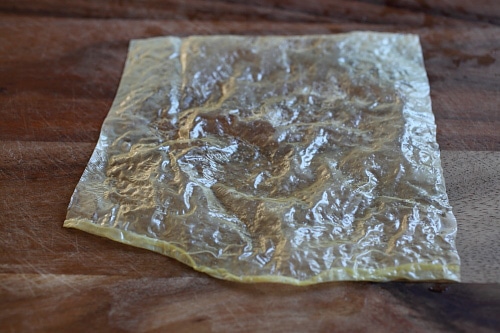 To roll the shrimp, place a piece of the tofu skin on a flat surface. Sprinkle a little bit of water to make it softer or wet your hand with water and rub on the tofu skin surface so it becomes pliable.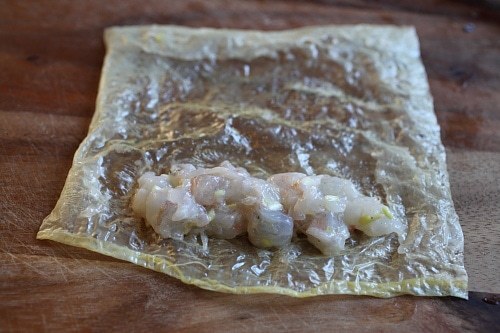 Scoop about 1 heaping tablespoon of the filling onto the tofu skin. Use a little bit of water and dab it around the edges to ensure sealing.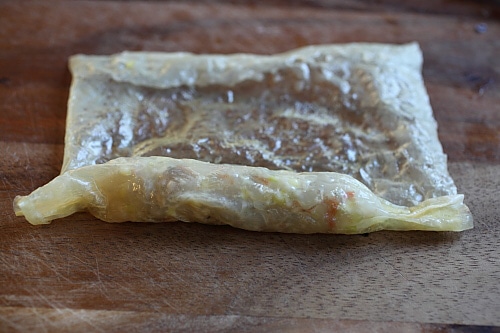 Roll up the bottom part of the skin, tuck the shrimp tightly. Roll until the end of the tofu skin.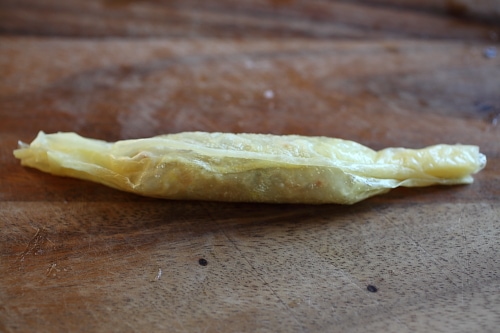 Twist both ends of the opening and make sure they are closed, so when deep-frying, the oil won't seep in. Wet your hand with water to help with sealing.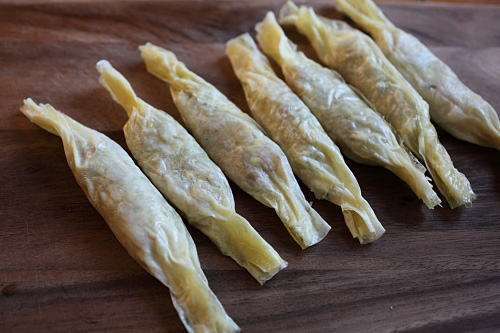 The shrimp wrapped in tofu skin are now ready for deep-frying.
Heat up a wok with enough cooking oil for frying. When the oil is fully heated, turn the heat to medium and gently drop the shrimp rolls into the oil. Keep turning around and deep fry until they turn golden brown. Dish out on a plate lined with paper towels to absorb the excess oil. Cut them up in halves, and serve immediately with Worcestershire sauce or mayonnaise, or both.
Cook's Note:
You can get tofu skin in the frozen section of Asian food stores. If you can't find it, you can make tofu skin from scratch, using only soy beans and water.
Most-Pinned Recipes
Ginger Garlic Baked Chicken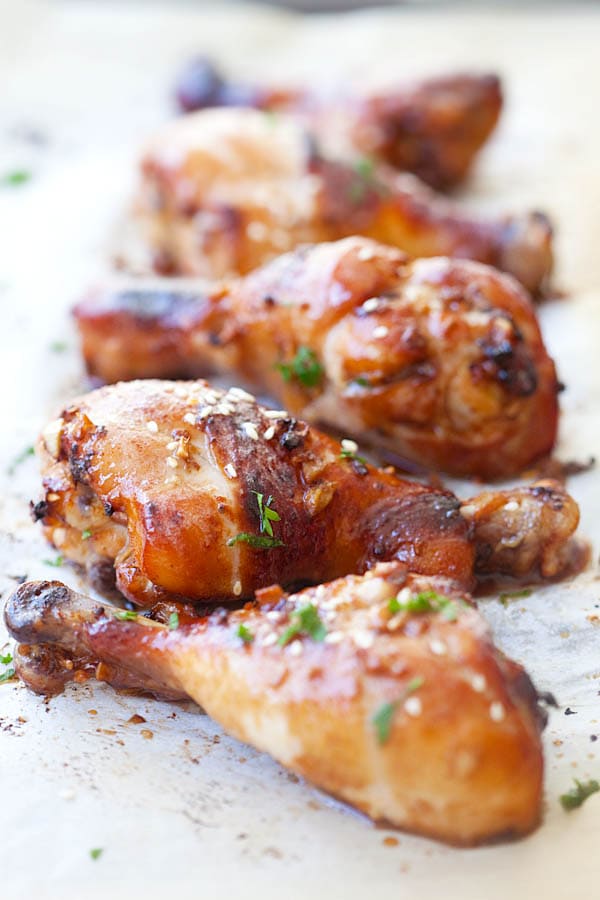 Crab Rangoon (Cream Cheese Wontons)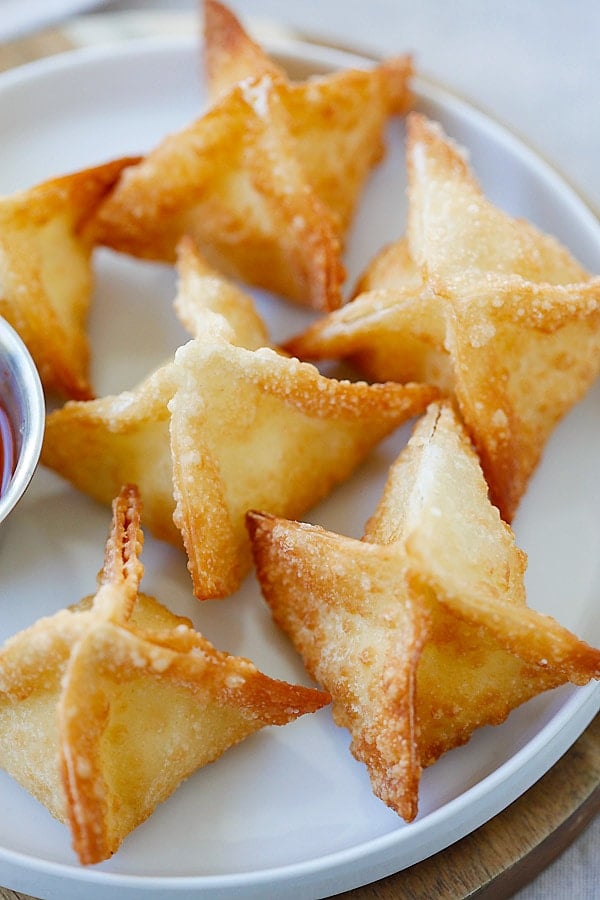 Chicken Wontons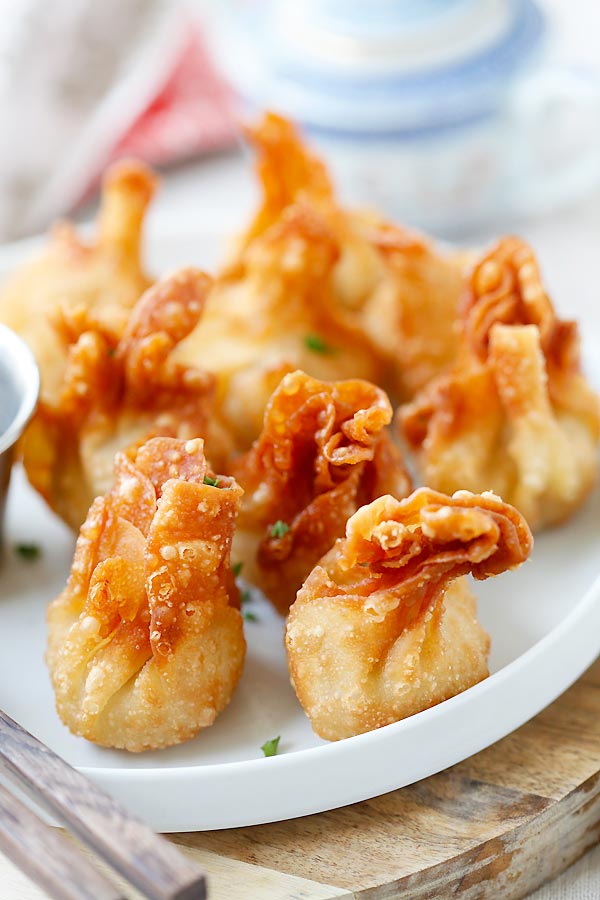 Onion Scallion Beef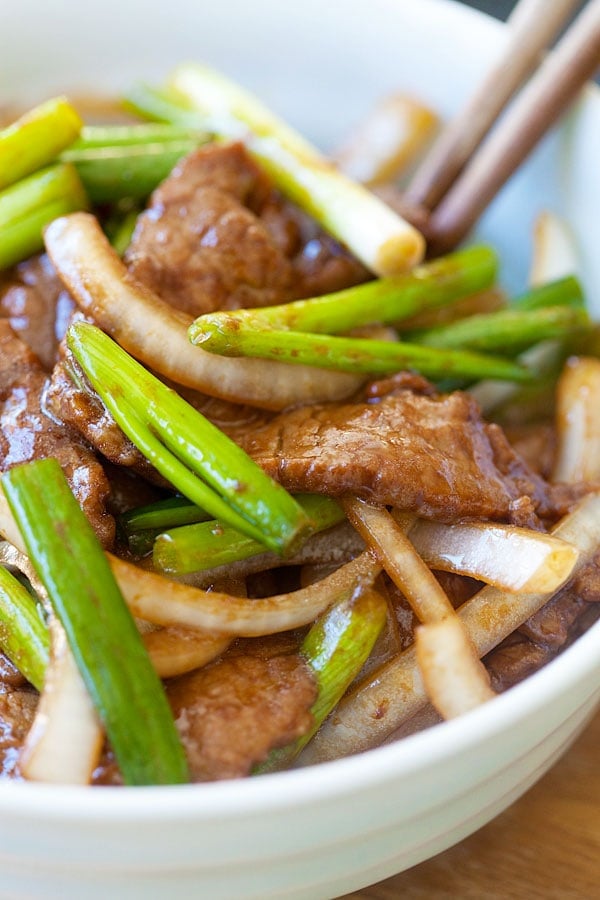 Thai Chicken Sate with Peanut Sauce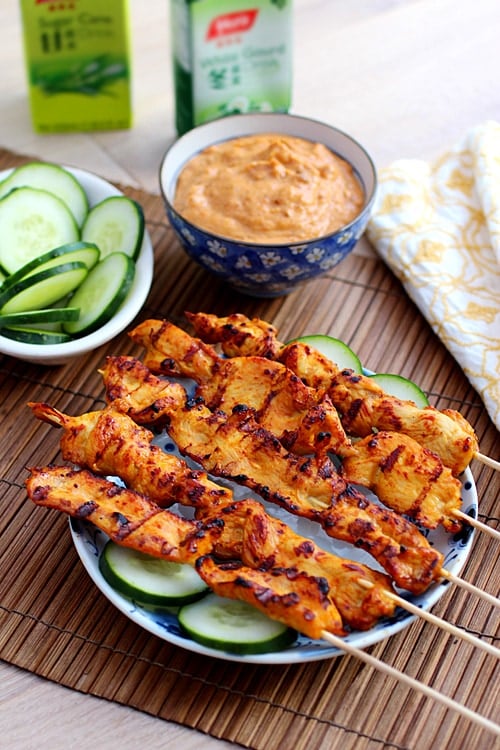 Thai Peanut Sauce