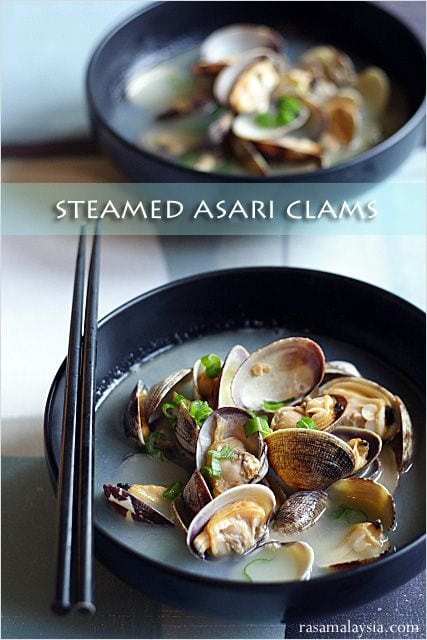 Ingredients:
1 1/2 lb. asari/manila clams
1/3 stick unsalted butter
1 1/4 cup water
1/2 cup cooking sake
1/4 cup mirin
salt to taste
Chopped scallion (the green part only)
Method:
Clean the clams thoroughly and set aside. Heat up a saucepan on medium heat and add the butter. As soon as the butter melts, transfer the clams into the pan and do a few quick stirs. Add the water, sake, and mirin into the clams and cover the pan with its lid. Turn the heat to high and bring the clams to boil. As soon as all the clams are open, add in salt to taste. Dish out into a bowl, garnish with the chopped scallion, and serve immediately.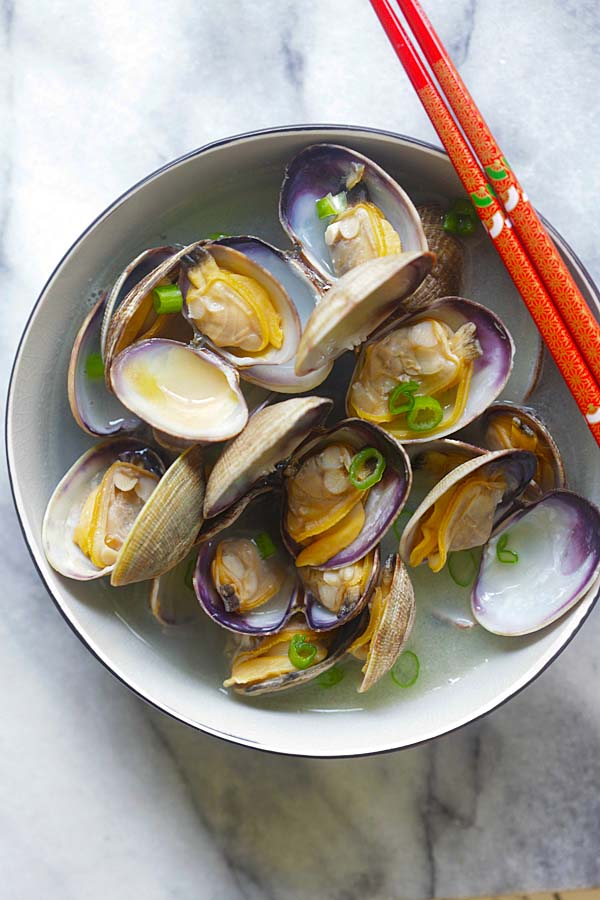 Japanese Steamed Clams
Japanese Steamed Clams – steamed Manila (Asari) clams with butter, Japanese sake and mirin. Briny, delicious and takes only 10 minutes.
Orginally published on September 13, 2008. Updated with new photos.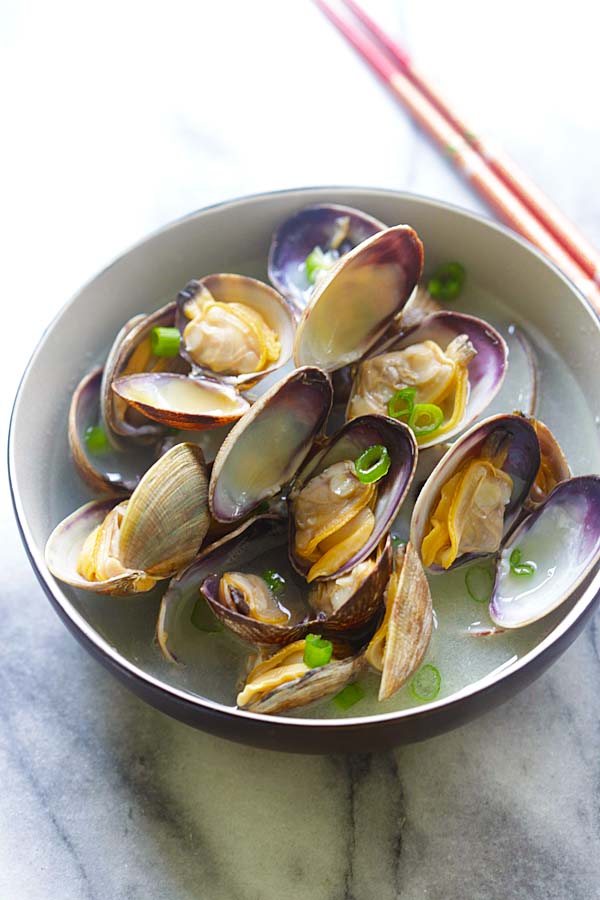 If you love Japanese restaurants, especially Japanese izakaya (casual restaurants serving yakitori, grilled foods and sake), I am sure you know this classic Japanese steamed clams dish. It's called sari no sakamushi, a personal favorite that I never miss out whenever I dine at izakaya.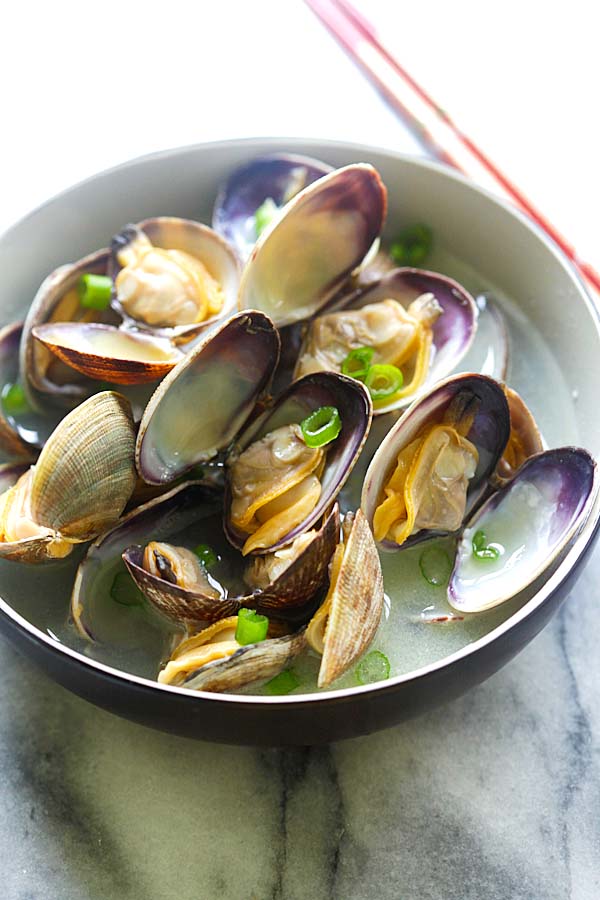 I first experienced Japanese izakaya dining when I visited Tokyo. During the trip, I had numerous meals at an izakaya in a small alley right next to my hotel. Sitting on a tatami mat and dined from a low table in a traditional Japanese setting, my host introduced me to yakitori, steamed clams, chicken karaage, yakisoba, agedashi tofu and various mouthwatering Japanese small-plates. I was instantly hooked.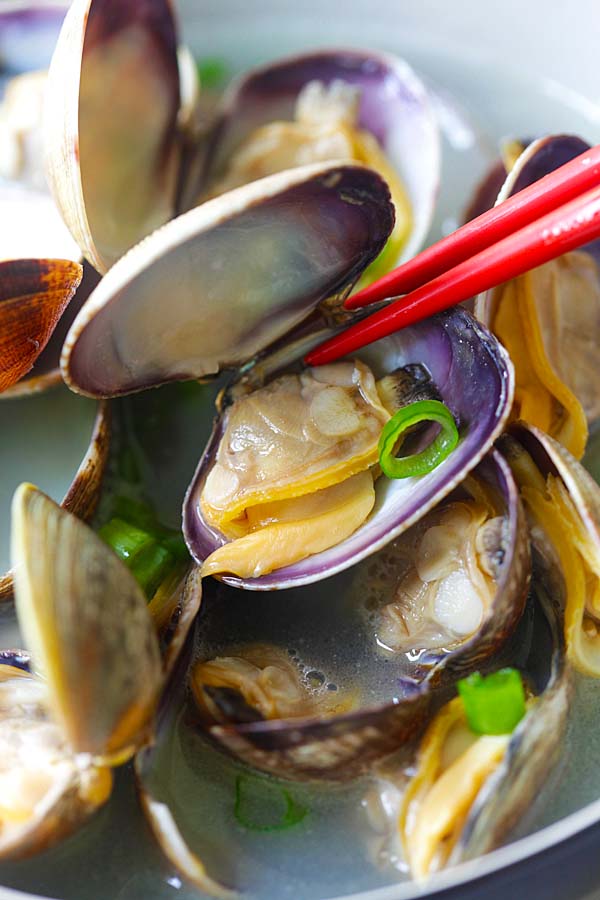 This Japanese steamed clams recipe is very easy and takes practically 10 minutes. It calls for only four (4) main ingredients: manila clams, Japanese cooking sake and mirin (sweet wine seasoning) and butter. The end result is tantalizing, and it's especially comforting and satisfying in the colder Fall/Winter nights. Enjoy!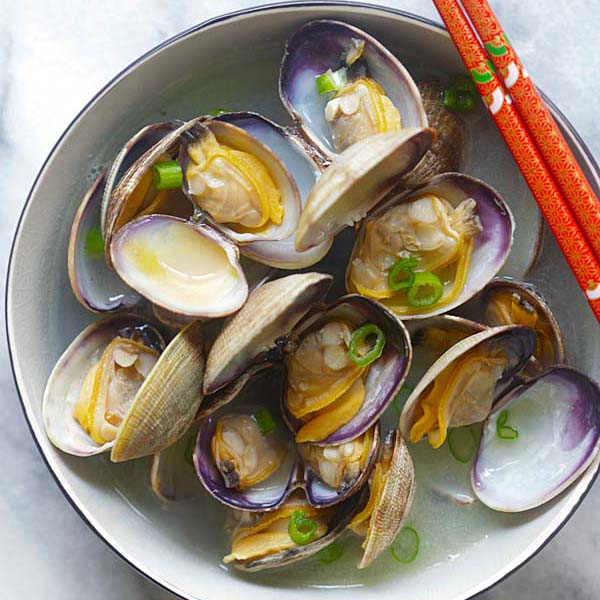 Rate This
Recipe Name
Steamed Asari (Manila) Clam Recipe
Average Rating

Based on 3 Review(s)